Gar & Ray 5″ fish finding, first impressions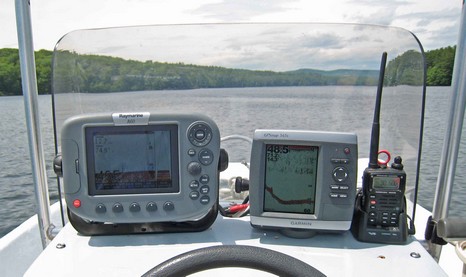 I got the test Garmin 545s and a new Raymarine A60 installed on Gizmo and took a test run around my local Lake Megunticook. I don't think Navionics, Garmin, or any one else has electronic charts for this particular lake—or many lakes in Maine for that matter—so the plotter functions were pretty pointless. But I did get a taste of both their dual-frequency fishfinders. For starters I was rather shocked that neither seemed to interfere with the other, even when both were set to the same frequency, and even though the transducers are about 6" apart on the transom. They simultaneously held onto the bottom even at 20 knots too. Is this an aspect of the digital signal processing both claim to use?

In this bigger version of the photo you can see how the screens look in pretty much their default settings. The Garmin seemed noisier, but there is a command to hide surface clutter that pretty much wipes that away. I had enabled an "A scope" window on both and liked the way Ray offers three versions including the cone shown, which also gives you a calculation of how much bottom you're seeing. Garmin's A scope seemed a bit anemic. I also liked having the Ray's soft keys for quick modifications of the fish finding display, but they do obviously require more case space. The Raymarine's screen also seemed to reflect more glare, though both were about equally bright, just able to overcome the wide open, sunny conditions. Next…salt water and maybe even some actual fishing.
Furuno, by the way, has just introduced a new Network Digital Fish Finder that works with NavNet 1 or vx2 devices. And note my beloved Standard Horizon HX470S VHF (superseded now by similar models), which can make DSC Alert calls and is also an FRS transceiver and AM/FM receiver. NPR, which I was listening to here, sounds good on its little but able speaker.