Garmin 545 & 430, screens & numbers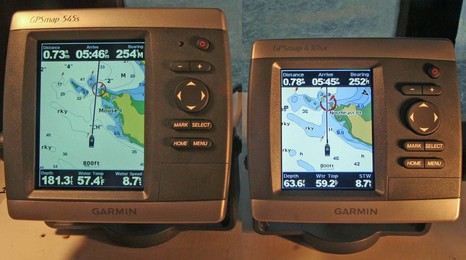 I really don't know where to start with the new Garmins (here, here, and here); there's so much of interest about the interface, performance, and the Vision charts. At least they're pretty similar model to model, or at least the two I have in the lab. But I had heard—actually in the exercise room at my local YMCA (!)—that the 4" models were brighter than the 5". My photo above, bigger here, tends to confirm that, though in real life, inside or outside, the difference doesn't seem quite so emphatic. They're both pretty bright. And note the resolution difference; the 545 is full VGA, 480 x 640 pixels, while the 430 is QVGA, 240 x 320 pixels. In the larger photo, the difference is particularly obvious on the numeric data; in use, the finer detail of the higher res screen seems evident everywhere.
But note that Garmin also has a new series of 5" QVGA plotters, which I haven't seen. The 520, 530, 540, and 550 all have QVGA, while the 525, 535, 545, and 555 are VGA. So, ah ha!, the model number's first digit indicates screen size, the second tells you what charts come loaded—none, U.S. inland, U.S. coastal, or U.K. (or Australia) in ascending order—and the third subtly tells you what the screen resolution is. (For clarity, the chart on the 430 above is on a card, not in internal memory). Then when get up into the 4 digit networked series, the screen size moves to the last 2 digits, while the first is the style, and second is chart load. Hey, I'm just explaining, not criticizing; coming up with rational model numbers is hard work! By the way, Garmin's 400500Series page now has a nice "compare" feature.