Garmin auto pilot, coming very soon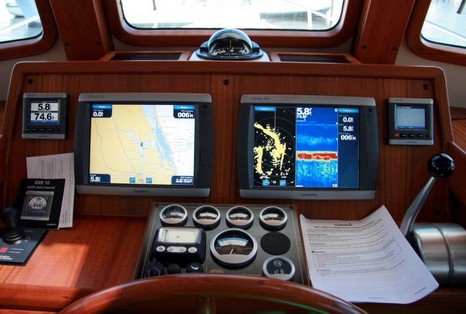 The Garmin GHP 10 autopilot system, announced back in November, looks like it will make its "third quarter" shipping date. It's hard to tell in the photo—since the GHC 10 control head is so similar to the GMI 10 instrument—but this new Krogen 44 has been a GHP beta site since March. I happen to know the owner, an experienced and technically astute fellow, and thus know he witnessed the install and then used the pilot all the way from Florida to his Chesapeake home port. He says it works well, and particularly likes "shadow drive", the system's ability to go in and out of standby just by "feeling" your desire to steer, or not steer, in the hydraulic line (sensor seen below).

So far, though, he's only experienced a bare bones version of the control software, but I'm told that the full-featured version is nearly ready for Beta testing. Meanwhile, another boat I'm familiar with—this a Wesmac jet-powered 50 footer—will be getting a GHP installed in a couple of weeks. I hope to see some of that process, plus try GHP on one or both of these beta boats. Garmin is not listing a price for the GHP on its site, but I see a couple of online retailers apparently willing to take orders for well under $2,000. I think that's considerably less than what the Nautamatic TR-1 Gladiator it's based on cost, and that was without NMEA 2000 networking, the bright color control, and the Garmin brand cachet. Sounds like a winner.
Update: yeah, those online prices are too good to be true, as apparently they don't include the pump kit; the full GHP system will have suggested retail price around $3,000. Another upshot of this entry: Tim Flanagan got excited about Shadow Drive as though it just arrived on the planet, which is exactly what I meant by Garmin's "cachet". Nautamatic introduced the winning feature in 2003, but had a hard time getting anyone's attention.