Garmin GMI 20 & GHC 20, back on top?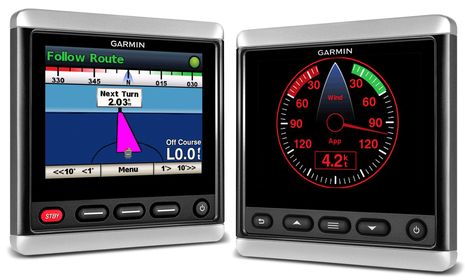 In my opinion it was the Garmin GMI 10 that trail blazed the wonderful world of color NMEA 2000 all-in-one displays, but it's gotten major competition from the Raymarine i70 (comparison here), the B&G Triton (first look here), and the Furuno RD-33 (hand's on here). And when Garmin demoed its new 800 Glass Bridge Series in Miami, the GMI 10 also installed on the dash looked decidedly out of place. So it was really no surprise when they announced the new GMI 20 and its GHC 20 sibling last Tuesday. It will be interesting to see if they've outdone the competition but that's hard to judge as these all-in-ones can potentially do so much, though not necessarily exactly what you want…
The features that Garmin emphasizes in that press release are the extra bright 4-inch bonded screen with wide viewing angles and new night color schemes like the green on black seen in the screenshot below (which is in the GMI 20's native QVGA resolution of 320 x 240 pixels). That all sounds good but I'm not sure it's significantly different from the competition.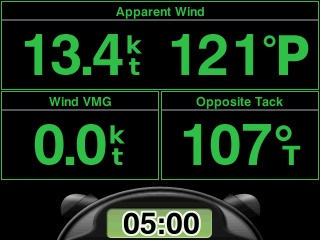 Then again it's amazing what a good graphic designer can do with so few pixels, as seen with that nice count down timer on the sail racing screen above or the trouble-light icons on the engine screen below. While these are examples of the fixed graphic choices that every all-in-one display has, they vary from manufacturer to manufacturer and I'm not sure that any but Garmin has the trouble lights yet…
But then again I'll bet that only a few engine models currently output the N2K messages (PGNs) that can make use of those trouble lights. The manual isn't up on the GMI 20 product pages yet, but that will help to clarify just which "100+" N2K data values it can decipher and how it can display them. It costs $550, by the way, and is supposed to ship very soon. Also note how it comes with both black and silver snap-on trim pieces intended to match either the Glass Bridge Series MFDs or their predecessors.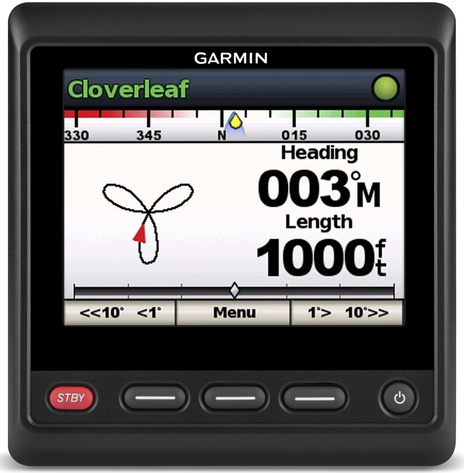 Above is the matching GHC 20, product page here, and its screen illustrates the rich colors these displays can show as well as some fancy moves the Garmin autopilots can make. To the best of my knowledge N2K autopilot heads only work with the same manufacturer's ap system though they should be able to get, say, wind information from any N2K sensor. In fact, both the GHC 20 and GMI 20 also have NMEA 0183 inputs as shown in the booty shot below, though I'm not sure how that data is used because I don't think it gets bridged onto the N2K network (as a Furuno RD-33 can). Most boaters get instrument displays that go with their existing MFDs and/or sensors and asides for aesthetics and customer service that makes sense because it's good to have something aboard that can update their firmware, but do note that Garmin has an $80 N2K Updater as well as a variety of analog-to-N2K Adapters, and that they update their gear at a fearsome rate. Just check out the GMI 10's recent change history.
Gizmo currently has up-to-date GMI 10, i70, Triton, and RD-33 instruments installed, and I've been giving them a real workout as I've added several new and less common sensors and I'm also experimenting with bridging the boat's two N2K networks. (There are also both Maretron DSM250 and DSM100 displays, which I consider a somewhat different category, though not in a bad way.) At any rate, there will be coming entries about N2K tank and temperature sensing, but it's additionally possible that I can test some combination a reader is interested in; just speak up. And how to think Garmin's new instruments stack up?