Garmin Radar & Maretron Compass, puzzles!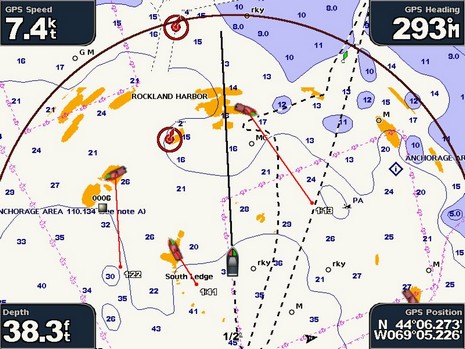 Last week I got another brief look at Slancha's Garmin 18" HD radar in action, only this time I got this screen shot showing its MARPA abilities in action, bigger here . But I'm still a bit puzzled about the implementation, and, as noted in the earlier entry on this unit, can't find a thing about it in the manual. My guess is that the projected point and time represent the calculated CPA relative to your boat, not relative to the chart. Let's consider the top right target first, and note that the arc represents where Slancha could be in 3 minutes at this speed. CPA, of course, is figured on the current speed and heading of your boat and the target. So I think that the Garmin is telling us that in 1 minute and 13 seconds the target will be a close as it's going to and it will be broad on the starboard bow (but when this takes place we'll be nearing that next bathy line and the target will be near that 11' bump).
In other words the target's vector represents its relative motion to our boat, not its true track across the chart. By that analysis, the target upper left is probably stopped or moored, and thus its relative motion straight down the chart and its CPA in 1:22 when it will be right on our port beam (and still in the same spot on the chart). Are you with me? And can you figure out what the third target at South Ledge is up to (aside from a likely mistaken heading or CPA calculation? Garmin, by the way, put up a major (Ver 4.1) update to 3–, 4–, and 5000 series MFDs last week. The 4– and 500 series got a 4.0 update a couple weeks ago—with many similar improvements—and BluewaterPirate already made videos illustrating them.
My real reason for being on Slancha is embarrassing. The first time I installed the Maretron N2K compass that made the MARPA possible, there was a bucket containing two serious cordless tools directly beneath it. The next time out—without the bucket—Slancha's radar overlay was about 15 degrees off on many headings! So again I did a 30 second install of the DSM200 below, and again we went through its slick guided deviation compensation routine. The results seemed pretty good, as indicated by known overlay targets like the Rockland light, and by comparing the COG calculated by the boat's super GPS 17x to the corrected compass value on several headings. But it wasn't quite perfect—in fact, didn't seem quite as spot on as with the bucket—which led me to query Maretron's Magnetic Deviation Status page below, and bigger here. But I haven't had time to figure out what all the geeky info actually means. So there's the second puzzle: how is Slancha's deviation in layman's terms? The deviation curve seems quite healthy, but did we mount it in an area of serious magnetic disturbance, soft- or hard-iron?