Garmin's wireless VHF mic, Simrad's too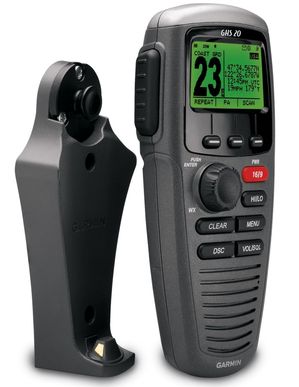 Anyone with a Garmin 200 or 300 series VHF will likely be pleased to learn that they can now add up to three wireless mics with full controls. Garmin announced the GHS 20 handsets along with the GWH 20 wireless hub needed to run them last week, and the product page suggests they're nearly ready to ship. It's all sort of sneaky — though in a good way — as the wireless mic possibility is not even mentioned in the VHF 200 or 300 literature and manuals. However, these handsets are not inexpensive…

A GHS 20 and the GWH 20 hub retail together for $400, with extra handsets at $300 (with the GHS 20i "international" model $50 more). By contrast, the wired GHS 10 remote mic — which is otherwise very similar — costs $200. I'm generally a fan of the VHF 200 and GHS 10 I've been testing long term — especially the softkey interface — but I do find the fonts on the mic a little challenging, as I tried to picture last spring. And it looks like anyone with a GHS 10 would have to give it up to use the wireless mics, as I think the hub uses the same port. The bigger picture, though, is that anyone looking to Garmin for VHF — probably because they're already buying a Garmin MFD system — will now find quite the selection, even though the company only got started on this line in 2009.
Garmin's wireless handsets look good — and note that they can walky-talky with each other — but they're not the first. That distinction goes to Uniden, I think, and though that company seems to have low profile in marine electronics these days, the
WHAMx4 mics I was fairly impressed
with in 2005 are still available. There was also
the Northstar 705 that appeared in 2008
, though that was just about the time that Navico seemed to lose interest in that brand. But guess what? The 705 and its companion
725 VHF
recently reappeared, at least in part, as the new
Simrad RS25 VHF
and
AHK05 Handset
, which retail for $300 and $169 respectively. If you want full wattage fixed VHF without a wire, it's available.