Gizmo Wisdom #1, reboot 'er!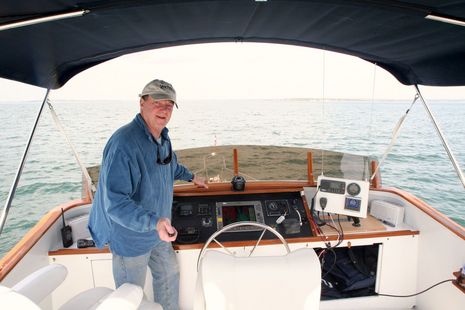 Notice anything unusual in this photo, besides Gizmo's wonderfully spacious fly bridge (for a 37 footer) and the odd looking RAM-mounted panel (that I had already crafted for Li'l Gizmo and brought along so we'd have the PB200 output up here, and also a 25W GPS-connected DSC VHF onboard)? Yup, the bezel is off the Raymarine C-120 and that's a screwdriver in my left hand. Just before we reached Buzzard's Bay (above), the C-120 reported a communication error regarding its DSM 300 sounder module and we then lost all depth knowledge. Which led to one of several lessons I'm going to start collecting under the rubric Gizmo Wisdom (or GizWis)…
GizWis #1-A: It's good to have a back-up depth sensor/system. We did this trip with multiple independent GPS sensors and electronic chart systems, but only one depth source, and, damn, I felt naked without it. I did, of course, try rebooting the C120, and then checked for flaky connectors. First I eyeballed the Airmar transducer mounted under the cockpit; then the DSM 300, acessible via that open door under the fly bridge helm; and finally the back of C120 itself, viewed by pulling the unit off the helm. While I did find a questionable splice in the transducer cable, otherwise everything looked tight, clean, and new (which it was last year). But — trouble shooting having failed — I started rethinking some of my cruise ideas, like the skinny but pretty Annisquam Canal. Besides, the forecasts were suggesting that we'd be smart to skip the cruising and steam right through the night for home.
Which is how we found ourselves stopping to do engine checks and switch fuel tanks off Plymouth, Massachusetts, that evening. But when we started the Volvo again, a "diagnostic" light started flashing and the electronic engine controls wouldn't throttle beyond idle, just shift. We tried shutting down again, switching stations, and pondering the manual…no joy. After hanging a 4.5 knot left toward the Harbor, I called Denny Klodner. It's great that you can cell phone a guy like Denny from several miles out these days (and he might actually answer or call back), but he didn't have any specific solutions except to "reboot" the whole system.
Which was harder than it sounds. There's a lot of juice flowing around Gizmo, I haven't learned the flows yet (despite the diagrams), and we had to shut down three primary battery switches and a 100 amp circuit breaker before we were confident that the Volvo control system was truly de-powered. But damned if the engine didn't work perfectly after the reboot. And shortly after we returned to course — i.e. crossing the Boston shipping lanes and some more adventures — I realized that the DSM 300 was also working fine again. GizWis #1-B: When things get wiggly, shut everything down, completely down, and thus reboot your whole boat.
PS. The boat's only current radar is the RL70 at the lower station below (with a 24″ dome on the mast). It's circa 2000 but worked surprisingly well when tweaked. In this photo we're running on flat water in Muscongus Bay yesterday morning; the RL70's sea clutter filter is completely off, target expansion is on, and the gain is turned up a bit above the automatic setting. What you're seeing at 1/8 mile scale is Gizmo's wake and a few lobster pot buoys I could actually see out the window. I could also see coastal features over 30 miles away when we were offshore. Pretty impressive, but this unit and its RN300 GPS companion are going on eBay unless someone here speaks up first. Gizmo will be trying multiple new radar sets this summer, even if occasional rebooting is necessary, and I need to make space!