Iridium, great service, but in lieu of EPIRB?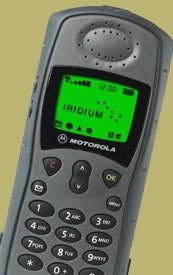 I am the proud owner of an Iridium satellite phone. Could I omit EPIRB from my safety equipment list? I believe that verbally communicating with the Coast Guard (with GPS in hand) is superior to the EPIRB. Do I miss something?
That question came through Sail's "Ask an expert" section. My immediate reaction is "hell no", but I'm curious what you all think? I figure that many marine distress situations happen so fast and are so wet that what you really need is a totally automatic (i.e. water activated) or semi-automatic (hold down the button) device that is completely waterproof and will call out the calvary, delivering your ID and location in the process. That's exactly what EPIRBs and even PLBs, especially with optional GPS, do very well.
That's not to say the Iridium isn't a fantastic technology. I know a lot of far voyaging skippers who count on it for offshore voice, e-mail, and even restrained Web browsing (thanks in large part to super clever compression software like XGate/XWeb). I recall, for instance, that Bluewater has a fixed Iridium in the wheelhouse and a spare in a Pelican case. And I can definitely picture how one could be very valuable during a slow speed distress situation, say a dismasting or a gravely ill crew member, or to check that the EPIRB really worked from your life raft! But superior to an EPIRB?
PS A nice shot from a French marine electronique company showing the sort of use Iridium is really suited for, sitting in the nav station making calls, checking e-mail, and downloading GRIB weather files into MaxSea. And, yes, that green thing is a Sailor radio of some sort.