Iridium SBD, interesting possibilities!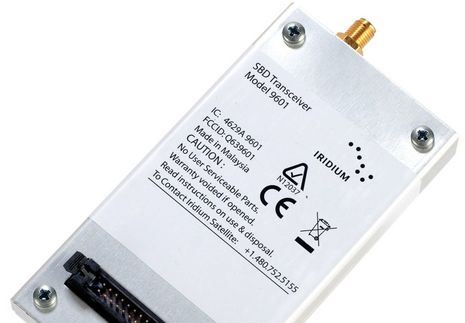 One of the most interesting meetings I had in Fort Lauderdale was with Patrick Shay, who fairly recently took the reins of Iridium's data division (after much related experience at Motorola and Sirius, and a lot of boating). His message was clear: Iridium has realized that data is important, in fact the fastest growing part of its business, and wants to see its SBD modems "disappear into as many marine devices as possible!" Coming soon is a new version of the 9601 modem above, which will be smaller and cheaper but still able to transmit a 340 byte message from anywhere on the globe in less than 60 seconds with very high reliability. It can also quickly receive a 270 byte burst from anywhere via the Iridium ground stations, and it's that two-way nature that suggests so many interesting possibilities…

A growing, though perhaps inflated, concern is the number of false or unnecessary distress alerts comings from one-way devices like SPOTs and PLBs. I'm going to discuss that subject here soon, but there's no question that small, reliable two-way emergency devices would be a good thing. Even if the SAR folks were limited in their ability to query the party in distress, at least they could let the party know they'd been heard. In fact, Iridium recently founded ProTECTS, an open alliance of organizations meant "to foster the rapid and orderly adoption of portable, two-way satellite-based location, tracking and messaging technologies." It may be noteworthy that ACR is a member.
What especially excites me are the possibilities of integrating Iridium SBD into fixed boat systems. How about a box with a distress button, also hooked via NMEA 2000 to a few sensors for tracking and security, and via WiFi to a laptop for texting and weather alerts? Maybe with all the coms functionality SkyMate manages to squeeze out of slow text, only without the latency and coverage problems? How about all that functionality built into an MFD with a touch screen keyboard, or a USB connection to a real keyboard? What can you picture being done with 340 byte bursts up, 270 down?
Unfortunately I don't know what Iridium's modem or SBD service will cost the value-added manufacturers they trying to attract. But I'm hopeful, and when I asked Patrick Shay if they were interested in MFD manufacturers, his response was, "Yes, absolutely; please let them know." Done!