Is now the time for a move to 48 volt DC systems?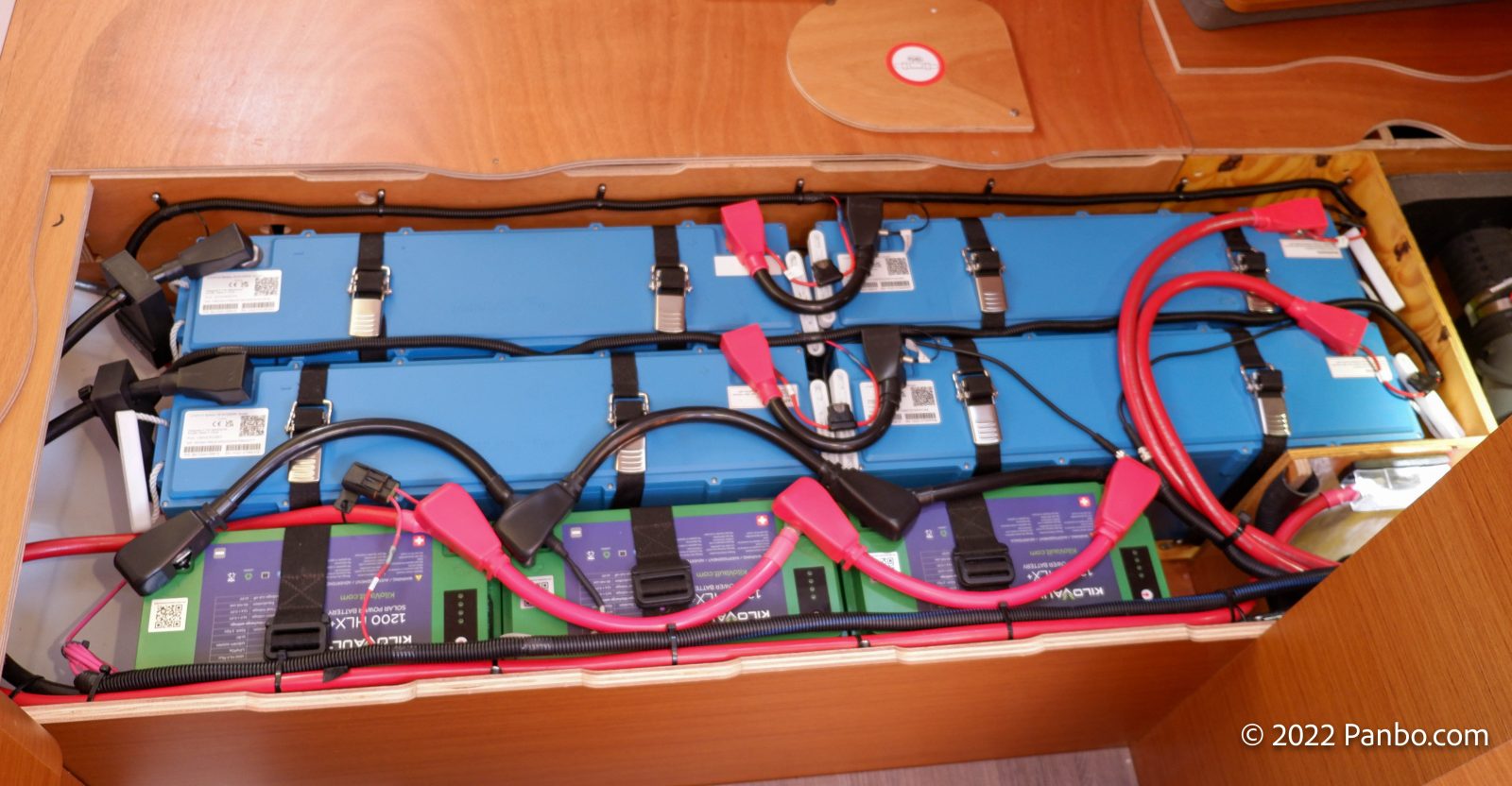 For as long as I've been covering marine technology, I've heard consistent talk of a move to a higher voltage than the defacto 12-volt standard. 48 volts is often cited as the sweet spot between efficiency, safety, and reduced weight. But, why make a change? 12-volt has served boats well for a long time, why change? Let's take a look at the reasons for a change and perhaps some reasons to move cautiously.
There's no doubt that higher voltage comes with some advantages. These advantages include smaller wires, less voltage drop, and for many devices, greater efficiency running at a higher voltage.
The amount of energy a load requires is measured in watts. Watts equals volts times amps. For example, let's look at a 600-watt load. At 12 volts you will need 50 amps of current to get 600 watts (12*50=600). At 48 volts it's only 12.5 amps to get 600 watts (48*12.5=600).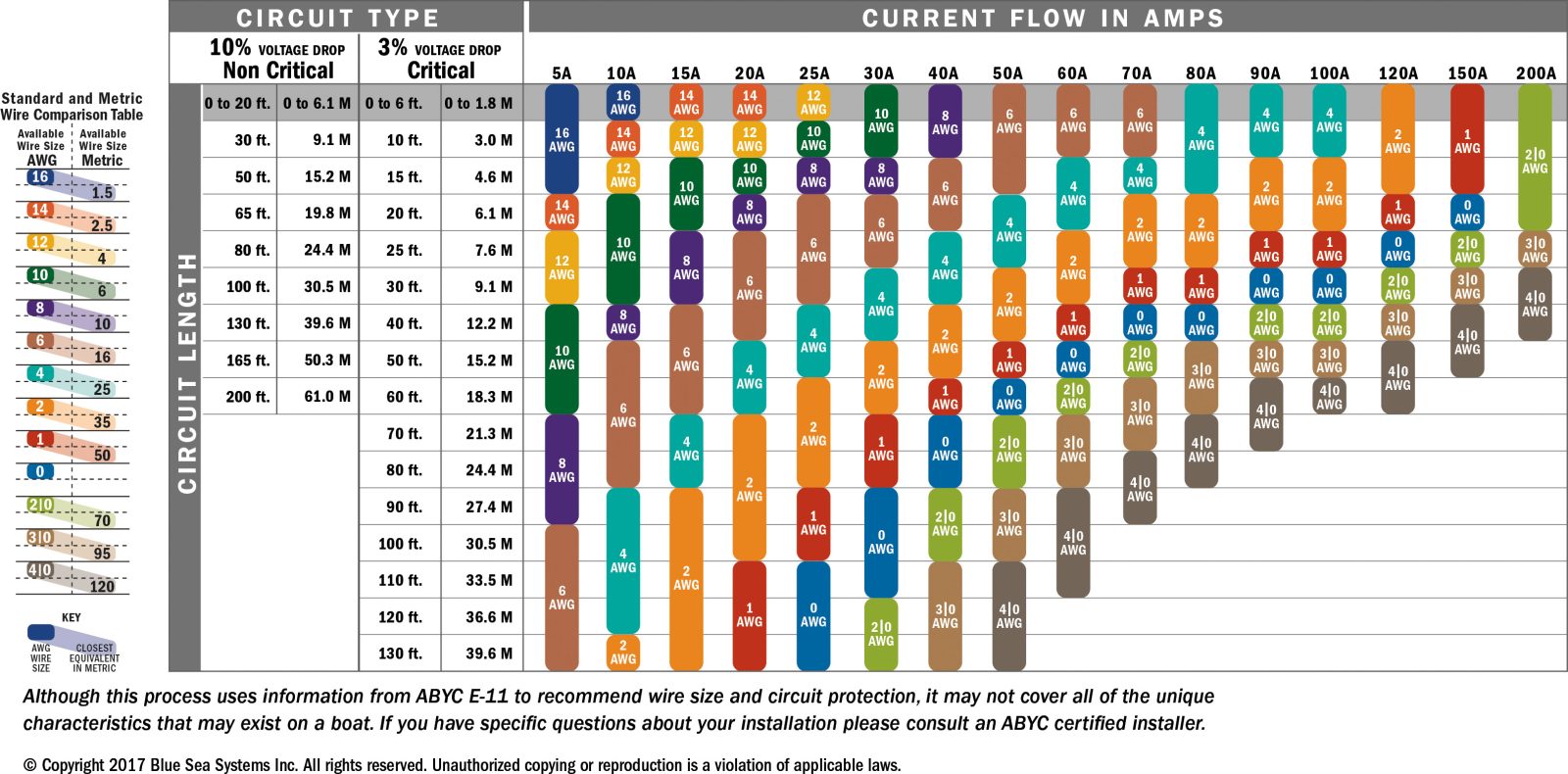 Since wire sizes are determined by the number of amps they carry, reducing the amperage reduces the wire size. For example, at 3% voltage drop over a 25 foot circuit length we would need 4 AWG wire at 12 volts and 50 amps. Our same load at 48 volts would require 12.5 amps and hence only an 8 AWG wire. If you run to your local West Marine to purchase the wire, 4 AWG will cost $3.39 per foot compared to $1.39 per foot for 8 AWG.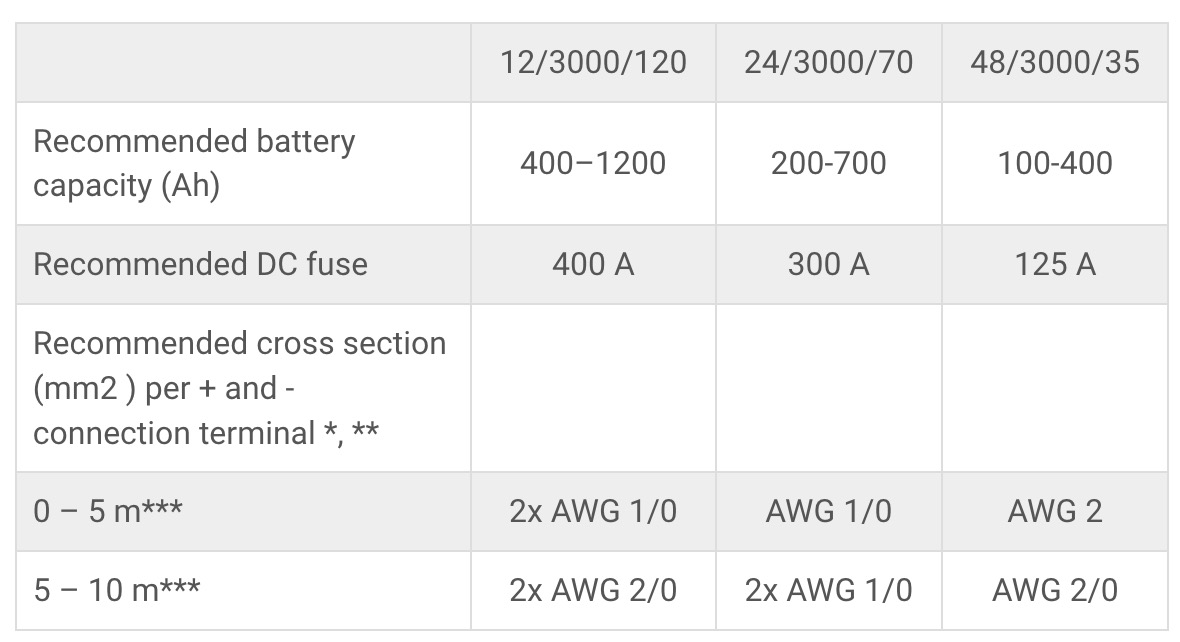 As you can see in the table above, Victron's recommendations for battery cable size vary greatly depending on the battery bank voltage. A 12-volt, 3,000-watt inverter will require either 1/0 or 2/0 battery cables, depending on the distance from the batteries to the inverter. Victron recommends two positive and two negative cables. 1/0 cable weighs over just under half a pound per foot and 2/0 is just over half a pound. 1/0 is $6.89 a foot and a foot of 2/0 will set you back $8.89. Since you will need positive and negative, that's one side or the other of 2 pounds a foot and either $27.56 or $35.56 per foot..
Now, consider a 48-volt inverter. Jumping to a 48-volt system cuts the cabling needs down pretty dramatically. Take a look at the cabling needs if your battery cable run is less than 5 meters. Instead of 4 1/0 cables at 2 pounds and $27.56 a foot, you need 2 2 AWG cables at half a pound and a total of $8.88 a foot.
But, battery cables aren't the whole story of 48 volts. The Victron MultiPlus-II inverter spec sheet shows the increasing efficiencies of higher DC voltage units. The 3,000 watt inverter is available in 12, 24, and 48 volts at 93%, 94%, and 95% efficiency. A 2% difference in efficiency may not sound like much, but it's reducing your total energy lost by 29%. Lastly, using higher voltage battery banks means smaller solar charge controllers. 1,000 watts of solar at 12 volts would need MPPTs with a capacity of 80 plus amps. The same 1,000 watts at 48 volts only requires 20 amps of MPPT capacity. That means, smaller, cheaper, and cooler running charge converters.
48 volt considerations
So far, we've only talked about the benefits of moving to 48-volts. But, there are some reasons for caution. FIrst, I think we're a long ways from being able to convert an entire boat to 48 volts without a 12-volt system.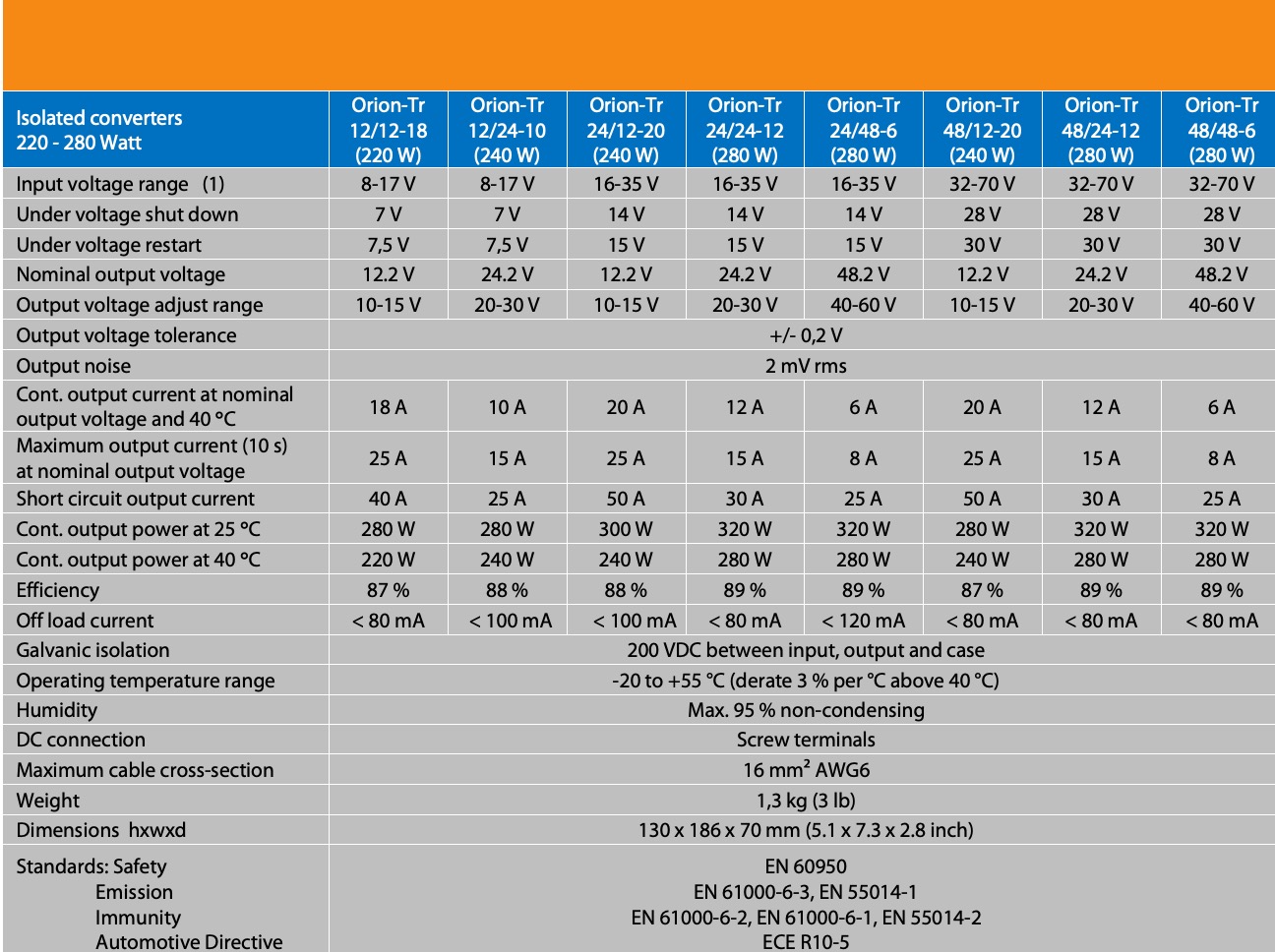 I've heard people make the case that it's simple to use voltage converters when 12-volt power is needed. Unfortunately, I haven't seen large step-down transformers available. The largest I can find is the Newmar 48-12-35I which supports 35 amp intermittent loads but only a 20 amp continuous load. The 20 amp continuous rating matches the largest units available from Victron or Mastervolt.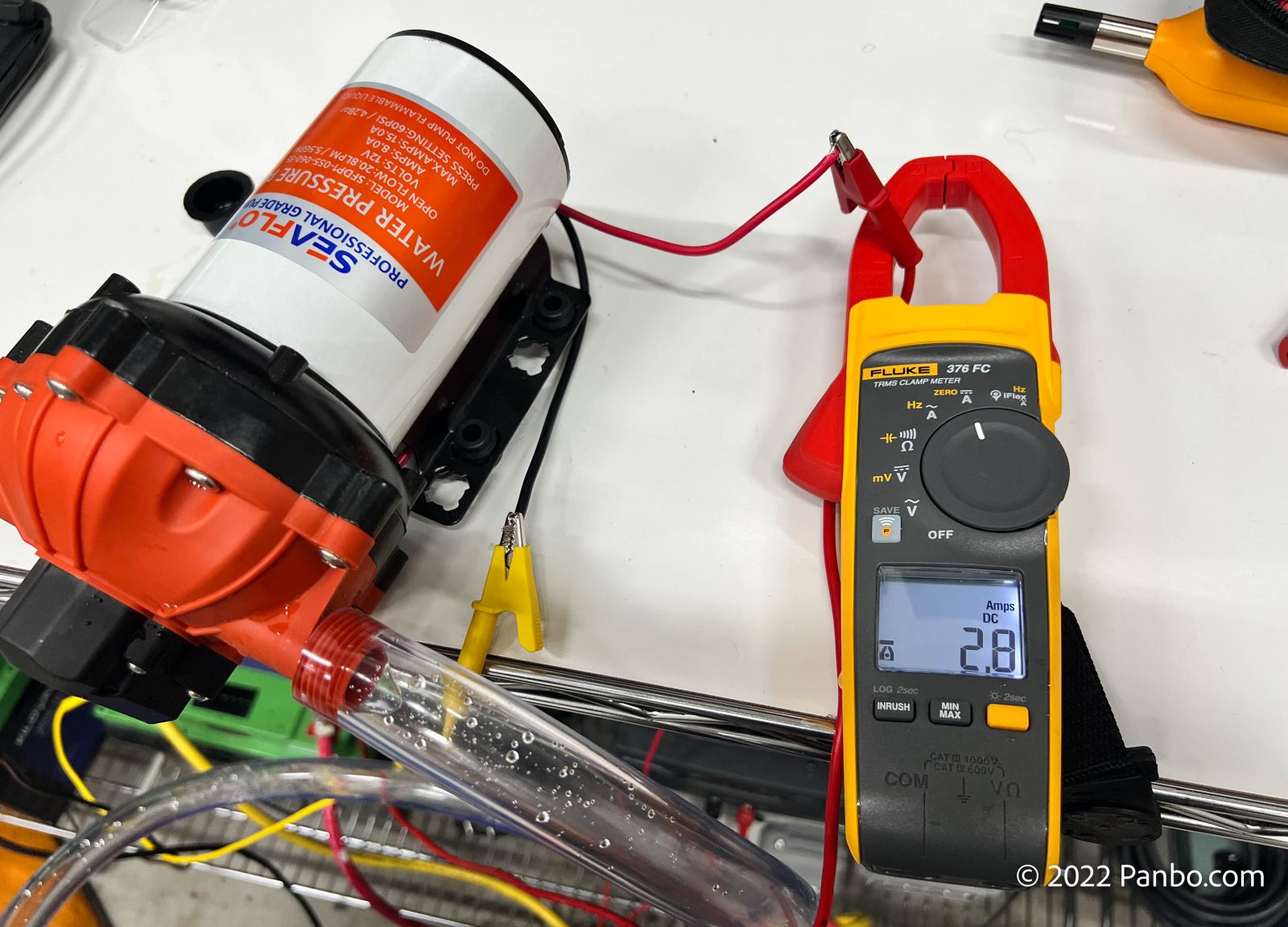 Sizing a converter might seem to be as simple as just adding up the loads and ensuring you're under the maximum of the converter. But, that's not the whole story. DC motors require much more power to start than they do to operate steadily. For example, I measured a small, freshwater pump on my test bench. When the motor is running it draws around 3 amps. But, at startup, the inrush is over 12 amps. In fact, the highest measurement I saw (but didn't get a picture of) was nearly 14 amps. That's a 4 to 5-fold increase over steady running. As you can see in the snippet from Newmar's instruction manual, they don't recommend their converters be used with inductive or motor loads.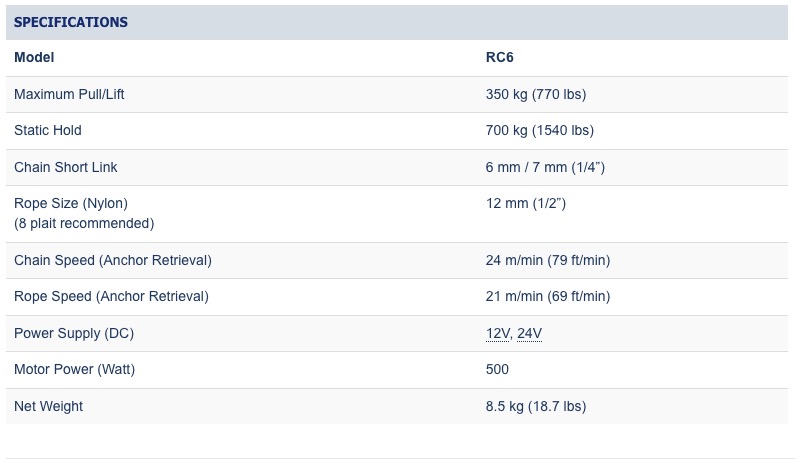 Inrush loads become very difficult (or impossible) to meet as the size of the loads goes up. The specs above are for a Maxwell RC6 windlass. Maxwell's specs list the RC6 for a 15-25 foot boat. At 12 volts the 500-watt motor draws 42 amps. Inrush will be 3-5 times that or well over 100 amps. There's no 48-volt to 12-volt DC-to-DC converter in the marine marketplace that can handle that load.
Hybrid solutions
The picture of the battery bank at the start of this article is from an upcoming article on a boat with a very modern approach to power and air conditioning. The boat has both 12-volt batteries to service traditional house needs and a 48-volt battery bank dedicated to a 48-volt inverter. Right now this seems like the only practical approach to introducing higher voltage DC systems on boats.
Without a 12-volt house system, everything not available in 12-volt models will have to be supported by a converter. This can lead to significant challenges in finding the appropriately sized models and significant expense. As mentioned, that's not always possible. 24-volt components are fairly widely available, but often at a significant premium. Nearly every 24-volt boat I work on also has at least a small 12-volt system for navigation electronics. The NMEA 2000 spec calls for 12-volt power to the bus. Many electronic components will run on 10-30 volts of power but there are also plenty that only operate on 10-16 volts.
The reality is that the cost of converters and specialized components will dwarf any savings from reduced wire sizes or greater efficiencies. Thus, I believe, the best option to capture the benefits of higher voltage is via a hybrid approach.