KVH TracVision HD7, new top dog?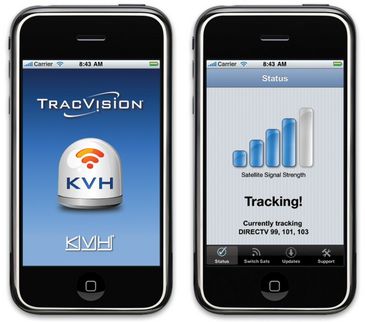 Of course the big news about KVH's new TracVision HD7 is that it can receive all three of DirecTV's main satellites at once, which means that using multiple TVs/DVRs at once — or keeping up with Guide data coming down from sat 101 — are not the problems they can be with a one-satellite-at-a-time solution like the Intellian D4. But first check out the iPhone/iTouch app that communicates via WiFi to the HD7's antenna control unit. Not only can it be used to switch the dome to one of the secondary satellites that carry some oddball channels, but also to download system updates at home, or wherever, for later one tap transfer to the ACU. There are alternate ways to accomplish these tasks, to be sure, but isn't this a slick option? Not that a HD7 user should need to mess with it much…

I can't say that I completely understand how KVH is managing to bring in three satellites on two different frequencies at once, but they say the secret's in those three white rods — the "unique tri-rod dielectric feed" — seen below just inside the subreflector. Whatever they're doing, they claim it delivers full, just-like-home DirecTV HD while tracking as well as any stabilized antenna they've ever produced. The downside is size and expense; the HD7 is a 26-inch high, 61 pound antenna which along with the ACU (and single connecting cable) costs $13,000.
Those factors lead to this Intellian sales angle: If you really need to tune in more than one satellite at a time, buy two D4 systems, which can work together, will still be less expensive, may provide a more balanced antenna look, and will give you TV redundancy. Then again KVH has this warning: DirectTV will eventually add two more satellites to the already tight 99/101/103 cluster and is afraid that stabilized dises less than 24″ may suffer interference. Intellian responds that its 18″ D4 uses superior tracking/receiver technology which has already proven itself able to handle tightly spaced Asian TV satellites. Yup, these companies are battling fiercely, and a smart consumer should probably give each a careful listen.