Lake survey photo essay, thanks Navionics!
That strange graphic rendered on a laptop in a car trunk stuffed with cold weather clothing represents a terrific experience I had yesterday, and a wicked lot of work. Compare the graphic—which is actually hundreds of thousands of GPS/depth data points—to Lake Megunticook. After a few months and a lot of post processing that data will become a Navionics HD HotMap available on a chart card or for use with easy-on-the-wallet HotMaps Explorer. I don't yet know how much Navionics will let me write about their specific data collection gear and techniques (Yachting revealed a bit), but here's what it looks like: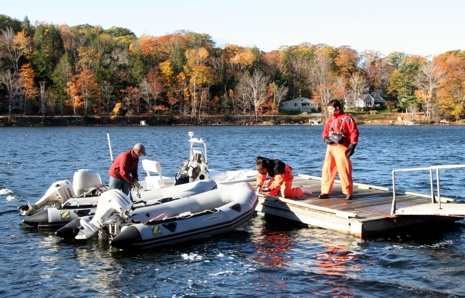 For a relatively small (1,200 acre) lake, Navionics U.S. survey manager Shaun Ruge figured three 12' inflatables and less than a day's work. In fact, only two and half of their Zodiac fleet were available (surveying is harsh on gear!) and so I volunteered Gizmo. The company, by the way, has a large fleet of center cockpit Triumphs working big lakes around the country. They're mostly run by contract surveyors, but Lake Megunticook got the ace backup team from U.S. headquarters in Wareham, Mass., plus European survey manager Marco Favale. He's the guy on the float fighting the cold with big rubber gloves (and probably wishing he'd picked up tips from the Bahamas team instead).
Some necessities of bottom surveying are obvious, like the fact that you have to get close to shore and other obstacles. Here's Ruge bearing down on a yet another out-cropping (I relaxed after a while). Note that the currently available data for Megunticook, useful but spotty, is on that laminated map behind the plotter (sample way below).
There were times that we got too close to obstacles, though that is a precise method for marking their position.
Think about it: if you want to survey thoroughly but efficiently, you've got to move right along when reasonable.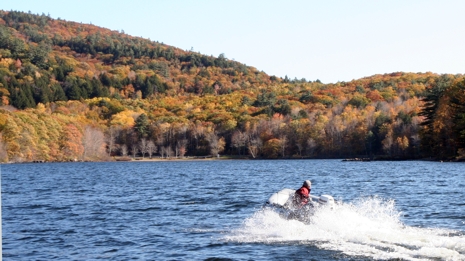 But reasonable speed is hard to determine without an accurate map, which is why surveyors like to say that they hit rocks so you don't have to. Here's Navionics GIS technician and boat driver Evan Martzial grinning over a mangled prop. Gizmo's prop isn't what it used to be either, but the sacrifice seems worthwhile. I'm really looking forward to seeing the finished map.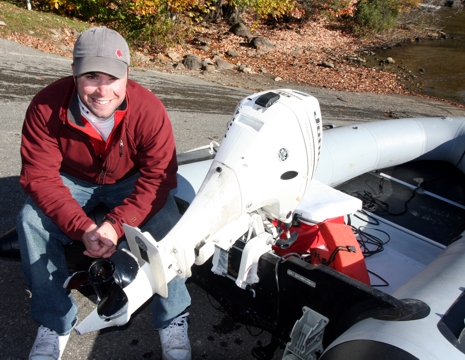 PS. I just got this image of an early stage in the post processing. The data we collected has been overlaid on a photo map and also color coded, shallow red through deep blue. Beside giving me a new grasp of the lake's shape—and a great reminder of yesterday (Gizmo, often in the red, did the whole northwest section)—this view is helpful to cartographers checking mapped hazards against the survey.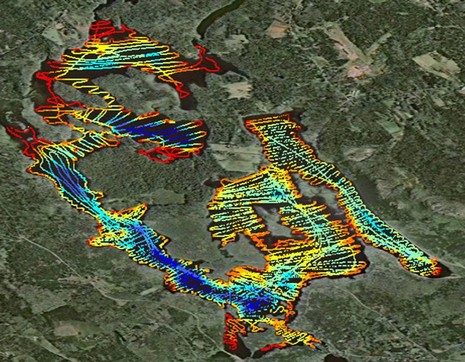 Oh, and here's a bit of the existing Megunticook Watershed Association map showing the south end of the lake: