LCX-113 #2, a GPS shoot out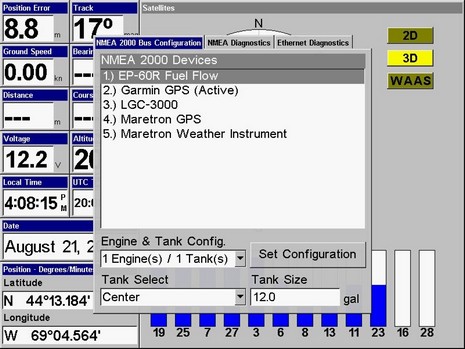 Continuing yesterday's ode to the Lowrance LCX-113, I'll explain how I've been using it to test GPS sensors against each other. Every NMEA 2000 MFD and instrument I've tried can handle multiple GPS (and other sensor) inputs, which is good, but they do it with a variety of styles. Some—like Raymarine's—just grab the first one they see coming down the backbone and use it, unless it pooches out and then they will use another if available (aka "roll over on failure"). Others, like Garmin's and Simrad's (NX models excepted), will pick one source automatically but will also let you choose from a list of redundant sources if desired. Lowrance, as I've discussed before, goes a little further, letting you use more than one redundant source at once. But Lowrance does something special with GPS, because those sensors send out Dilution of Precision (DOP) values based on the strength and breadth of satellites they're locked onto.
Hence, the LCX works with redundant GPS sensors like a Garmin or Simrad, but also has a feature that automatically picks the GPS which says that it's most accurate. In other words, the darn thing is a test machine! So, as you can see above and below, I networked it with a Maretron GPS100, a Lowrance LGC-3000, and the new Garmin 17x. I tried the trio in the difficult conditions outside the lab—three story building to the North (blocking the low WAAS bird) and tall, densely foliated trees in every other direction—and I tried them during last week's long trip around Eastport. The results were quite consistent; the LCX almost invariably picks the Garmin as the best source, and if I remove the Garmin, it picks the LGC-3000. But the fact is that any one of them will do a fine job out on the water; high performance GPS sensitivity mainly counts in urban canyons and under tree cover, and a few meters of accuracy doesn't mean much given the inherent accuracy of our charts. But I sure like the idea of redundant GPS sensors, particularly from different manufacturers, as we've seen little GPS system changes affect specific models. GPS shoppers should also note differences in mounting options. The Lowrance and Garmin models below are a little easier to install as they have twist off bases that you can screw down (or back fasten), as opposed to the one-piece Maretron which must be back fastened through precisely drilled holes. All three of these come with alternate pole mounts, but the 17x also includes the under-deck mount we saw in June. But then again I've heard that Maretron is coming out with a completely new GPS.