Lenovo Windows tablet, new MFD accessory or primary plotter?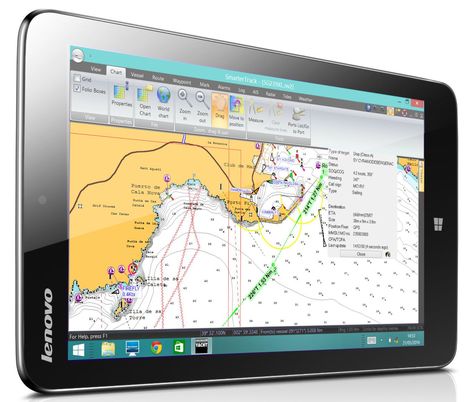 I first heard of the Lenovo Miix 2 when Digital Yacht dubbed it a "best buy for boaters"; besides a low price of about $220, the 8-inch tablet is purportedly bright, fast, and able to run regular Windows navigation programs like DY's own SmarterTrack. While an internal GPS enables standalone navigation, the DY team mainly envisions the tablet as a second station using NMEA 0183 or 2000 boat data (like the AIS seen above), provided over WiFi by one of its many black box hardware options. But then a look at the Miix 2 on Amazon revealed a sailing reviewer who's very enthusiastic about this tablet as his primary nav device, running free OpenCPN software…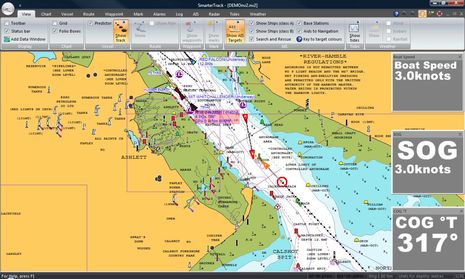 Before discussing the Lenovo tablet as a DIY chart plotter, here's a SmarterTrack screen shot showing the tablet's 1,280 x 800 pixel resolution (minus the bottom menu bar seen in the top photo). A significant feature of this setup as a second station is that a user can copy the Navionics chart card they're using in their MFD to the tablet, including the latest Navionics+ with "Freshest Data" and SonarChart updates. SmarterTrack also seems quite adept at AIS plotting, able to graphically forecast Closest Point of Approach (CPA) situations as illustrated above. (It's pure coincidence that my Raymariner experience last week included those same River Hamble waters.)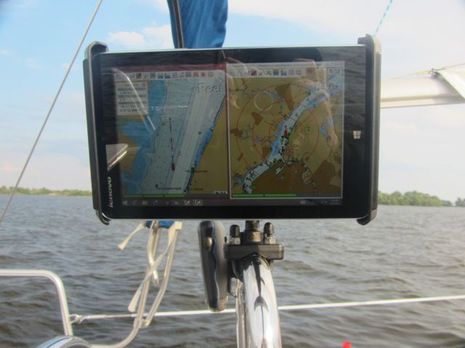 This image shows the Lenovo Miix2 working at the helm of a Catalina 250 on the Delaware River, and apparently, owner Rick S. is not only happy with the display, but did enough research to claim its daylight viewability is better than all the Windows 8 competitors out there right now. Besides that Amazon review, Rick has explained his nav system in detail on this Sailnet thread titled "Chart plotter or iPad." It's a good read if you're interested in how this choice may play out, as I think both sides are well represented.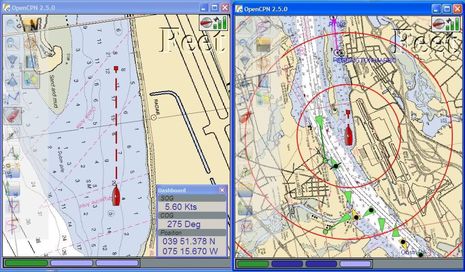 Rick is also an evangelist for OpenCPN, as you'll find on this Cruisersforum OCPN thread — where he posts as "RhythmDoctor" — and in this tablet discussion. I'm not familiar with OpenCPN — Rick's screen shot above was taken on the netbook that preceded the Windows tablet — but it obviously has a lot of fans, and Bill Bishop recently covered a new team effort in open source boat data called Signal K that might benefit efforts like OpenCPN significantly. Plus, Furuno really did come out with the 1st Watch DRS4W WiFi-only Radar (though Furuno USA doesn't seem interested, and I don't understand its value myself). I remain interested in all these developments, but I'm unable to envision tablets taking over navigation on a boat like mine any time soon. So I appreciate how Rick S is often careful to state that he sails in protected waters (though with lots of AIS traffic). I also notice that the Lenovo Miix2 is listed as "sold out" by the manufacturer and newer models are not specific about screen brightness.
But what happens when powerful, weatherproof, high-bright tablets come along at reasonable prices? In fact, last week I participated in a lively discussion on that topic in a very unlikely spot. Or perhaps it was the perfect spot, as the HMS Warrior — where Raymarine hosted a gala dinner on the gun deck — was apparently a marvel of warship technology in 1860 but soon became obsolete. Personally, I'm glad to have missed the opportunity to beta test the 110 pound breech loading guns, though muzzel loading 68 pound shells don't seem appealing either. It was a heck of a spot to discuss the future of tablets and marine electronics, but several of the product guys and even the company's general manager were up for it.