Lowrance Broadband Sonar, a "disruptive technology"?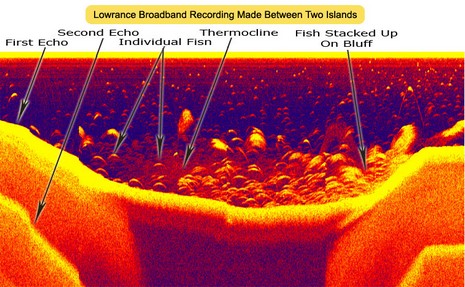 Lowrance's Broadband Sonar was announced back in July, but—judging from the chatter on forums like BassBoat Central, BassPro Shops, and the Hull Truth—it's just now getting to market. So there aren't yet many consumer reports about its performance yet, but, man-o-man, the folks at Lowrance and mother company Navico are some excited about it. At METS CEO Jens-Thomas Pietralla called it "a fine piece of disruptive technology," by which I think he meant that it has the combined performance and value to upset the whole world of fishfinding. His claim echoed (so to speak) an excited Lowrance rep I spoken with at the Fort Lauderdale Show.

Dusty Walker told me he already done three round trips to the Bahamas with the unit and had never lost bottom, and that was "with a bitty 500 watt transducer." Now of course you don't really need to see bottom at 3,000 feet, but a sounder that does can probably also see a lot of fish detail in 500 feet. The Broadband Sonar—a $600 Ethernet blackbox unit detailed here—can supposedly pick out incredible detail in shallow or deep water, and a big, expensive transducer isn't needed. Dusty claimed it gets the performance of 3,000 watts out of 500, and added "no one has ever seen this before. The detail is incredible; it can pull a snook out of a school of mullet!"
I further understand that Lowrance has "just gotten started" with this technology—forward looking sonar (I hope), or what?—and that Navico plans to migrate it through all its brands eventually. Now just how it works I'm not sure, but it seems to be all about DSP chips and software. I must say I'm not too crazy about the name because there is another sonar technology coming out of Airmar that really is broadband in the sense that a wide band of frequencies are put out simultaneously by a single transducer. Lowrance's new unit can operate at three different frequencies but it's not broadband in that way. But I quibble. If this thing does what they say, it may indeed be "disruptive" (in a good way). I'm sure the fishermen on the forumswill be reporting on it soon, and so will I after seeing it in action at the Miami Show next month.