Lowrance HDS Gen2, with StructureMap!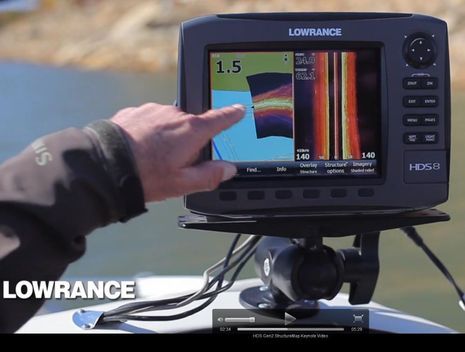 The breaking news today is that Lowrance is out with the new HDS Gen2 multifunction display series, and it has enough processing power to support an interesting new feature called StructureMap. Of course you need to have a StructureScan module and transducer networked to the MFD(s), but then you can see its output overlaid onto your chart in real time and/or save the scans for later perusal. The video on that HDS Gen2 page is the best way to get a sense of StructureMap, I think…
Of course the best way to see how well StructureMap works will be on the water, which I anticipate with relish. As well as what I hope is the inevitable adoption of the feature on Simrad MFDs. As a long time fan of StructureScan, and Humminbird's original Side Imaging, I welcome new ways to interpret the data. I even wrote an entry describing how to use unmapped SS, and though I use it all the time to poke around the coast of Maine, it'll be great if there's an easier way to relate the imagery to a chart. However, this sort of semi-transparent overlay with some chart items on top, some underneath, is tricky stuff, and I'm reserving judgement…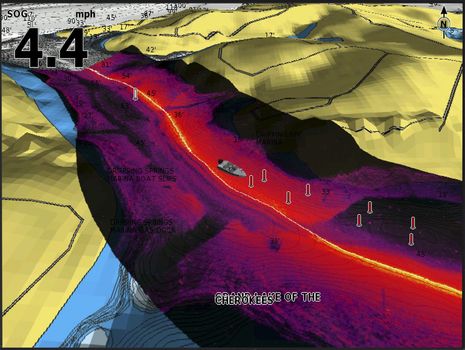 At any rate, there are no less than seven models in the HDS Gen2 lineup, and now they all seem to have the LED screen backlighting technology that still looks good on the original HDS10. What I don't see is any mention of are the advanced Broadband 4G radar features discussed here yesterday. But maybe the increased processing power makes dual independent radar ranges and/or Beam Sharpening control a future possibility? Lowrance has been good about regularly adding improvements to the existing HDS series, like the shortcut keys to favorite pages added last summer. However, that may mean Lowrance HDS Gen2 sports no other significant new attributes, besides StructureMap and increased speed (always a good thing). Or am I missing something?