Maretron's N2K Analyzer, a shy beauty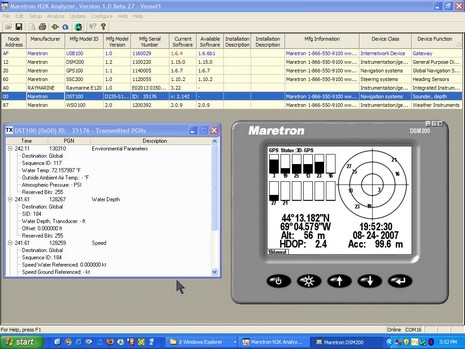 Maretron is a little shy about its N2K Analyzer software tool—it's still in "beta" and there's still no help file—but I think it's nifty. If you have an interest in NMEA 2000, take a look at the screen shot full size. It shows the N2K test system in the lab connected via Maretron's USB100 gateway to my laptop. The software lets me see details of each device in the network, including which PGNs it's sending. PGN, by the way, stands for "Parameter Group Numbers" but is probably better understood as families of data fields.

Thus the Maretron DST100 (actually an N2K depth /speed /temp triducer built by Airmar) is using the "Environmental" PGN to send out a water temperature of 72 degrees. If, say, the Raymarine E was not getting water temp, this screen would help a troubleshooter chase down the problem. There's more analysis to N2K Analyzer, but that's not all it will do. Note in the top section how it can flag Maretron devices for which there is updated firmware; it can also flash those updates. Moreover you can use the simulated DSM200 display to configure the various Maretron sensors just as you would with an actual display.
In fact the simulation is a stand alone program that you can use just to monitor data if you'd like. And my understanding is that Maretron is willing to support upgrades and configuration for other manufacturer's N2K gear, though that hasn't happened yet. At any rate, installers have already been using N2K Analyzer for some time (it's available, and regularly updated, on Maretron's download page), and this November it will supposedly become a supported product that ships with all USB100 gateways. Maretron has lots of news, like completing N2KView, the spiffy server/client monitoring system I got a peek at last fall. There's a full shipping version sitting in the lab, and I'll be testing it over the next few days.