Welcome to the Marine Electronics Forums presented by Panbo and SeaBits.

VHF (fixed mount) recommendations?
General Marine Electronics
Topic starter
February 28, 2019 2:57 pm
I'm looking for advice for a new VHF for a 1985 motorsailer we expect to pick up in RI in April/May and sail back to the Chesapeake. We anticipate installing an up to date speed/wind/depth/MFD system later in the season when we have boat back here. We have a B&G Vulcan 7 and Triton system on our current boat and like it but as we will need a new wheel AP on the motorsailer I'm leaning towards going all Raymarine.
We don't need the new VHF to have a built in AIS receiver as have a SeaPilot AIS transceiver on the current boat and I will migrate that to the new boat. I would like the radio to have its own GPS though, so that it can be fully functional independently.  I would also like N2k connectivity - really just for for position polling and possibly initiating DSC calls without manually entering strings of numbers.
Second station capability is also required - wired is fine, the option of wireless would be nice.
Top priorities are, of course, reliability, ease of use and legibility of the screen.
The radio in our current boat is a Standard Horizon Matrix 2150 with a Ram3 mic in the cockpit and we are pretty happy with it, though the screen is not the best - at least for my eyesight, and it only has 0183 connectivity.
From the specs the new Ray63 seems to check most of the boxes but oddly lacks a hailer/horn function. Apparently one needs to step up to the Ray73 for that and that is a big price jump - to be fair the 73 also offers AIS RX but we don't need that.
The B&G V60 looks promising to but at a price point similar to the Ray73. Have the bugs been worked out of the V50 and is that a viable (and cheaper) option?
 It looks like SH will (soon?) be releasing a couple of new radios with N2k at the mid to lower price range - the 1850g looks good from the specs.
Icom of course has some suitable offerings too, but at first glance they seem to be at the upper end of my price bracket for the features I am looking for. Still, a VHF is essential safety gear so I am looking for the best long term value rather than cheap.
Spec sheets and browsing in the store only tell part of the story so I would really any appreciate feedback and advice based on experience.
Thanks
Patrick
February 28, 2019 4:03 pm
Hi Patrick, 
I just went through a similar search for my new boat. I had a Standard Horizon 2150 at the flybridge, and a really old Standard Horizon Titan + down below at my salon driving station. I had the B&G, Standard Horizon GX2200, ICOM (various models) and a few others on my previous boat, and were never really happy. 
I settled on the Furuno FM-4800 which is pretty new. It has many of the things you're looking for, which were my criteria as well. NMEA 2000 built in, GPS internal, second station via a wired mic, etc. 
I have been using it only a few weeks, but the GPS is absolutely outstanding - it is up and running and has a position within 15-30 seconds, which is faster than any other radio I know of. My Standard Horizon GX2200 would often fail getting a GPS signal, even in a good location. The unit has been built very well, looks nice, and has a very loud speaker. The screen is definitely bigger on the Furuno vs. the SH 2150.
I'm hoping to write up a bit more about this soon, but so far I'm very pleased with the radio.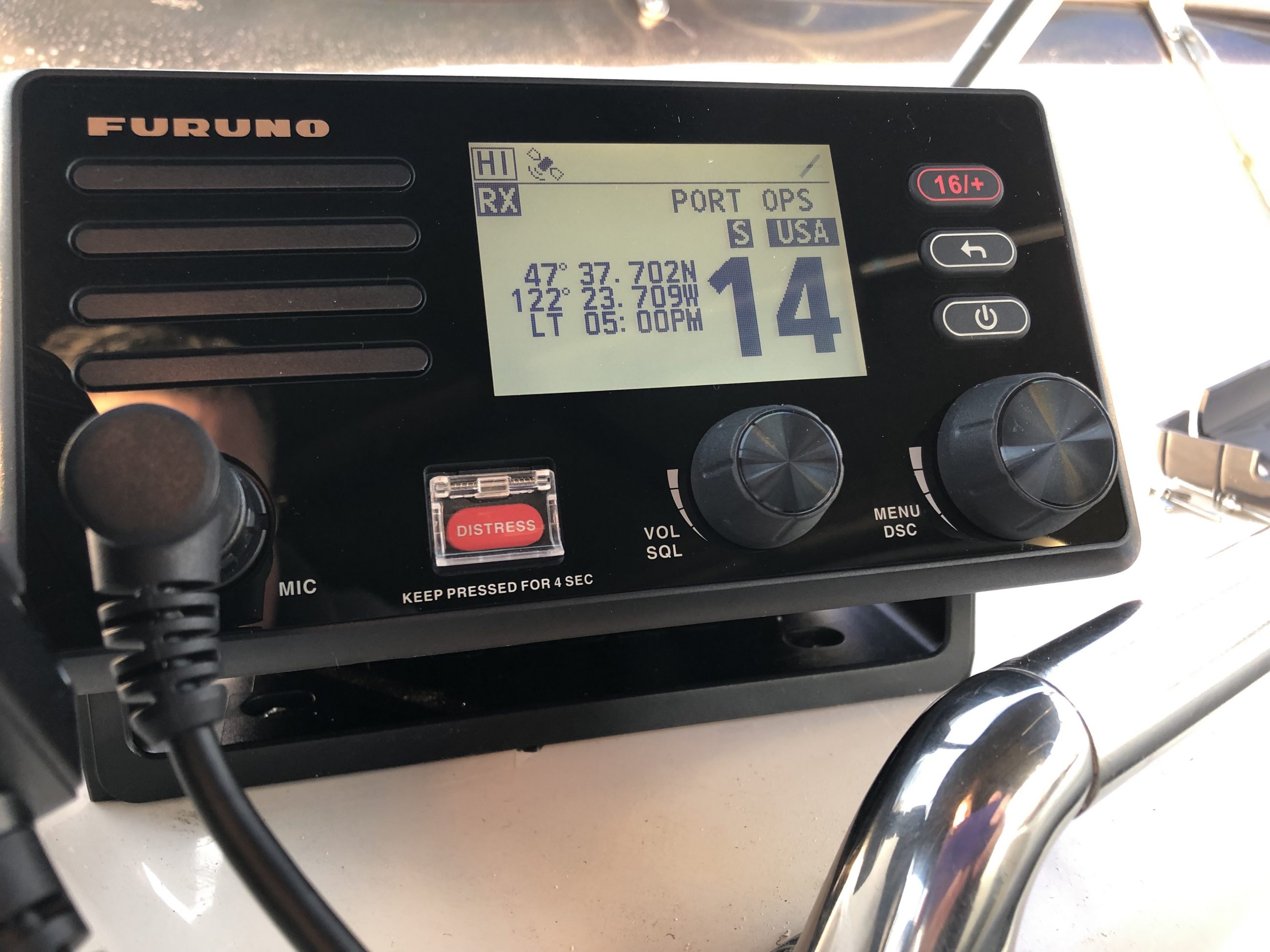 Topic starter
February 28, 2019 4:50 pm
Thanks Steve!
I'll definitely take a look at the Furuno. 
I knew from some of your earlier posts you were not entirely happy with the B&G and others.
Topic starter
February 28, 2019 5:36 pm
Steve,
The Furuno FM-4800 does indeed look nice but for roughly half the price (after rebate) the Standard Horizon GX6000 is looking very appealing! Am I missing something critical or do I just need to see both in the flesh to appreciate the Furuno?
Thanks
Patrick
February 28, 2019 6:14 pm
I have only used the GX6000 for a few hours on another boat and have not owned one. I believe one of the Bens either has one or had access to one for a while. I know the big feature is the wireless remote, but in my experience, the marine industry has not figured this out yet, and while they're getting closer, I would rather have a wired second station, if needed.
I did like the GX6000 and I'm sure it would be a great radio too. I just invested in a full Furuno system, so having the FM-4800 was an easy choice since it integrates well with DSC calls and such with the rest of the equipment, plus it looks similar too.
Topic starter
February 28, 2019 7:01 pm
Thanks.  As I understand it the GX6000 gives one the option of wireless or wired remotes - or even both (as long as you only want one wired remote).  So if I went that route I could get the radio and one Ram4 mic and see if later on I really need (want) a wireless remote too.  I think my HX870 probably does all I need when I need to step away from the radio or second wired station.
PS On further investigation it seems that SH have both a Ram4 mic and a Ram4W - the latter being the wireless option that also requires a base station connected to the GX6000.
February 28, 2019 11:40 pm
Ben E. has a GX6000, perhaps he can chime in with his experience with that radio.
I currently have a Raymarine Ray90 ( https://panbo.com/raymarine-ray90-a-full-featured-black-box-vhf-radio-with-wireless-handsets-and-bluetooth-audio/) and I've been very happy with it.  The wireless handsets with this radio are all implemented with WiFi and so far I've found them to work really well.  It has a number of additional niceties, like pairing the wireless handheld with a Bluetooth speaker for louder, clearer sound.  
It does have a hailer and can be purchased with or without AIS RX.  
I've had the opportunity to play with Furuno's new fixed mount radios and thought it was also a very nice radio.  
Ben
Hi Patrick, First of all, thanks for the head's up about the new Standard Horizon GX1800/1850 radios. The details are just rolling out but I like a lot of what I see so far:
http://www.standardhorizon.com/?cmd=DisplayProducts&DivisionID=3&ProdCatID=83
https://www.thegpsstore.com/Standard-Horizon-GX1850G-Explorer-VHF-with-GPS-Black-P5873.aspx
As for the GX6000, I did have one on Gizmo last season and while I should have returned it already, I'm planning another round of testing in the lab before a more detailed writeup. It is a very good VHF with about every feature imaginable, and I found the WiFi wireless RAM4W to work really well. But it's also quite large and expensive, and has some quirks. For instance, I am dumbfounded that SH does not yet offer a charging cradle for the RAM4W, even though it seems to have exposed contacts for one. Using a USB cable isn't that hard, and a charge lasts a long time, but still...
The GX6000 also launched with a significant glitch in the AIS output over NMEA 2000. It was fixed with a software update but it's a little disconcerting that it may have been slowly uncovered by a bumbling boating writer in Maine, as I wrote about here:
https://panbo.com/standard-horizon-gx6000-bad-and-good-news-plus-new-hx890-and-hx40/
But you'll see that in that update process I also learned about the powerful PC configuration software that works with the GX6000. I don't think that the new GX1800/1850 radios can be updated and configured like this, but -- the manual is up -- they definitely do let you customize the soft keys as also discussed in that entry. I consider this a very valuable feature and like the whole E2O icon and menu system.
I've been shopping for the same and came up with the Simrad RS35 Fixed-Mount VHF Radio with AIS, NMEA 2000. Has everything you want. Defender has them on sale for $171. The bought a bunch of these at a good price.
However, some of the review indicate that the hailer function has some issues. Does anyone know if there's truth to this?
Larryo
Larryo
Mainship
2017 Simrad package
November 5, 2020 11:29 am
I was reluctant to purchase Uniden UM385 because of other reviews, but the price made it worth trying. I loosened the spring action on the mike bracket due to reports of a weak plastic mike fitting. I feel a fix must have been made and I saw no weakness with the mike. I installed the radio and a 42" antenna on my pontoon boat, launched at the St Johns River, 26 miles from me, requested a radio check, and received a clear response on ch 16. Several miles into my voyage I requested a RR bridge opening on ch 09 and was told I was heard loud and clear. I received various wx stations clearly. I don't like the channel selection method, but I can live with that. Happy with my choice.