Meteor, and other Camden Harbor curiosities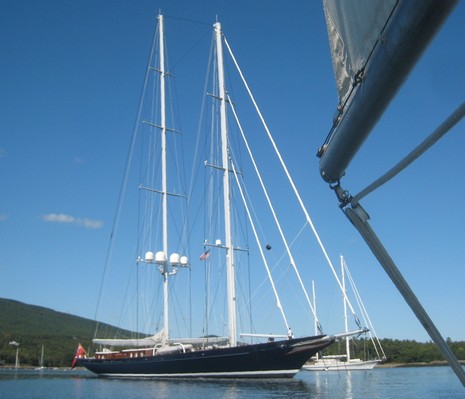 The 18′ Annie G. must have looked comical, not to mention bedraggled, circling the 169′ schooner Meteor as she varoomed her 100 kW bow thruster to set twin 600 lb CQRs in the Outer Harbor yesterday. But my mate Max (once owner of his own noteworthy schooner) and I had never seen this superyacht before and had to gawk. In fact if it weren't for a later Google search—hello Meteor!—I wouldn't know a thing about her, and still can't figure out what all those domes on the carbon spreaders do.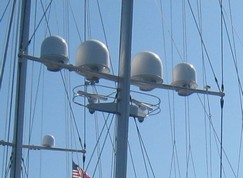 Royal Huisman's Meteor site has a specifications PDF, but the only dome-related gear I see are a Sea Tel 4006 VSat and probably the vague "integrated entertainment, based on Microsoft Media center." She also carries Nobeltec "radar/chart,&rdquo Northstar 6000i "GPS", and PC-based monitoring and control system…all apparently secreted behind teak and mahogany cabinetry. So what are all those satellite antennae, and, if it blows stink, does Meteor's large crew have to reef them?
Timely as it may be, the day was too nice to grumble about how superyachts became much more frequent visitors here over the last decade, while the number of normal-size cruisers remained stagnant, then shrank this summer. Besides, we also watched the two unusual and much-tinier-than-us "watercraft" below venture out into the Bay. Now I know that they are a whole niche called stand up paddle (SUP) flatwater. Who knew? And couldn't a GPS/VHF handheld be a SUP's entire electronics package?