METS 2014: Navico GoFree, Simrad IS35, Victron Bluetooth, LCJ Capteur BaroPlug & more
Earlier this week we published Henning Dürr's report on METS 2014 and now here's what Kees Verruijt found.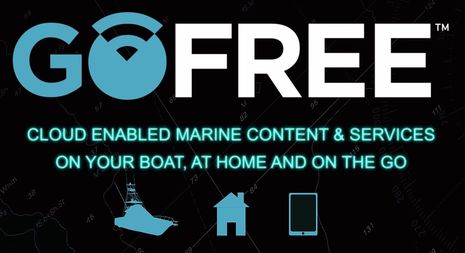 Navico GoFree cloud content and services
The Simrad NSO evo2, NSS evo2, B&G Zeus2 and Lowrance HDS Gen2 Touch MFDs will all get a January software update that allows users to buy new charts, update software, and more directly from their boat displays. Moreover, GoFree is being upgraded to a separate "brand" that covers all the cloud-enabled content and services offered by Navico on all three "hardware" brands…
The first big step is to make the existing GoFree WIFI-1 wireless bridge — which previously provided only a closed loop WiFi connection between mobile devices and an MFD/sensor network — also able to act as a WiFi client to an internet access point. (You can use another WiFi bridge instead of the WiFi-1, download "GoFree Advanced Setup" here, but you won't be able to set these up from the chart plotter nearly as easily.) The coming software update also seems to put rudimentary browser and file transfer functions on the MFDs, as well as enabling quick tasks like choosing a new external WiFi network.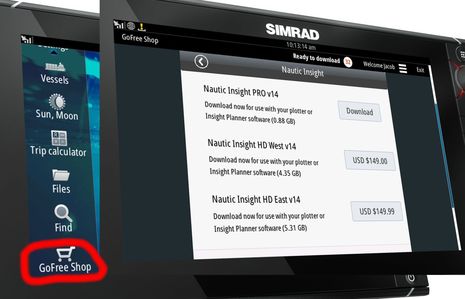 The new GoFree Shop choice coming to the current generation MFDs will let you access the Insight Store (which will be renamed the GoFree Store) to buy Navico's own charts and those of charting partners that participate in the program. NVcharts and Jeppesen C-Map have announced that they will participate.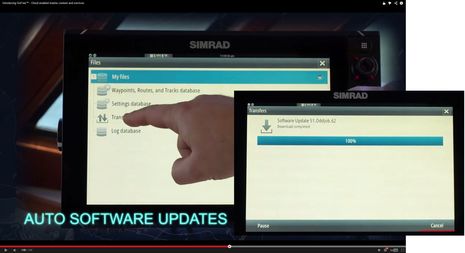 Direct downloading of system software updates will also be enabled, as well as chart updates and the ability to easily upload sonar data to the Insight Genesis make-your-own-chart program. What was still missing at METS was the participation of Navionics, who run their own Freshest Data chart update program. When asked, the Navionics people on hand could not provide any guidance, so we'll have to wait and see how this plays out.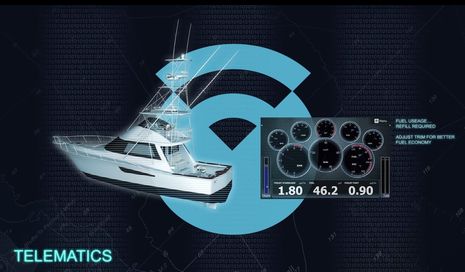 Navico obviously has big plans for their new brand, though, and if you check out the Introducing GoFree video you'll find mentions of telematics and social boating.

Simrad IS35 instrument display
Also being shown was the new $399 IS35 color instrument display. These will look very nice on a motorboat "glass bridge" underneath one or more NSS 2 displays. They are intended as a replacement for analog engine instruments for motorboats — with default pages for engine monitoring, fuel economy, cruising, steering, and depth history. For that reason they are not the "standard" 110 mm / 4″ size but 10mm smaller so they fit the standard 85mm (3 3/8″) circular cut-outs typically used by analog gauges. The IS35 is the more stylish option in such an installation compared to the existing $549 IS40 color instrument display, but the IS40 has a larger display, buttons that are easier to use with gloves and — depending on what the final firmware in the IS35 will contain — they're possibly better suited to sailboats.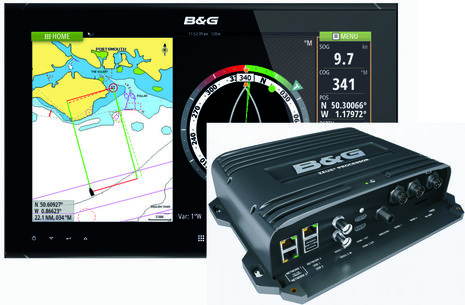 B&G H5000 one year on & Zeus Glass Helm
The H5000 display that I liked last year in a rough form is now, with a few more firmware releases under its belly, ready for prime time. The race start display in particular is now very easy to use and gives excellent feedback — how many boat lengths advantage on which side of the line, how many boat lengths over/under the line. If you are a serious racer, you need something like this. B&G has also come out with Zeus2 Glass Helm system (based on the Simrad NSO evo2) with a choice of 16- or 19-inch monitors.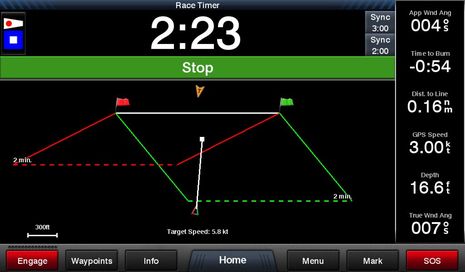 Editor note: Among Garmin's many Fort Lauderdale announcements was a graphic Race Start function that will run on new 7400/7600 MFDs and also looked easy to use and informative ~ Ben
Victron
The atmosphere at Victron was ebullient. Panbo readers in the U.S. will be glad to hear that they are not only are expanding the marketing and sales departments, but also the tech support and fufillment areas. This should improve Victron support in the U.S. considerably.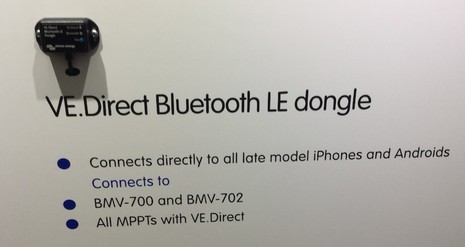 Besides new low end chargers and DC/DC converters what caught my eye was a Bluetooth LE dongle that will connect BMV-700 series battery monitors (and MPPT solar panel controllers that also use the VE.Direct protocol) to mobile devices. I had not realised until I researched this entry that the "new" Bluetooth LE (Low Energy) standard is so different to "classic" Bluetooth, and therefore is a huge improvement — lower in energy, simpler to pair, all good. It definitely seems to be on a roll and catching on quickly. The Victron dongle is another example of how a simple serial to wireless dongle allows you to use the superior graphical user interface on your smartphone or tablet, reducing the number of LCD screens scattered around our boats…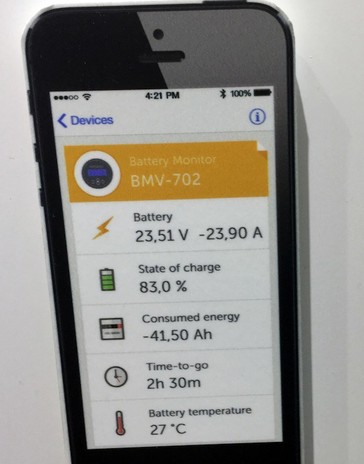 Airmar Ultrasonic Speed Sensor
Are others interested or is it just me who's developing a personal obsession with Airmar's ultrasonic speed sensor? Henning had obtained a DST900 brochure (download here) that shows a picture of the now almost mythical paddle-less speed sensor that has been delayed for many years. Since last year (oh no – it is already two years ago) they have managed to put a picture of the actual sensor in their show material, but release is still "scheduled for early next year" and some distributors have given up. I guess it's good on Airmar that they are not releasing an unfinished product and making us all guinea pigs, but maybe this technology is just not meant to be? Or maybe the tech works but just not at a cost-effective price level?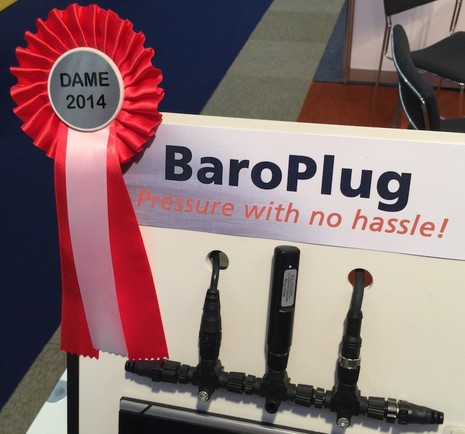 LCJ Capteurs BaroPlug
Henning and I also visited LCJ Capteurs, who I mentioned in my METS 2012 coverage. I was curious to see how they got on since I do not see a huge uptake locally amongst racing or cruising sailors and so I guess it is still an up-hill battle for them to compete with the bigger players. Maybe their new BaroPlug will help? It is a very simple NMEA 2000 sensor that only does one thing, provide atmospheric pressure onto the network. Although there are other solutions such as an Airmar PB/WX series, I think this is the first simple single type sensor providing this particular data point. Pressure is important for any boater — when the pressure starts dropping you ought to be executing previously made plans for bad weather. And if, by oversight, you haven't, you are warned and can take action — hopefully in time. At €150, or about $200, it is reasonably priced for a NMEA 2000 sensor and I think it has a bright future ahead.
Closing thoughts
The atmosphere was good, people seem to be cautiously optimistic. The trend towards tablet-style interfaces and better styling in electronics continues. However, it seemed to me that there were very few world class premieres around. Could it be that the competition is heating up so that there is no time to wait for a yearly show? Or are shows such as FLIBS gaining the upper hand?