More LowranceNet, and a NMEA 2000 'gotcha'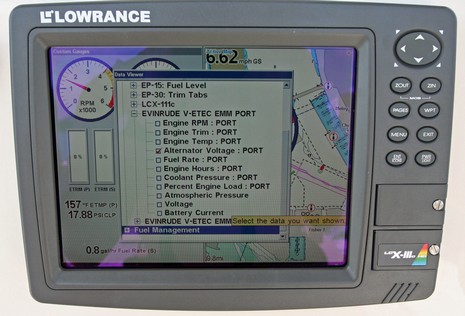 In the photo above, taken on an Etec/Lowrance demo boat in Miami, I'm setting up a "Custom Gauges" window, and this particular screen is showing me some of the data available on the NMEA 2000 (LowranceNet) bus, specifically what's coming from the port side Etec outboard. The same data would be available to any other displays on the bus that cared to recognize it, which could include, of course, Lowrance's LMF-200 and -400 digital gauges (see test system). I think it's slick. For one thing you'll notice some data that you've likely never seen on a standard engine gauge, like load percentage (which I understand can be very useful for spotting a problem like a bent prop). For another thing, you'll never lose sight of any particular number, like RPMs or oil pressure, because if one gauge or screen fails, the data is still available everywhere else. Plus, of course, all the data, and power for smaller sensors and gauges, is in one cable.
But there is one little caveat, as grumbled about yesterday by Panbo correspondent Chris. It is perfectly legal for a manufacturer to send a certain percentage of proprietary messages through the 2000 network (I'm not sure of the exact percentage). This makes sense, even encourages innovation. But in Evinrude's case the result seems a little rude. You see the company's I-Command gauges are very obviously OEM'd by Lowrance. The only difference is that their firmware can read and display proprietary engine messages, like diagnostics, and even control functions like instant self winterization (very cool)…and, according to Chris, they are much more expensive. Gotcha! I talked to an Etec representative about this and he said the policy was not written in stone; in other words, Etec might open up their private messages to Lowrance and others. But then Lowrance or whoever would have to write code to use those messages. In some ways this detail of the NMEA standard is a potential strength, and you've got to give Evinrude credit for all the data it is opening up (Note: everything below, including precision fuel flow from the ECM, is 2000 standard data). But I sure understand how this proprietary/open data detail, especially along with the cable dissimilarity discussed yesterday, could frustrate a guy like Chris, who's just trying network a boat like he heard NMEA 2000 could.