MV Dirona: deep cruising, deeply shared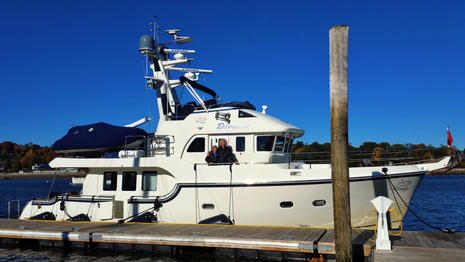 If there were a lifetime award for cruising excellence, I think that Jennifer and James Hamilton would deserve at least a nomination. I mean excellence at the core practical cruising skills — seamanship and boat care — plus inspirational levels of curiosity about the vast world cruising makes accessible, and perhaps at the top of my imagined award criteria: distinction at sharing all of the above with the rest of us. Visiting M/V Dirona in Belfast, Maine, last October was a treat, but you too can ride along as this Nordhavn heads to Ireland and beyond…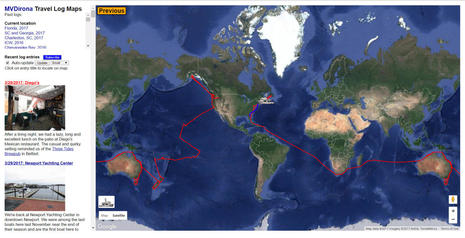 If there's another personal cruising blog as content rich as mvdirona.com, please let me know. Of course, it helps that the Hamiltons were already seasoned cruisers and guide authors when they took delivery of their customized Nordhavn 52 in late 2009, and they've been living aboard and making tracks almost full time ever since, as indicated by well over 8,000 hours on Dirona's John Deere diesel. It also helps that both have extensive high level tech backgrounds, to the extent that they sometimes can't recall who wrote which "bit of code" to add some feature to their website (or the boat's extensive monitoring, control and communications systems).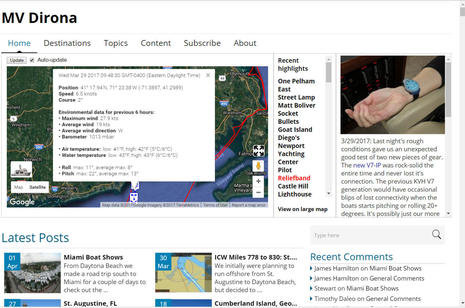 At this point, Dirona's automated online tracking is so detailed that you can almost feel the steep seas encountered en route from Savannah to Newport last week. The Hamiltons can also add photos and notes to the track line, apparently easily as they frequently use that ability in interesting ways. For instance, the "Recent Highlight" I screen captured above discusses the Reliefband that helped Jennifer deal with the pitching during her last long night watch and also how well Dirona's new KVH V7-IP mini-VSAT stood up to the abuse.
(I, too, can endorse the Reliefband as one definitely helped my daughter deal with helicopter airsickness while reporting this wonderful Maine story, and the mini-VSAT communications will get more discussion below as it's critical to the rather amazing full-time job James holds down while motoring around the planet.)
Mvdirona.com tracking has evolved over the years — heck, now Jen and James even use their phones to log their tender and land adventures to parks, museums, brew pubs, and more — but you only have to click on the red archive track segments to get some detail of, say, their 2012 passage from San Francisco to Hawaii. And all along they've been creating longer posts on topics (recently) ranging from the Daytona 500 to the new Dashew FPB 781 Cochise (wow). In short, I learn something interesting about boats or vicariously enjoy a new thing every time I visit the site, usually multi both.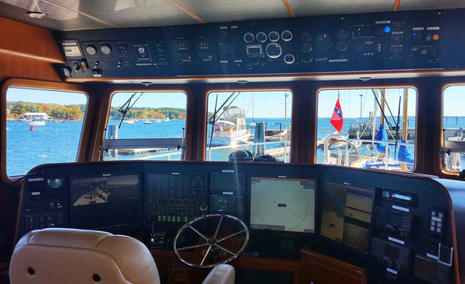 So what is M/V Dirona like on board? What accounts for so many miles cruised without any major problems (I know of)? Well, the wheelhouse looks like several Nordhavns and similar era passagemakers I've seen, which is to say lots of high quality electronics with the multitude of user interfaces standard before glass bridge style integration began to take hold.
But one advantage for liveaboards who regularly use their boats in earnest is that they get comfortable with what may look like daunting complexity. The Hamiltons not only know their boat in extraordinary detail, they've extended and integrated many of their systems so the boat better tells them what it needs.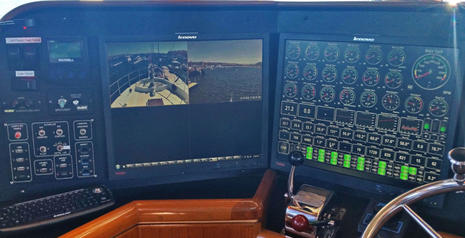 It's not my best photography, but if you click the image above bigger, you'll get the idea. Dirona has lots of cameras, which makes great sense on a little ship usually run by two people, working one at a time on long passages. And clear labels on switches and so forth are just plain smart (even if they mostly remain on my to-do list). But, dang, look at that crazy Maretron N2KView monitoring screen!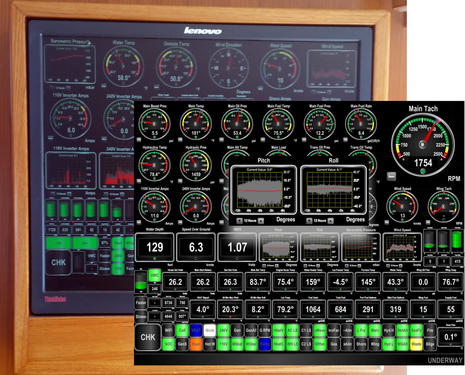 Actually, it's less complex than it looks in a general way, though more complex in a Dirona way. A key point that Maretron and their more devoted customers have understood for a long time is that monitoring is really about alerting and alarming, with all the numbers and gauges serving mainly as a secondary reference. So, no, Jennifer and James do not constantly scan these monster instrument screens.
Instead, N2KView lets them know which value(s) need attention with color and audio. Plus, because they know the screens well, they can easily zoom their eyes in on particular sensor gauges of interest, like the trend of maximum and average pitch and roll during that last slog into Newport. And that's possible both in the wheelhouse and on a similar salon monitor (and on many smaller screens elsewhere).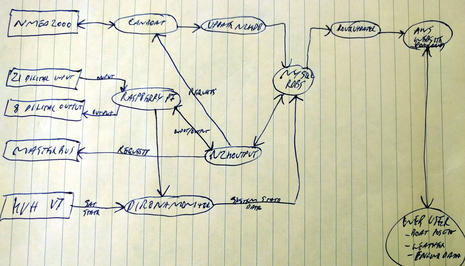 I'm a longtime fan of Maretron alerting, alarming and control on their modest displays (via SMS text too) — and I've lobbied MFD developers for Maretron-ish custom alerts (with little success) — but the Hamiltons saw beyond even N2KView and they have the skills to make it happen. As we'll see, there are values and commands flowing across their N2KView system that are Dirona unique.
The rough sketch above diagrams the data flow, and while I know it's hard to read, it's beyond most of our capabilities and needs anyway. Instead, I like to think of Dirona's overall system as a working prototype of where Maretron and others might take us, and here's James explaining it:
It shows the rough architecture of the system and the data sources and sinks down one side: All NMEA 2000 devices, 21 digital input (off/on), Masterbus for charger and inverter control, and the KVH V7 (state, signal strength, and data moved). The relational database is the center of the system and it has all devices state every 5 seconds going back years.

Kees wrote Canboat and it's simply wonderful. I wrote the Masterbus CANBUS control system and the Raspberry PI digital input and output system. In the bottom right hand corner of the display we show web users accessing the website, which also gets its data for the tracking map from the central MySQL database. Jennifer wrote most of this code. Not shown is the mobile application also written by Jennifer that can be used to turn the generator off and on manually and also shows generator runtime statistics.





N2koutput is the core of the system and it drives alarms, sends email, gen autostart, load shedding, and setting indicators/warnings in N2KView, which is the user interface to the system. We love the flexibility and configurability of N2KView. Most of the NMEA 2000 system sensors are Maretron devices. Good value and easy to install. We continue to add more Maretron sensors as the need arises.
I'll add that Signal K might be in use on Dirona if it had appeared sooner, and that James has some interesting ideas about modifying NMEA 2000 fees to encourage non-commercial users that I've posted in the Forum for discussion and will also send to NMEA.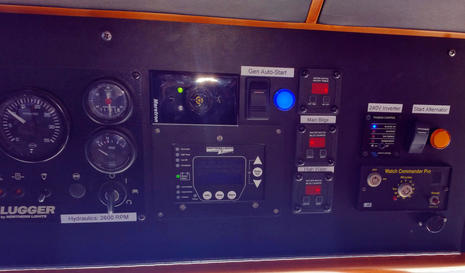 There's lots more detail in this Maretron N2KView on Dirona entry, but there's more still to the overall system, and it's evolving. For instance, instead of replacing the beloved but broken Watch Commander Pro seen on the wheelhouse overhead above, James…
…just used the key switch in the Watch Commander Pro to signal the boat control systems to run the watch commander functionality. If you don't press the reset button it goes through the following sequence: *8 min: show yellow light, *9 min: red light, *9.5 min: gently beep once, *10 min: set off a PH alarm, *10.5 min: send email (used to remind us later if we haven't been on the ball), *11 min: set off very loud full boat alarm.





This has many advantages, but the principle two are: 1) helps prevent someone from falling asleep and putting the boat at risk, and 2) if someone were to fall overboard, the system would wake the other person in 5 min on average and no more than 10.5. I also show a countdown digital timer on the n2kview display.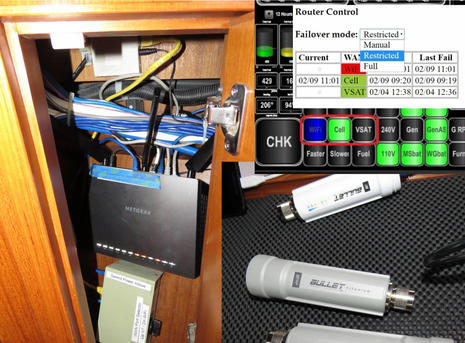 Or how about this collage illustrating Dirona's recent router upgrade. Yes, indeed, that's N2KView showing advanced router status, specifically whether the Internet (also known as the WAN, or wide area network) is available to the boat network (blue), not available (black), or in use (green) on their VSAT, cellphone, and WiFi internet sources. And you're also seeing a custom router control app which lets the Hamiltons tell the router to automatically fail over from WiFi to Cell to VSAT with or without use restrictions.
And all that is happening using a relatively inexpensive Netgear R7000 Nighthawk router and two Ubiquity Bullet high power WiFi radios, one aloft to get marina WiFi and the other below to nab the cell hotspot. The results are like what's available from high-end marine routers like Wave WiFi's or Aigean Networks, except that those are much more expensive and not one that I know of can output status info to NMEA 2000 for handy display at your helm.
But, damn, Dirona's new router is running highly configurable open source DD-WRT firmware and James allowed that another "bunch of custom software" is also involved. Again, I will choose not to resent Hamilton skills, but rather to see this easy multi-WAN boat Internet system as something that could be developed as a consumer product that I might still possess at a reasonable cost.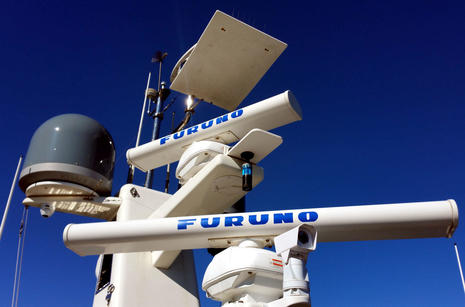 Actually, it's extremely hard to resent the Hamiltons for the remarkable cruising lifestyle they've created, because they are so relaxed and sharing about it. It's also unlikely that most of us will need anything like KVH mini-VSAT — 7,000 systems now shipped — to maintain enough connectivity to go cruising (though the time may be near when many of us can more easily abet those other much less expensive WAN sources with sat comms.
But as I understand it, Amazon gave James permission to take his position as VP and Distinguished Engineer for Amazon Web Services (AWS) anywhere on earth as long as he stayed as connected as he was in the office. So choosing a primary sat comms system was a big deal on Dirona and especially back in 2009 a major expense, and, in fact, the Hamiltons tried others to maintain 100% coverage. But KVH won the initial battle and endured, as expressed in this informed and enthusiastic factory tour and by the newly installed V7ip mini-VSAT.
Incidentally, in the antenna farm photo above — taken in Maine before the Bullet was installed — the unusual "platform" high up is actually a spot light shield explained here (though the 500W halogen light has been replaced with "a massively bright LED system that we just love using 4x Rigid Industries 10″ light bars." Meanwhile, the unusual black cylinder is an external alarm and blue flashing light set off by certain faults like batteries discharging below 50%.
We don't expect this to happen and wouldn't want to disturb our neighbors so the first line of defense is generator auto-start. The system will start the generator if the shore power goes away and the batteries go down; it'll charge the battery and then shut off the generator. I'll get email at the start of the power failure telling me as well. If shore power fails, the generator auto start fails, and I don't act on the email, and the fault is long enough to discharge the batteries, then the external alarm and light goes off. It's purposely not loud enough to wake people (I want help rather than to inspire vandalism :-)), but it'll catch the attention of folks walking by and the flashing blue light will draw attention).
Now is a good time to note that though you may not know Amazon Web Services (AWS), it's a really big deal. In fact, I recommend that you at least start this recent AWS convention video to see how rock star a distinguished network engineer can actually be in 2017, and to stay with it to learn amazing things about the cloud in general and how to power deep sea fiber cable amplifiers specifically (more here).
The point? James is not just a software engineer, but more a poly something with at least equal expertise in mechanics and electrical. It shows on mvdirona.com and I'll close with one small detail that bowled me over.
Just before my Dirona visit I had experienced an odd intermittent failure of Gizmo's PSS dripless shaft seal. It was still dripless at rest and low speeds but wicked drippy at speed, a situation that did not mix well with my then sloppy bilge pump situation. I'd also learned that it wasn't unusual for the doubled set screws in the stainless shaft collar to let go, which then creeped forward allowing the bellows to relax and bad things to happen at high rotation speeds.
Steve D'Antonio explains shaft seals beautifully here, but I've yet to see the brilliantly simple mechanical safety and monitoring technique James came up with on Dirona (below). Sure, a subsequent Google search showed me that others have realized that a spare zinc collar can easily back up the PSS collar — like in comments here and here — but it seems that only James thought to leave space between the zinc and the collar, so an easy inspection will show you that the main collar has walked forward (though not so much that massive amounts of water come aboard at speed).
Hurray, there was something I could do myself, Gizmo's shaft seal setup looks like a carbon copy today (well, not quite so clean), and if you have a dripless seal, this should go to the top of your to-do list (along with being sure that the bellows isn't too old). That's just one reason why I've subscribed to mvdirona updates, enjoy just dropping by regardless, and really look forward to some excellent vicarious cruising and problem solving when the vessel heads off to Cork, Ireland in the near future. Thank you for sharing so much, Jennifer and James, very much.