M/Y Adastra, a win for Palladium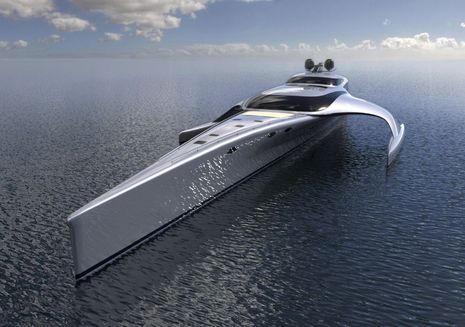 Regardless of anchoring acrobatics — and just how the heck do you tie this wild 146 foot trimaran alongside a dock, with a line throwing gun? — M/Y Alastra joins the short list of exotic vessels I'd love to cruise around Penobscot Bay, if only briefly, and if only to freak out the traditionalists. And it's a safe bet that there will be some pretty interesting systems on board; in fact, I heard about this creature because Palladium Systems just announced the monster gear contract they've won. It includes not just their Ethernet/Windows-based SiMON monitoring system — with some 269 data points reporting to wheel house and engine room, and probably various iThings as well — but also their new Titan electrical system…

I got to see a demo Titan system at the Fort Lauderdale show last fall, and was impressed by its interesting mix of analogue gauges and touchscreen monitor. Palladium is good at man-machine interfaces. However, seeing as I'm just now gaining some competence over Gizmo's relatively modest electrical system, I'm not qualified to comment much on what's going on behind this panel. I don't know, for instance, how much Titan relates to the sort of distributed power systems we've been discussing. But I did watch a megayacht engineer getting a tour of the massive relays and so forth behind that panel, plus the multiple pages of touch monitoring info you can see if you click on the photo, and he got excited.
M/Y Adastra is truly an international effort,
designed by John
Shuttleworth in the U.K. and being built by the Australian firm McConaghy Boats in China. And she's really coming along, as you can watch in this neat time lapse video. Even if she never makes it out of the Far East — where the traditionalists go much further back — let's hope we'll at least get to see
some good photography of the finished systems. Maybe she'll even get one of Palladium's gigando touchscreen remotes.