Navico NASA moves tech support to the cloud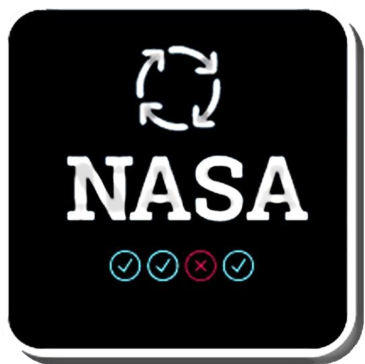 Marine electronics tech support is a ritual I'm all too familiar with. Dial the phone, wade through the metaphorical press one for yes, two for no and wait until the tech picks up. For the average boater this can quickly turn into a button pushing slog with unsatisfactory results. Tech: "What version of software are you running?" Boater: I don't know, where do I find it?" Tech: "Go to the System tab." Boater: "Where's the system tab?" Tech: "It's in Settings." Boater: "Where's Settings?" I won't belabor this but sometimes it takes a lot of patience to provide tech support with the information they need to help you. This is now changing for the better with Navico's new cloud-based Network Analyzer Service Assistant (NASA) software. It's the most significant use of the Internet by a MFD to date, I think, and the high-tech aspect of the NASA acronym isn't lost on me either.
Simrad announced the Network Analyzer Service Assistant feature in June, Lowrance purportedly improved its version of NASA with the August HDS Gen3 update, and it was also included in the recent B&G Zeus2 update.
To write thoroughly about this unique system I was given access to Navico's NASA report decoder so I could see the service side of files I sent from local boats. It's an impressive suite of software. From the boater's viewpoint it's simple to use. You can send the report directly to Navico technical support using GoFree, or use a micro SD card to store the report and email the file to them. More on this later. To create a report you go to Settings/System/About and you will see Create Report at the bottom of the page. As just noted, this feature is currently available for almost all Navico MFD products that can use their GoFree Shop.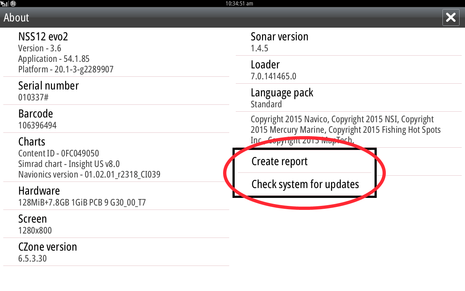 The NASA report is a comprehensive picture of everything connected to your system, its configuration, status and settings. Connected NMEA 2000 devices are there with information like software versions, and model numbers. The data also includes user settings for devices such as radars and sonars along with diagnostic logs, internal temperatures, alarms, error reports and much more. In fact the data is so complete a Navico technician can create an exact virtual copy of your system all the way down to the current backlighting settings and depth contour shading levels at their work station. This enables the tech support department to see everything you see on your own system while he interacts with you.
When I said the file holds everything about your system, that wasn't completely true. Navico is sensitive to both privacy and security issues and the file has very limited personal information. You need to input your email address and country as a minimum. Your phone number and case number are optional but it will be helpful for the support team to have it. You use a pull down menu to select what part of your system is having a problem like an autopilot, and there is a place where you add some notes about your problem.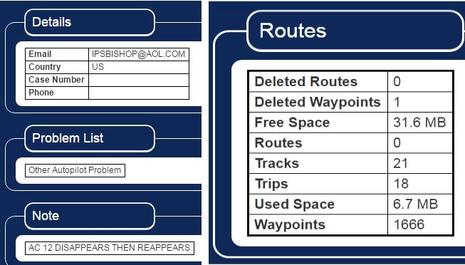 What the report specifically doesn't collect is your waypoint, route, trip and track data nor does it log any NMEA data. It does know how many waypoints, routes, tracks and trips you have stored and the amount of memory they use, but not what or where they are. I've verified this by grinding through the raw data files. The report also knows the vessel position where the report was generated if available. This is used with a geo-fencing tool to assist the service department in identifying local technicians if needed.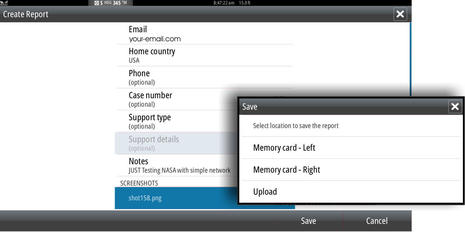 Here are the ways you can put the NASA software to work. If you have an Internet connection you just create a service report. You can add any needed screen captures (I'm told by the support department these can be important) like sonar or radar images to help show what your problem is. The file then transmits directly to technical support via GoFree and in about three minutes the file is decoded and ready for use. Tech support will use the information you provided to contact you.
If you don't have WiFi access, tech support would like you to call them first. The techs will as usual try to help you on the spot, but if needed they will assign you a case number and ask you to create the report and email it to them. In circumstances when you don't have easy phone access but need help you can directly email the report. Emailed NASA reports are decoded and have a case number assigned to them. This is emailed back to you. You can then call tech support with your case number. I have put the new email addresses at the end of this piece
In most cases technicians can quickly diagnose common problems by reviewing the decoded .nif (Navico Information File) file alone. Problems like incompatible software versions are flagged and missing system components like not seeing the SonicHub in the report as a device when you say you have one on the boat quickly jump out.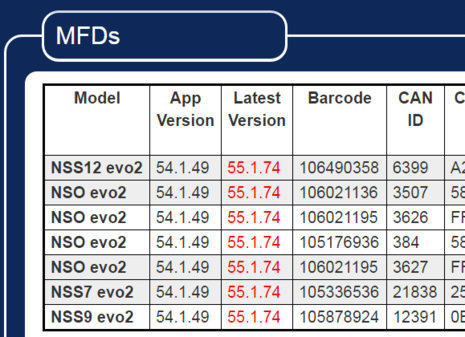 Keeping up with software upgrades is a tedious job. In many cases the only way you know there are new upgrades available for your system is to go online and check. Even doing this presumes you know what software versions you currently have installed. In the report screen grab above the software versions in red are the most current software versions. Since the NASA software knows the software versions of your system equipment, it uses this information to send you notifications of new available software upgrades you can then opt to download directly to your system if you're connected to the GoFree servers. In some cases the NASA notifications may direct you to a website to manually download specific software modules for a few vintage or specialized pieces of gear. (Another nice feature of the current Navico MFD software is that if you're using a mobile device hotspot for the MFD-to-GoFree connection, the device's network discovery feature makes it quick and easy to reconnect to your system after the first use.)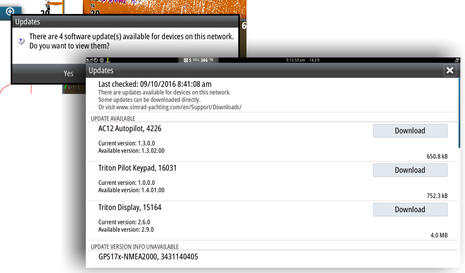 The Navico NASA software is an excellent example of what's possible with Internet cloud based processing. The savings in time, money and frustration alone will be notable for both Navico and its customers. Techs for the first time will have detailed system information at hand, and the users won't have to grind through what can seem like endless menus to assist tech support in gathering the information they need to help you. The NASA decoder can also create a spread sheet version of the report that is easily shared with dealers, and field Navico technicians.
I think this is just the beginnings of more dependence on the cloud to aid with support and other activities. We are now seeing more use of internet based tasks like software and chart downloads but Navico's NASA remote diagnostic software is a substantive technical jump forward. Navico staffers were understandably coy about what's yet to come but implied there is much more in the works. Cloud based enhancements I can personally envision could include virtual warranty registration of your gear. No more filling out little postcards that everyone forgets to do. Automatically backing up waypoints, routes and tracks to the cloud prior to doing software upgrades would be nice especially if a system reset is required as part of the upgrade, or if things go wrong. Do you have any other good ideas about what you could do with more Internet connectivity?
NASA email addresses:
Americas: [email protected] [email protected] [email protected]
Asia Pacific: [email protected] [email protected]simrad-yachting.com [email protected]
Europe, Middle East and Africa: [email protected] [email protected] [email protected]
**************************************
A big thanks for this entry to Bill Bishop, who installs marine electronics professionally and also writes the must-read Marine Installer's Rant ~ editor