New Simrad Autopilots, 100% NMEA 2000, almost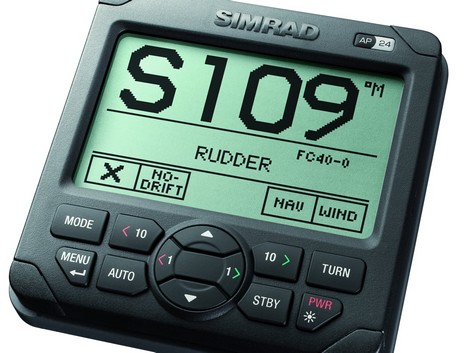 So Simrad has introduced two new auto pilot control heads, the AP 24 above, and the larger AP 28. As best I can tell they both enable the same rich suite of AP features, which include steering patterns and steering to a contour (both appreciated by trolling fishermen), ROT control (which I think means turn rates adjusted for G force), virtual rudder feedback (i.e. rudder sensor not needed for outdrive installs), and "No Drift Course" (even if you just set a course, the pilot creates a virtual waypoint and corrects for current and leeway). But the really big change from previous Simrad models is that these heads use SimNet, a cable modification of NMEA 2000, to communicate with new AC12 and AC42 pilot computers as well as with SimNet rudder and compass sensors included in Simrad's new IS20 instrument series (which also looks interesting).

Of course this means easier installation as dedicated cables don't need to be run to various system components. And to some degree it means easier compatibility with other manufacturer's gear. But that could involve a lot of SimNet to N2K patch cables if, say, you wanted to stay with standard N2K cabling, and I'm not positive that Simrad is using standard N2K PGNs whenever it can (the manuals aren't up yet, and the brochures don't list specific PGN support as Furuno so nicely did). I will try to find out more at METS next week, where Simrad will be introducing some other new and significant products.