New USCG compliant high water alarms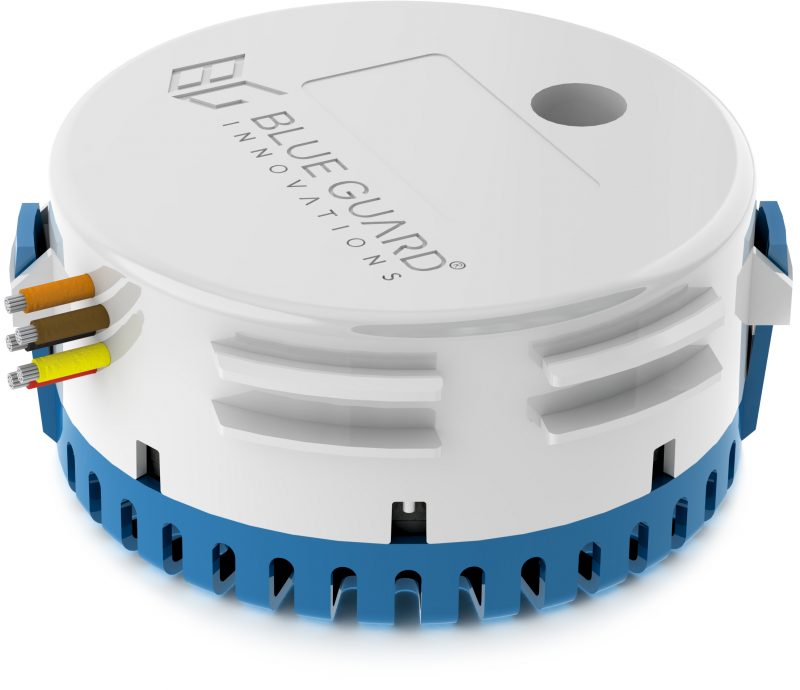 BOULDER, COLORADO (USA) – Blue Guard Innovations™ has launched two US Coast Guard compliant solid state alarm systems to detect high water conditions on board and help prevent potentially disastrous flooding.
USCG 46 CFR 28.250 & 182.530 require commercial fishing and small passenger vessels to have a high water alarm system in every compartment that has potential to take on water, consisting of a method of detection, audible and visible alarms.
The BG-HW (High Water Sensor), shown left below, can be easily integrated into any vessel's alarm system to trigger an alarm when high water is detected. The IP-68 rated device has two integrated sensors to ensure reliable and accurate detection.
The USCG requires that all high water alarms in floodable spaces be tested prior to sailing. BG-HW connects via Bluetooth to the BGI Configuration App and enables each sensor to be independently tested for sound and visual alarm activation. 12, 24 or 36 V DC with 1 amp max alarm output.
The BG-SWA (Solid-State Bilge Pump Switch with High Water Alarm), shown right below, is a solid state bilge pump switch with no moving parts that is an ideal replacement for unreliable mechanical float switches, with an integrated high water alarm.
The BG-SWA will activate the bilge pump when water or any liquid is detected. The device triggers the high water alarm when water is detected continuously for 3 seconds after the first detection (factory default setting) indicating that the bilge pump is either overwhelmed with excessive rising water or not working. The BG-SWA can power pumps up to 20 amps and operates in any 12, 24 or 36 V DC system.
For more information about Blue Guard Innovations products, visit the Blue Guard Innovations web site.