NMEA 0183 lives: Digital Yacht GP150 DualNav & Furuno IF-NMEA2K2 Converter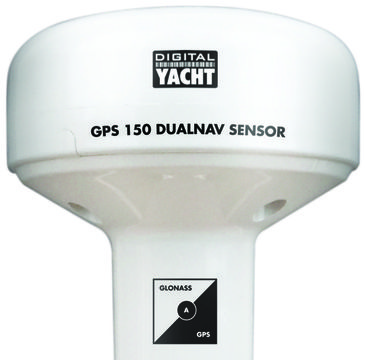 I'll write soon with NMEA Conference details of the futuristic (and unfinished) NMEA OneNet standard, but I also left San Diego with the strong impression that the good old NMEA 0183 standard is still very much alive. One interesting example is the new Digital Yacht GPS 150 DualNav, which earns its last name for its ability to receive more than one set of positioning satellites at once — already active GPS and GLONASS in particular, more coming — and to then deliver more accurate L/L, COG & SOG than can be gleaned from just one GNSS system.
Garmin already offers the similarly capable GPS 19X, and builds the same high-speed multi-GNSS technology into new MFDs like the GPSMap 741. With a 10 hz refresh rate and more satellites to look at, a user of these new generation GNSS receivers should get better performance plus the comfort of redundancy, if either GPS or GLONASS happens to fail in your area. It should also make recently discussed GNSS spoofing a lot harder. Thus, I suspect that what we see Garmin doing now will eventually become standard for all the major electronics manufacturers.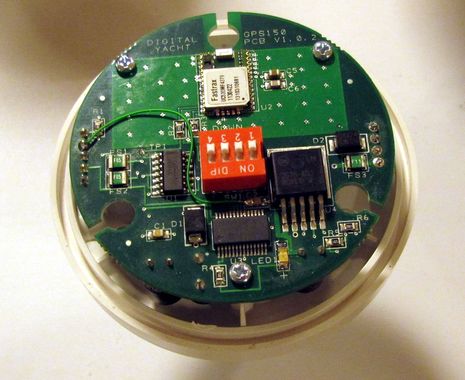 What Digital Yacht has done differently is to put GPS/GLONASS high-precision navigation data out over the NMEA 0183 standard with a lot of flexibility to work with various existing systems. Yes, indeed, inside the waterproof GPS 150 is a classic DIP switch, so that an installer can set it up without needing an attached PC or MFD. The many modes available (see the manual) include TurboNav, which outputs 10 Hz position and motion data capable of under 3-foot accuracy at 115,000 baud. Digital Yacht says that level of performance is getting the attention of sailors with older Nexus and B&G systems able to handle that sort of NMEA 0183 input. And with a price under $200, the DualNav is also a good candidate to replace deceased Raymarine RayStar 102/125 sensors according to DY, which has even put up a dedicated DualNav site.

I also attended a seminar in which various branches of the U.S. Coast Guard explained their involvement with marine electronics. For instance, Lee Luft of the USCG R&D Center explained how his team worked with NMEA, IEC, Inmarsat and others to create five new NMEA 0183/IEC 61162-1 sentences, which can "convey Maritime Safety Information (MSI) from Inmarsat-C and Mini-C shipboard terminals to other shipboard equipment" (example above and tech bulletin PDF here). Equivalent NMEA 2000 PGNS will follow, but presumably 0183 went first as that's what most of the equipment can handle. (There's also a useful sounding new MOB notication message, both for 0183 and for 2000.)
So NMEA 0183 is very much alive and kicking, even if I'm happy to have very little of it aboard my own boat.  I'm also fine with the concept of modern MFDs dropping 0183 support altogether, as Furuno has done with both its high-end NavNet TZT series and the value-oriented GP1670F and 1870F plotter/fishfinders I learned more about at NMEA (paper chart fans should know that you get NOAA raster charts via C-Map 4D on these bright, fast screens). 
   I hadn't realized, though, that Furuno has also developed a small, reasonably priced NMEA 0183 to 2000 gateway to deal with mixed systems. The bi-directional IF-NMEA2K2 has three 0183 interface modes — the default at 4,800bps, high-speed (38,400) autopilot, and high-speed AIS — each with its own set of message translations and refresh rates (well explained in the manual). And if you could read the label below, you'd see that the high-speed modes are selected simply by cutting a particular wire loop bundled with the regular 0183 leads. It's a fast, effective install solution that makes even a DIP switch seem high tech.