NN3D shipping facts, & the Time Zero connection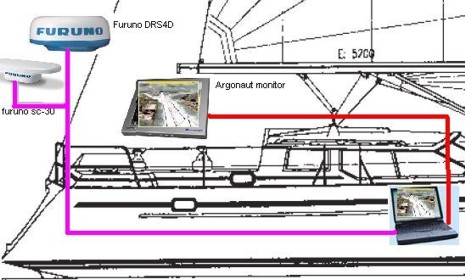 Can Panbo reader Rolf network the NavNet 3D version of MaxSea Time Zero straight to NN3D radar and GPS compass aboard his Regina 43 (as he graphically dreamed of above)? The idea seems conceivable given that NN3D radar scanners are independent Ethernet entities, and can even bridge in NMEA 2000 sensors, but I've confirmed from Furuno that you must have at least one of its NN3D processors in the system. That's because only a Furuno MFD or Black Box can be the Master of a network, able to "act as a DHCP server and distribute IP address to any other Ethernet device (Radar Antenna, Sounder, Computer, …)." MaxSea Time Zero is going to work nicely in an NN3D network, sharing charts and all sensor data, but it can only be a "slave" in terms of network architecture (and it also won't be able to do some configuration tasks like aligning a scanner).

I don't really think this is a significant limitation as it makes so much sense to have at least an MFD8 in the system for its ruggedness. But I suspect Rolf and others may be disappointed to learn that Time Zero will not actually be available until some time this Fall. On the other hand, if you want to start with MaxSea 12.5 now, Time Zero will in fact be version 13, with only the normal full step upgrade fees.
Furuno is also having some trouble delivering all the NN3D processors boaters want. The orders placed in early March are now shipping as promised, but if you order an MFD8 or 12 today, it will not be delivered for an indeterminate length of time, possibly as long as several months. The "indeterminate" factor is because Furuno is working to ramp up production, but doesn't yet know how well that will work. And of course there is an alternate explanation coming from a skeptic or two; i.e., that there are MFD performance issues and Furuno wants to limit the units installed just in case they have to replace them. It's probably untrue, but persistent skeptics are sometimes right. Meanwhile, NN3D manuals are up and I've also learned the FI-50 instruments will ship in a month or two, with an MSRP of $595 apiece. And I'm pleased to add that in two weeks I'll be spending a day off Cape Cod with NavNet 3D and a couple of its creators.