Nobeltec TimeZero, "most advanced marine navigation App for iPad on the market"?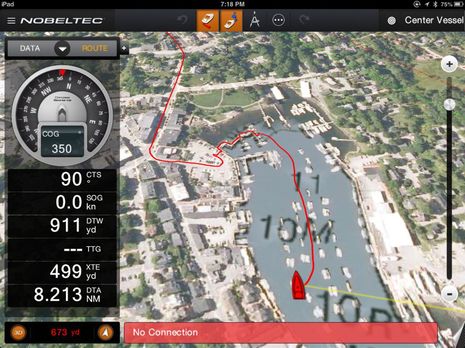 Any boater with an iPad has an amazing selection of apps these days, and the Android selection isn't bad either. For some time I've meant to catch up on interesting new charting entries like SEAiq and SeaNav plus major improvements in category leaders like Navionics Mobile, C-Map Plan2Nav, and Garmin BlueChart Mobile. (And also clever ideas like SARMOB, which can turn multiple smartphones into an active man overboard system, and Boat Battery, which can help us figure out our electrical appetites and share specific device power profiles.) But today I'm going to focus entirely on the spanking new Nobeltec TimeZero iPad app, because I think it's amazing…
I haven't actually cruised with the TimeZero app yet but I was able to preview it before it made the iTunes store last week and, as the top screen indicates, I have already seen its excellent (Bad Elf Pro powered) tracking while underway in car and dinghy. The "most advanced marine navigation App for iPad on the market" claim is quite bold, and I always tend to think that such judgments are quite subjective, but TZ is remarkably able and polished right out of the gate. And while there are lots of valuable charting features it doesn't support — more on that further down the entry — I'm not sure there's another app that does core navigation so beautifully.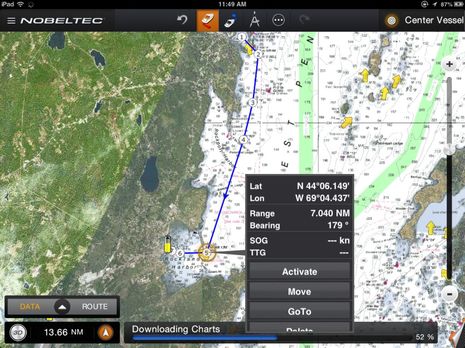 When I recently raved about Furuno TZT chart plotting I had no idea that so much of the experience could be transferred to an iPad. But the same MaxSea developers who seem to be behind all the TZ products (including their own version of the TZ app eventually) certainly pulled it off. It's not just that some of the same MapMedia charts along with PhotoFusion sat images blend, zoom, pan, and go 3D in the same smooth manner, though that's huge. The app developers also manages to include much of the plotter control and route-making sophistication you'll see on the high-end TZ displays and PC programs, and make them very easy to use on an iPad.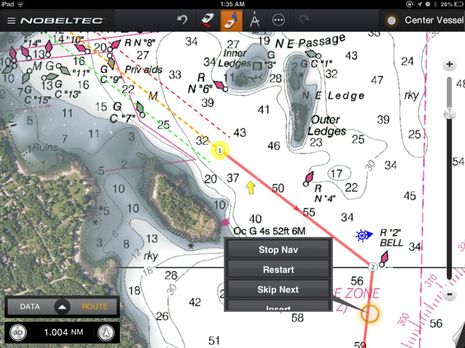 I sometime get frustrated with many charting apps because they're missing some route functions and/or the functions are hard to manage with a finger tip. Touchscreen object picking is tricky business and I'm probably more demanding than most because I'm currently using an iPad mini and Dupuytren's contracture has some my fingers pretty crooked up (in fact, I'm going in for more surgery later today and may not be typing well for a while). But picking routes, waypoints, and marks on the TZ screen always seems easy and I always seem to find whatever option I might need.
There's also a route management feature I've never seen before but just love. Instead of having a route list that may be indecipherable unless you've taken the time to name the routes (if possible), they collapse when not in use into that blue ship wheel icon seen on the screen above, just north of R "2". If I stopped using the activated route on that screen it too would shrink into a similar icon at the starting waypoint and clicking on either would expand it. You can choose whether the dormant route icons live at the first or last waypoint. So slick!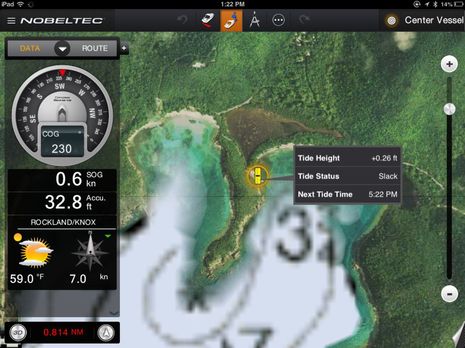 The Nobeltec TZ app can also overlay tide and current icons if you want, though I don't think that there's a way to see more detail, like maximum heights or speeds, or future predictions (like you can on a TZT). The weather feature is also lightweight, only showing local conditions with a hint of what's coming (sunny with less wind on the screen above). But do note the land and reef detail in that PhotoFusion image of St. John's south shore…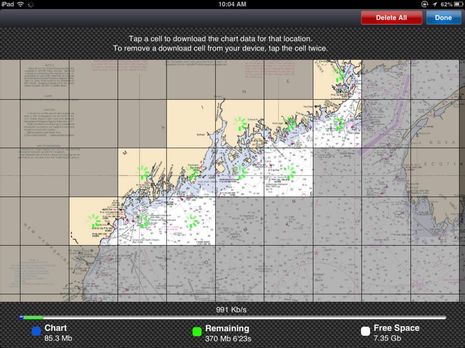 The TZ app is free but the North American, Western European, and Mediterranean charts you can buy within are not (region maps here, prices $40 to $50). Once you've bought access, though, managing chart downloads and iPad space is dead simple, even elegant. What I'm not sure of is the quality of photo maps outside the U.S. and also how deeply they are cached for use when your device is offline. I did some experimenting and the photo maps I'd looked at while planning and armchair cruising were definitely there when I shut the WiFi off , but I'd like to know more about how that works.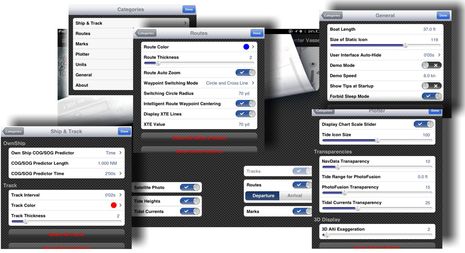 The screen above shows many of the advanced tweaks a TZ user can apply by either "peeling" back the chart page or dipping into the menu categories. I like having those controls, but don't be alarmed; the app is quite easy to use without any tweaking. On the other hand, there are many current chart app features you won't see on that screen, like support of cruising or fishing info (ActiveCaptain, Navionics UGC, etc) or NMEA input of data like wind, depth, and AIS (which is getting quite easy in numerous apps thanks to Navico GoFree and other WiFi intermediaries). I don't think there's even a way to share routes or tracks with friendly humans or machines, which seems especially sad as TZ is so good at making them. Then again, it is version #1!
But don't take my word for any of this. If you have an iPad2 or better (i.e. one running IOS 6) the free app comes with charts of Miami and a demo mode that lets you make and follow routes. Try it! I'm especially hoping that other charting app developers will check it out 😉 Plus those who are skeptical about 3D chart plotting but haven't gotten even a demo sense of what it's like underway. Just tap that little 3D button or, better yet, try two finger vertical swipes, just like a Furuno TZT. Please don't blame me, though, if you end up buying a chart region, a TZ computer program, or maybe even a big hunk of hardware.