One tough power cat, Furuno on board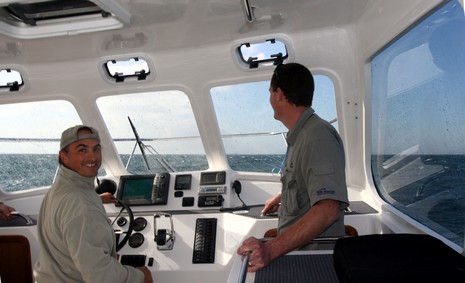 It is famously hard to photograph rough seas, and this (bigger here) is a good example. Only a bit of spray and Mark Delaney's two-handed grip on the grab rails suggests that his Two Oceans Magnum 32' sport fishing cat is slamming along at 20 knots across steep and confused five footers piling up just outside Cape Town Harbor. That crazy Frenchman is my new good buddy Laurent Fournier, the only other writer on this press tour, and it was his idea to test this boat in less than smooth conditions. We got way more than we bargained on, but it certainly confirmed the contention that South Africans tend to build serious boats because they boat in serious waters.
Elsewhere in the world this test would likely have been postponed but Mark had no qualms about subjecting his boat to some real pain. In the process he proved beyond doubt that the hull he and his father Rod developed leans nicely into fast curves—unlike many power cats, which lean unnervingly outward—and also has enough reserve bouyancy forward to resist burying its bows even while surfing in extremis. The Delaneys favor Furuno electronics, both here and aboard a crackerjack Two Oceans cruising cat I toured. The latter even has a Furuno autopilot, the first I've seen on a sailboat (excellent preformance reports Rod). The Magnum also had the all-in-one DVD player below, from a Australian company called Majestic I'd never heard of. Mark says they hold up, and that's saying something. It turns out that further up the African coast, where tuna are plentiful but harbors are not, Magnums and similarly tough boats are beach launched through surf using big wheeled tractors and special trailers. Serious about fishing too!