Paul's Cape Dory 25, just doing it!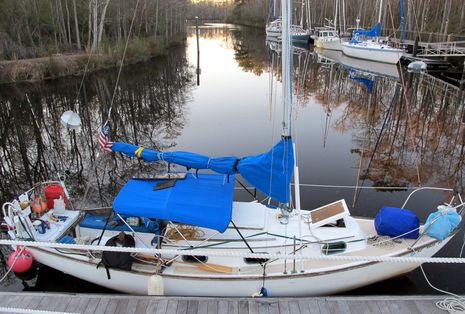 What the heck? This morning In Myrtle Beach it was the same frosty 36 degrees as it was in Camden, Maine. I've got lots more install work I can do before heading north, but it's fun to check out the odd lot of early ICW cruisers who turn into Osprey Marina's narrow entrance channel. Particularly curious was this venerable Cape Dory 25 that came in looking like it had been knocking around at sea. In fact it had just come non-stop and single-handed from St. Augustine, Florida, and had gotten there mostly offshore from Cape May, New Jersey, just last month. Yes, in February, and the owner's previous sailing experience was aboard a Sunfish on a lake. I had to know more!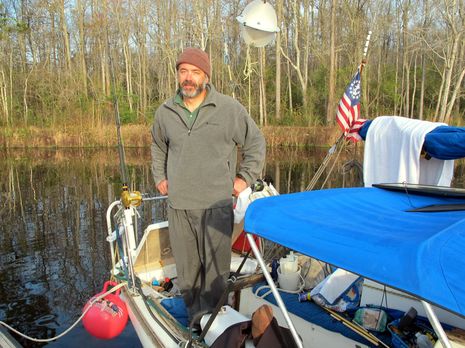 It was no surprise that Captain Paul is a bit of a character — one of the beauties of cruising is the amazing freedom we enjoy — but he is certainly not the fool that casual observers might presume. Not at all. He was ripe for an adventure on the ocean he loves and he's getting one with a boat he picked up last summer for $4,000 (with an "excellent custom trailer"). He not only had a lot of experience on his own fishing boats but I think he's developed the innate boat sense that often trumps fancy equipment and book learning…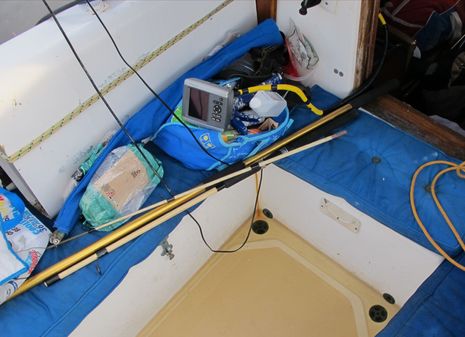 Of course I was curious about Paul's electronics. Primary navigation is done with paper charts and that economical Garmin 441s which has a thru-hull transducer so that it also serves as a sounder or fishfinder. The boat came with an antique VHF but on deck Paul says he always carries a West Marine floating handheld as well as an ACR ResQLink Personal Locator Beacon. It was when he explained how he'd really wanted the bouyant ResQLink+ (the West store he'd hiked to had misinformed him about stock), that I began to realize how carefully he'd thought through the bad things that could happen on that bouncy little boat.
But I was also thinking about that water coming up through the cockpit "drains"! Part of the problem was my extra 200 pounds standing on the cockpit seats, but note too the twin gas tanks that were already lashed onto those seats, and wait until you see Paul's custom outboard set up…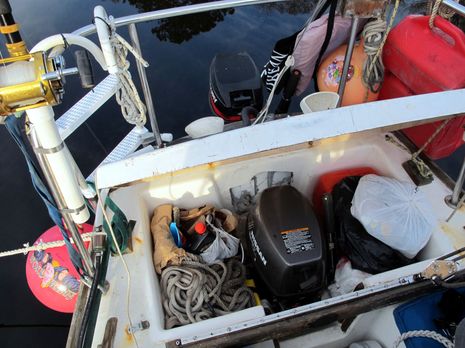 When I first saw the Cape Dory 25 I forgot that one of its features is an outboard well. But when Paul was learning his boat last fall he wasn't satisfied with its maneuverability in tight quarters and speed under power. So he added the bigger Mercury on the bracket and says he can now negotiate any slip or buck any current. Plus he can not only run both engines simultaneously but he has an auxiliary to his auxiliary…
Still, though, the boat is riding a bit low and footwear may need drying out when possible. She also lacks an autopilot but Paul has learned how to get her to heave to, which is a valuable move that a lot of 'experienced' sailors don't know much about. However, and also like a lot of 'experienced' sailors, he wasn't familiar with the idea of foresail downhaul. I was happy to help with the gift of a small block he could lash at the base of his forestay. Hopefully he's now strung a length of very light line from the jib head down through the hanks, through the block, and back the mast. If so, he'll be able to release the halyard and haul the sail down to the tack, and secure it, without having to first step out onto that itsy-bitsy foredeck.
At any rate, here's wishing Paul fair winds as he speeds home (hoping to make Easter with his family). My takeaways: that the right person can go sailing without a lot of the gear many of us think necessary, that my friend Andy Vavolotis sure built some durable take-anything boats, and that Paul is a guy I'd like helping me move a boat somewhere. Your thoughts?