Ping pong balls, panty hose, and DSP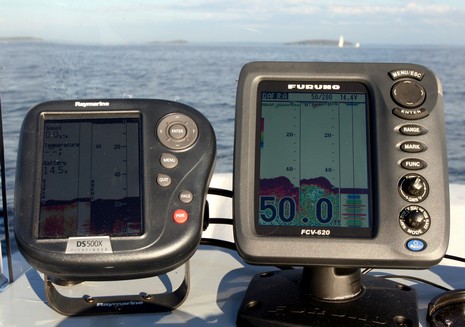 I'm guessing that title got your attention? You see I'm trying to compare a Furuno FCV-620 fishfinder with the Raymarine DS500X which is already installed on Gizmo (and which the idiot thieves failed to strip off). Airmar kindly made me a patch cord so that the same transducer works with both machines (and the Navman 8120 I'm also testing). I can't run them simultaneously (the DS500X is locked up in above photo), but can switch the transducer quickly. You can see in the bigger picture how noise-free both units are, apparently thanks to Digital Signal Processing, and note that both are in full auto mode. What I'm having a hard time determining is if one or the other is actually better at finding fish. So far the Raymarine IDs more fish on screen, but I suspect that it is being 'optimistic'. It's hard to get trained fish for this purpose, which is why someone suggested that a few ping pong balls held underwater with panty hose and a rock could simulate fish bladders. I'm not sure I'll find time to try that, but would appreciate other suggestions on how to compare the units.
In the meantime, the difference in interfaces is much more obvious and quantifiable. I quite like the 620's knobs for controlling manual gain and screen mode (below, bigger here), a much more tedious process on the DS500X. Knobs, as noted yesterday, are old fashioned, but they sure can be useful.