Planar LX, marine touchscreen monitors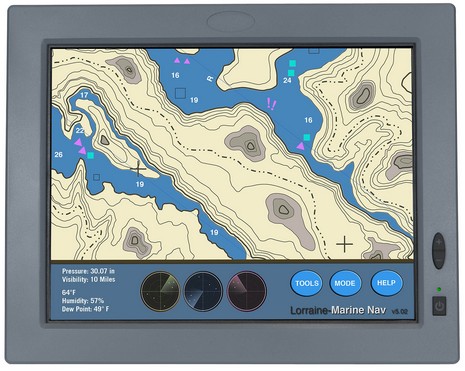 Good to see a new player in the marine monitor biz, especially a company as significant and capable as Planar. And they've arrived with a bang. The LX Mariner Touch Monitors claim a raft of desirable features, like bonded sunlight-viewable screens, completely sealed cases (IP65), and reasonable prices. They're not in Planar's online store or anywhere else I can find yet, but the MSRPs are $2,200 for the 15" model, $2,100 for the 12", and $2,000 for the 8", and I'm told the two larger units are available now if you call Planar (Ask for IBU sales).
I'd post a larger version of the image above except the screen is obviously Photo-Shopped (I think the "Lorraine-Marine Nav" software is even a dummy). But a good indication of LX Mariner performance is the fact that Faria chose them for its Maestro marine PC system, which you may have seen looking good at boat shows. Maestros are now shipping I hear, and are also very close to acceptance as the new Sea Ray Navigator. Which means that Sea Ray has put the monitors through a grueling real-world sun, water, heat, vibration, etc. test cycle. Unfortunately, though, the Maptech i3 touchscreen software behind Maestro/SRN is not available by itself (despite my wishes). So I'm wondering what charting programs might work well with this touch screen? I also wonder if Planar is considering a marine version of their "in-vehicle" 12" LX, which adds six programmable macro keys and a USB hub? And how will the LX stack up against the brightness and very functional touch control on the Garmin 5000 series? Maybe I'll get a chance to compare.