Quark-Elec A026: AIS receiver with WiFi, GPS, and NMEA 0183 multiplexing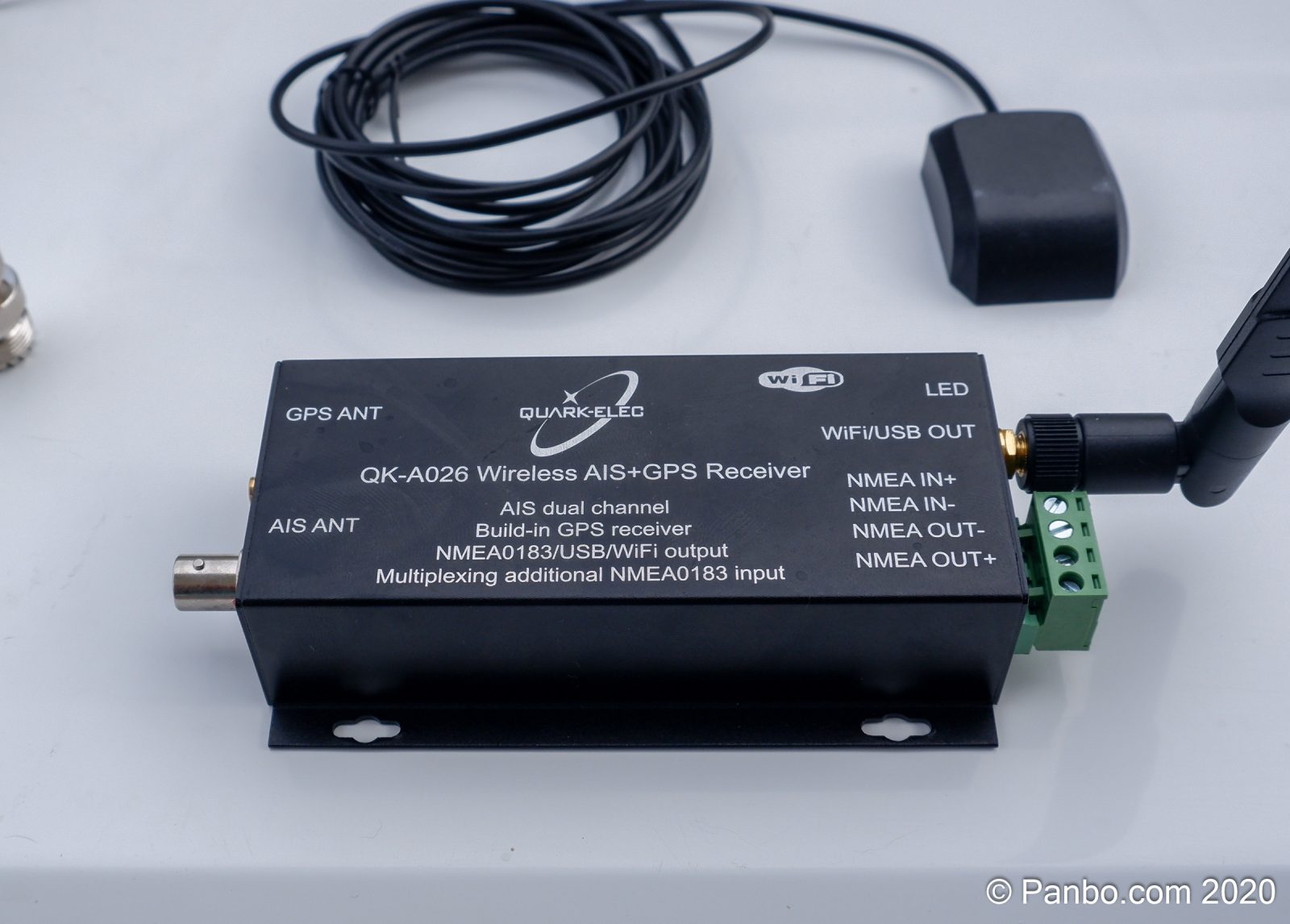 Quark-Elec offers quite an array of problem-solving marine electronic devices. I've been testing their A026 AIS receiver with built-in GPS; data output via WiFi, USB, or NMEA 0183; plus an 0183 input that can be multiplexed into its output stream. This little box could be the perfect answer for day sailors, delivery captains, and any boater looking for an easy way to get AIS target and GPS data to a navigation app running on a tablet or phone, or to a PC or MFD. But, how does it perform?
The $120 (excluding VAT and plus shipping from the United Kingdom) QK-A026 AIS Receiver with NMEA Multiplexer + WiFi + GPS is a small, metal, black-box with connections for VHF, GPS, and WiFi antennas, terminal blocks for NMEA 0183 in and out, and a USB port for power and configuration. It comes preconfigured to act as an access point so you connect your devices to its WiFi SSID, point your app to its default of TCP port 2000 and data should start flowing. In my testing, everything worked out of the box and I began seeing AIS targets moments after connecting it.
The A026 uses a BNC connector for its VHF antenna; so, if you have a PL-259 connector on your VHF antenna you will need to get a BNC to SO239 adapter. Quark-elec sells one for a little under $10 and I was also able to find one on Amazon.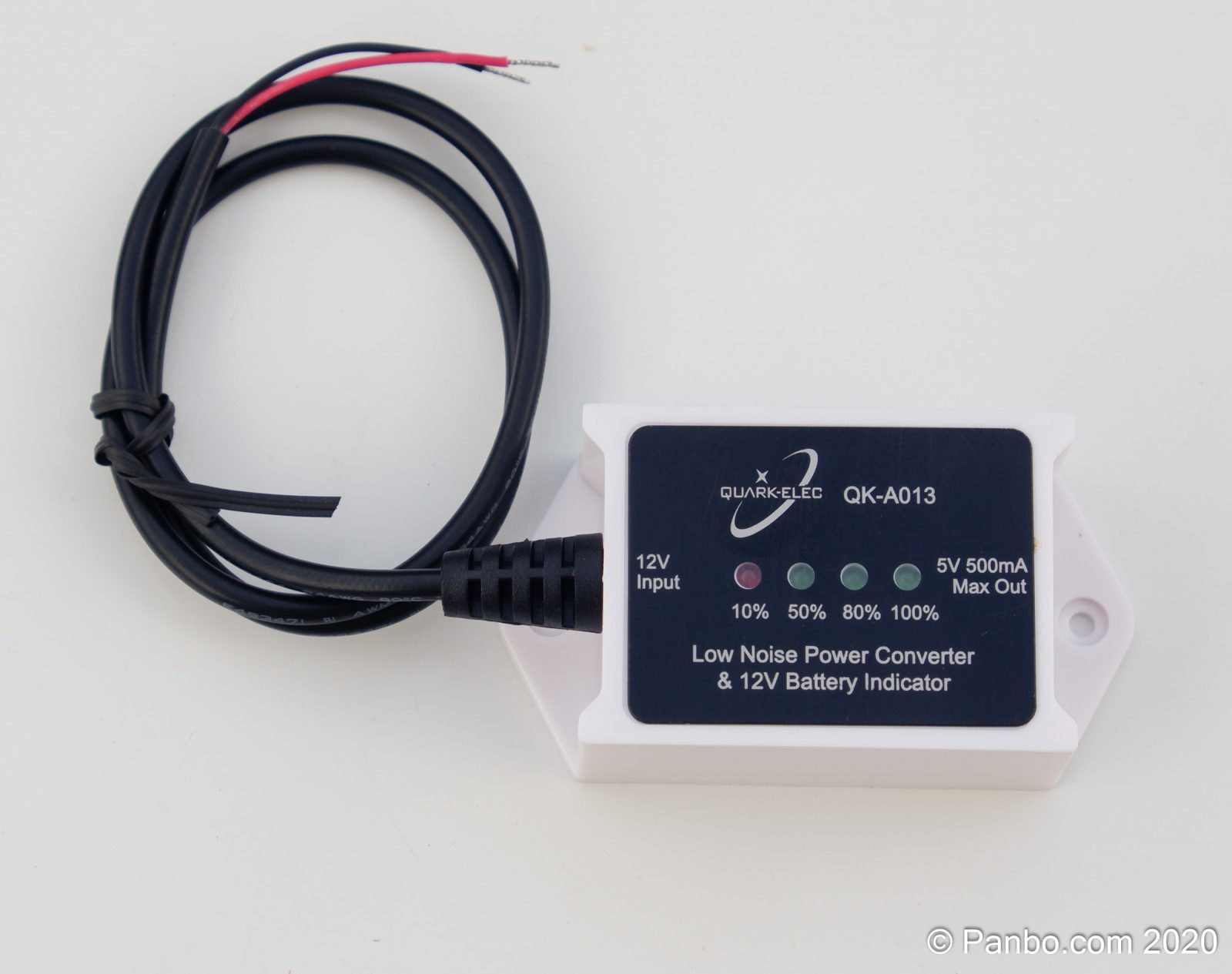 The device is powered by its micro-USB port and Quark-elec includes a note that it shouldn't be powered by a cigarette lighter style USB power supply. I suspect this is because of uncertain power delivery from this type of power supply. I'd prefer an option for a direct 12-volt power source, but Quark-elec does also sell a small 12v to USB power converter that includes LEDs to indicate battery status.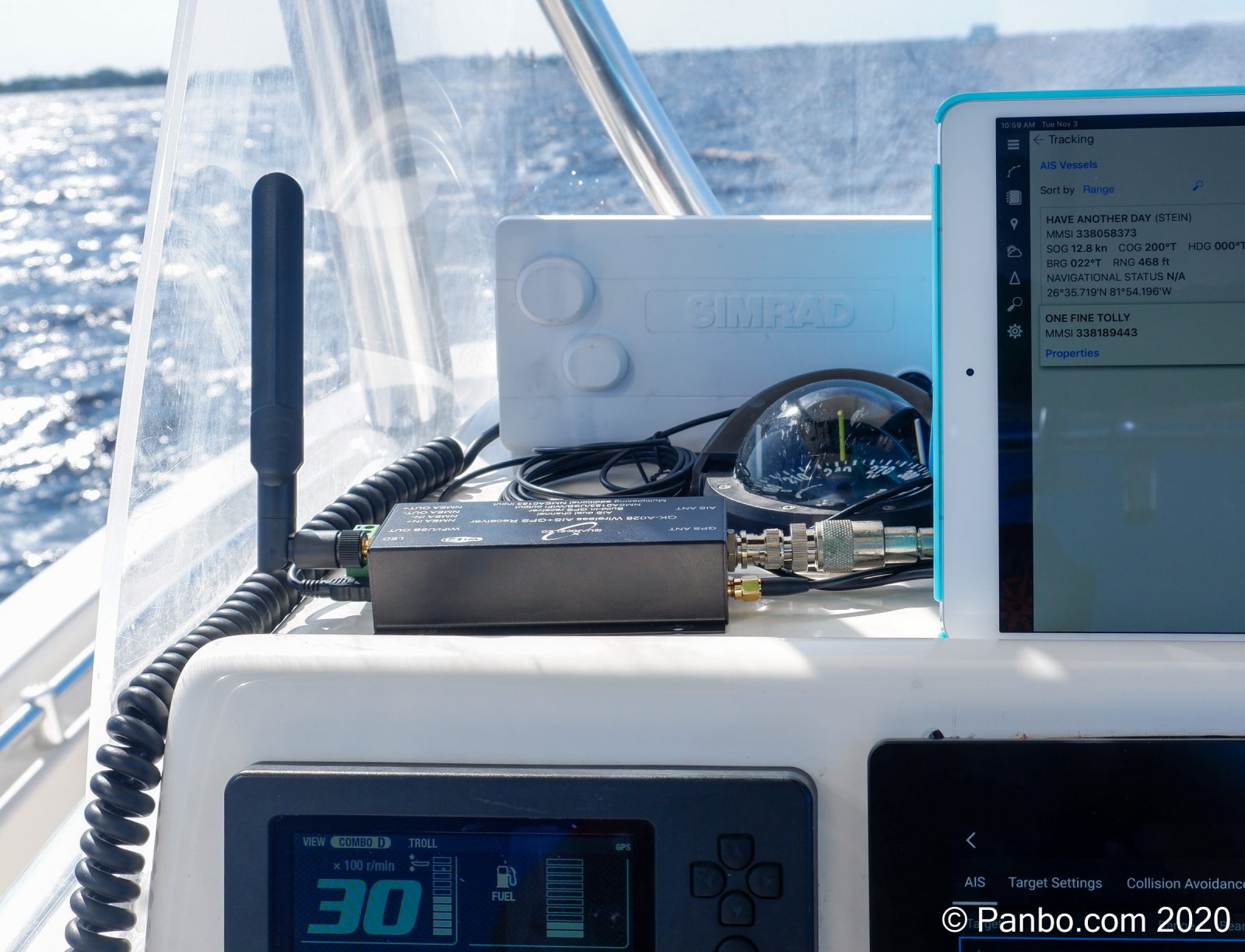 In my on-the-water testing with the Quark-elec A026 I found evidence that the AIS receiver in this small, portable, $120 unit was less sensitive than the much more expensive ACR AISLink-CB2 I was using for comparison. I tried to control as many variables as possible by using the two 4′ VHF antennas on Panbo(at) for all my testing. I did also swap the antennas just to make sure I didn't see a difference in performance between the two — I didn't. I don't think this is shocking, nor do I think it makes the A026 less fit for its purpose.
I suspect the A026 will be used primarily in scenarios where the choice is between this device and nothing. It's also pretty easily made portable with USB power and a portable antenna. Uses like a professional delivery skipper hopping aboard a boat with minimal electronics, or a budget focused boat-owner trying to gain some additional awareness of the vessels around them. Given this choice, it seems obvious to me the Quark-elec product gives you information which you wouldn't have otherwise, and mildly reduced sensitivity is likely an acceptable tradeoff.
I connected my iPad running Aqua Map, Navionics Boating, and Rose Point's Coastal Explorer iOS beta as well as a Surface go tablet running Coastal Explorer. Each of the connections was trouble-free and easy, as long as you know the IP address (defaults to 192.168.1.100) and port (default of TCP 2000) to point your application. There's not too much to show in these screenshots that would differentiate Quark-elec's products from several other WiFi gateways. But, that's a good thing. For a very reasonable cost you can get GPS, AIS, and any other data you bring in via NMEA 0183 onto a mobile device.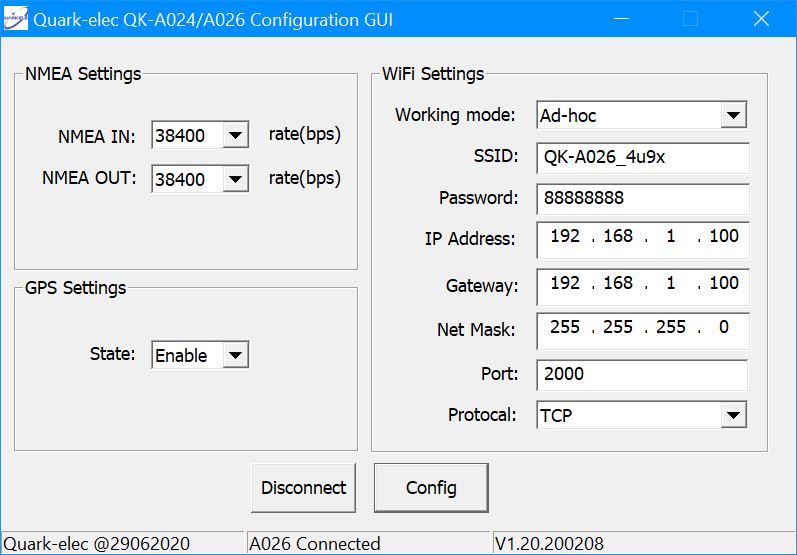 Quark-elec offers a small downloadable application that allows you to configure the device. It looks like it's only available for Windows computers and they suggest Mac users utilize BootCamp. Using the configuration software you can change the IP address, data rates of the NMEA 0183 ports, and the WiFi mode. You can select Ad-hoc mode, where the device acts as a WiFi access point and you connect your phone, tablet, or PC to it, or you can select Station mode to connect to an existing network as a client.
If the exact combination of AIS, GPS, and NMEA 0183 isn't what you're looking for, Quark-elec has a broad range of AIS receivers starting with the $55 A021 USB dongle AIS receiver to the $155 A028 which includes AIS, GPS, NMEA 0183, and NMEA 2000.
Although this AIS receive-only portion of Quark-elec's lineup may give up some sensitivity, I think its potential for portable use as well as very cost-effective nature make it a good fit for a lot of boaters. Quark-elec also offers a full-featured class B/CS AIS transceiver with WiFi, and I'm a fan of how their many models allow you to pick and choose which features you need.