Raymarine i70 vs Garmin GMI 10, mission accomplished?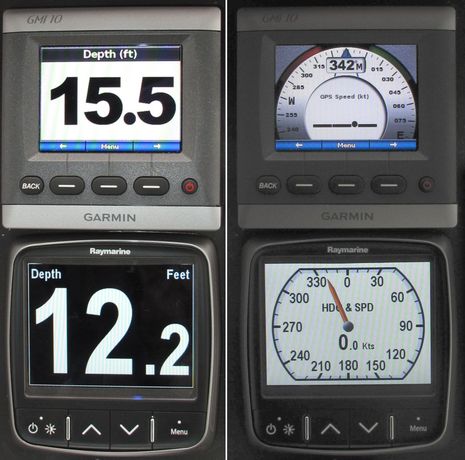 A bigger and at least as bright a display? Check! Able to show vaguely as many NMEA 2000 data fields in vaguely as many ways? Check! Also manageable with a clean and intuitive interface? Check! Don't take me too seriously as I've only tested the new Raymarine i70 for maybe an hour now, but it's no doubt an impressive parry at the venerable Garmin GMI 10…
So far I've seen a number of things to like about the i70. Take, for instance, the sharply reduced font size on the decimal value seen in the top photo. It seems easy to see a simple, easy-on-the-brain 12 feet of Depth, or get the nuance of the 12.2. (Incidentally, the depths are different because the two instruments are on different N2K networks with different transducers). And note the nice inverse daytime Display Color, which I can't find available on the GMI.
I also like how the first option on the display menus is Quick Options and its first option is likely the one you use the most. So when in the i70's unique AIS plotting mode, two taps on the menu button (and no scrolling) turns on "View" targets. In that mode the up and down keys jump from target to target instead of changing display pages. A selected vessel's name appears at the top of the plotting screen and the Menu button becomes Info…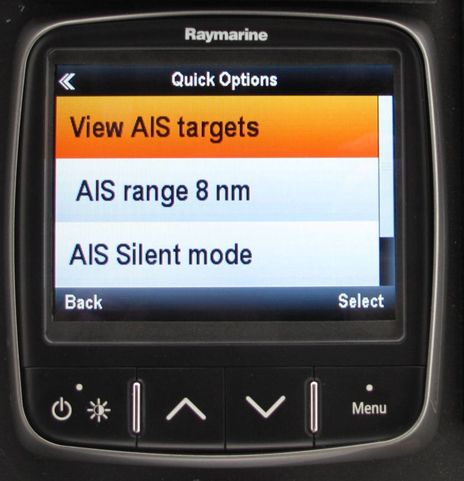 The Info button takes you to scrolling pages detailing the target attributes, along with CPA/TCPA calculations, and one or two taps on the Back button gets you back to AIS View mode or regular instrument mode. Nice! But I do have a quibble with the info screens, which is that they show data fields with no data. Who needs to see (and scroll through) lines for the beautiful Belle Adventure's Rate of Turn and IMO # if they aren't being transmitted? Actually I probably wouldn't have noticed this if I hadn't used a Vesper Watchmate 850 all season and seen how well it can parse target details. As I've said before, I wish every AIS display manufacturer would take a good look at what Vesper is doing.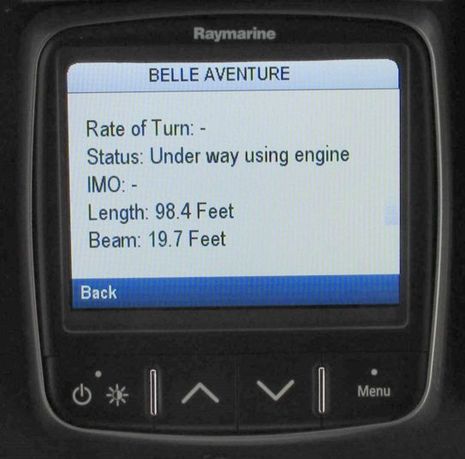 The i70 also has a soft protective cover that seems clever. It will stow better than traditional hard plastic covers, and won't rattle or blow around as easily. Raymarine's new e7 MFD has one too.
But the real test of the i70 will come as more boaters find out if it can display all the N2K they'd like, as they like. And then when Ray updates the unit to satisfy, and to reflect expansion of the N2K PGN roster. For instance, standardized alarming is supposed to be official very soon. Raymarine does not have a great track record at updating gear, while Garmin's is awesome. Just check out all the tweaks made between GMI 10 software 2.0 and 3.5. Can Raymarine catch up in this department, and where will the B&G Triton and other color all-in-ones fit in the mix?