Raymarine LightHouse 14 sailing features, as good as they look?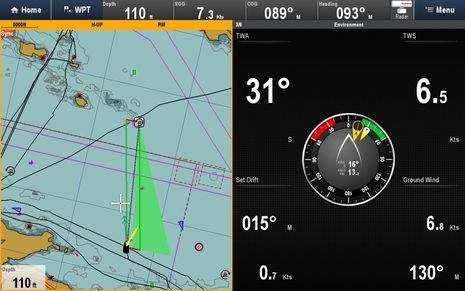 When pretending to sail, I go for high performance. That's why the screen above seems to show Gizmo exceeding true wind speed while extremely close hauled. But pretending is also why I can't truly review the new sailing features that came to all current Raymarine multifunction displays last May, thanks to a free LightHouse 14 operating system update. Additionally, most of the features described in the press release are about racing, which I did little of even when I was sailing a lot. But let's walk through the new Raymarine MFD capabilities anyway, and hopefully we'll hear from sailors who've actually used these tools or the similar ones offered by B&G and Garmin…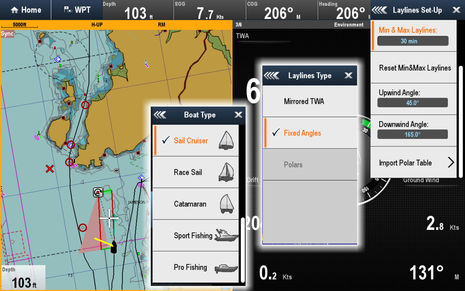 In fact, current Raymarine, Garmin and B&G MFDs can now all calculate laylines. To see the Ray version above — or any of the sailing features in LightHouse 14 — you first need to choose one of the three boat types that might typically tack to a mark. Then you need to activate a waypoint or route and decide which of the three layline types you want to use. Mirrored TWA (True Wind Angle) is the easiest, with the next tack simply calculated as the opposite of whatever angle you're currently happy with. Or you can establish target upwind and downwind angles, and then be reminded about what you think your boat can do. Note that if you enable a Min & Max Laylines time period, the shaded triangles will show the shift history — 30 minutes was too long — and that if your laylines separate by more than 170 degrees, they disappear (because you're reaching).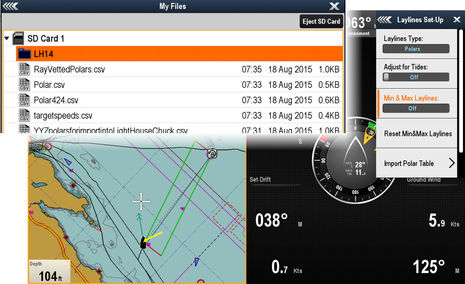 I believe that Garmin and B&G each have somewhat different ways of controlling and displaying laylines, but that Raymarine is the first to enable polars right in the MFD. That means the display can calculate laylines based on a table describing your boat's speed at various wind angles and points of sail. I found the upload process to be easy, though I noticed on the Raymarine Tech forum that there has been some difficulty with .csv files created on Mac computers. The forum is also a good place to snatch polar tables that will definitely work (like I did) and which you can modify for your boat, or you may find appropriate ones via Google (like these). Note that you may want more than one polar table for different sea conditions, desired comfort levels, or even motor sailing, and switching them on a Ray MFD is dead simple.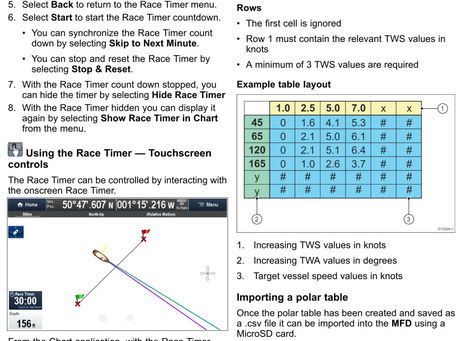 The Ray crew also created a nice LightHouse 14 New Features manual which can still be downloaded here, but may get folded into the regular user manual when LightHouse 15 actually becomes available. And yes, as this manual page suggests, LH 14 includes a racing timer and start line builder. But first let's look at a course route builder feature that is also unique to Raymarine at this point (I'm pretty sure).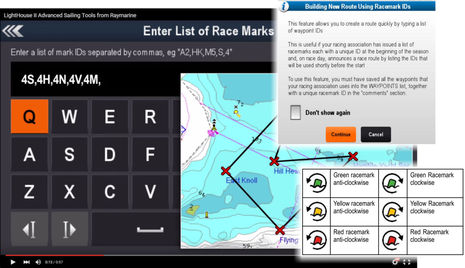 So there's a new choice in the My Data/Routes menu called Build Using Racemark IDs, which are just abbreviations you've added to the comments section of desired waypoints. You simply list them as shown in the Advanced Sailing Tools video screen captured above and, bada boom, the race route is done. There's even a helpful pop-up (upper right) when you actually try it. And perhaps the icing on the cake are the nifty racemark icons that Ray added to their waypoint library (which is such a useful but simple idea that I can almost hear the face slaps emanating from competitor shops). Of course, all this is particularly helpful when you race regularly in the same area with standard marks, but couldn't the quick route building also be useful to anyone who just cruises the same area in many different ways?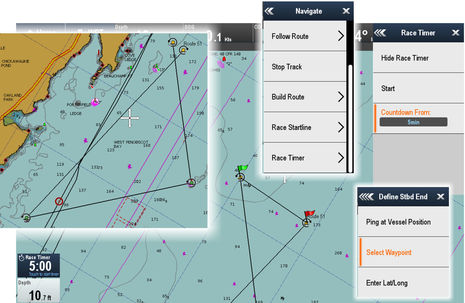 At any rate, the race course route building worked fine for me, as did the flexible race timer and the startline builder. But what's missing? Well, Garmin's Start Guidance diagrammatic window with values like Distance to Line and Time to Burn seems quite useful (and similar is available on B&G when H5000 gear is in the mix, ditto for polars). Perhaps what is more important, especially for cruisers, is that Raymarine does not yet seem able to total up the predicted laylines to get the useful info B&G calls SailTime, seen below as TTW-S (Sailing Time to Waypoint) and DTW-S (Sailing Distance, and there's also ETA-S available). I don't think a Garmin MFD can do this math either, though it may well be possible with some of the Nexus add-ons.
But of course all this is subject to change (if I did get it right), and that's the bigger picture here. Raymarine LightHouse software went for years without doing much specifically for the many sailors who use Ray gear and then, pow, this whole feature bundle arrives for free and works on every MFD they've made for a while. And every MFD developer is capable of such nice surprises these days, and of course all are regularly improving the features they already offer. Rejoice, at least until that dreaded day when your main system manufacturer feels the need to upgrade its hardware so it can do things yours never will.
Now who out there has sailed or raced with Raymarine's new features or similar? What worked for you, what didn't, and what else do you want?