Raymarine SeaTalk-SeaTalkNG converter, nice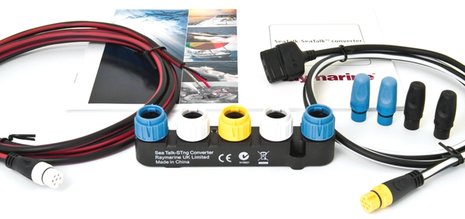 What's yellow, white, and blue, and will help a lot of boats integrate older Raymarine SeaTalk1 instruments and sensors into SeaTalkNG/NMEA 2000 networks?  Well, check out the new SeaTalk-STng converter above, which retails for $95 and is also putting the Plus in Ray's new Raystar 125 Plus GPS.  The manual PDF can be downloaded here, and I think it will please a lot of people who've messed with this stuff.  Those yellow connectors above let you not only adapt a mini network of up to five SeaTalk devices — like ST40 and ST60+ displays and their transducers, and/or a LifeTag wireless MOB system — to a SeaTalkNG backbone, but also power them…
Now Ray's ST70 multifunction color instrument (which I first tested in early 2008) includes a similar ability to convert SeaTalk data, but this new standalone converter offers more system design flexibility, especially if you don't want an ST70.  It may also offer new ways to avoid the expense and added complication of Raymarine's various transducer adapter pods, though it's also nice to see that ST70s can now directly manage certain of Airmar's smart N2K sensors.
Unfortunately Raymarine has not published a list of standard
N2K PGNs supported by the SeaTalk-STng converter, but the manual cites the following types of data:  "Instrument and environment (Depth, Speed, Wind etc.); MOB
(Man Overboard); GPS; Heading; Navigation Data (Waypoint information);
and Rudder angle."  My experience with the ST70 was that it understood standard PGNs fairly well, even to an ironic extent, and I hope to soon update that experience as I've got my mitts on a ST70 3.0 firmware update that Raymarine will be making public soon.  In fact, some of the good news picked up in a meeting with Raymarine and FLIR yesterday was about how Raymarine is streamlining its firmware coding and distribution process.  You can hear more good news — like an increased R&D budget — if you stick with this MadMariner podcast with FLIR's Andy Teich.