RTFM, another side of the acronym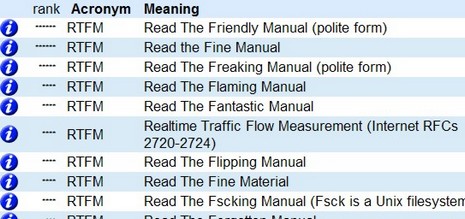 So today I was on the phone with tech support at a certain marine electronics company (it probably could have been many). After a while, the gravelly voice at the other end and I developed a certain rapport. That's when I happened to ask about a certain confusion in the product manual, and that's probably why he gave me a truly honest answer. I'm paraphrasing here, but the gist was:
"Man, I haven't read any of this company's manuals in over fifteen years. First they develop the specs in xxx (a country) and then the software gets written in yyy (another country), and finally the manual goes together in zzz. In the end it's not worth a damn! I just push buttons on the unit until I know how it works."
I got quite a chuckle out of that, and now you know the other side of that old saw, RTFM.