Sea Smart 2, the roll out and AVL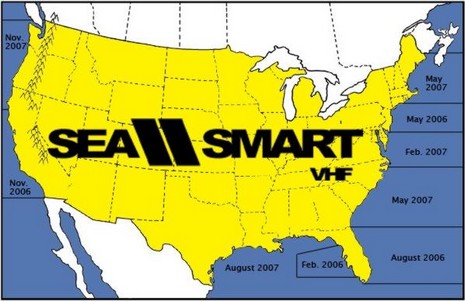 As explained a bit yesterday, Sea Smart has taken over the infrastructure—towers, radios, and marine operator licenses—that MariTEL shut down in 2003. As shown above, from seasmartvhf.com, the service is live on the west coast of Florida, coming to the NJ/NY/CT shore soon, and supposedly the whole U.S. coast by late 2007. Like the old service, Sea Smart is primarily offering ship-to-shore phone calls, but at a flat rate that's much simpler and more reasonable than it used to be. Range, of course, will usually outdo even the most souped up cell phone setup, and the operators can supposedly supply "information on the nearest fuel dock or restaurant…" (though I'm not clear about far the Long Island, NY, call center is able or willing to go with this sort of 'concierge' service).
At any rate, current Sea Tow members get unlimited calls, including U.S. long distance charges, for $144 per year, while non-members pay $204. Note that each call is limited to five minutes and the service does not support shore-to-ship calls. (Note also that the shore side of your phone conversation can be heard by anyone tuned to the channel, and, if this service takes off, calling slots could get scarce). Sea Smart had a temporary station set up at the Miami show and I tried a call to my cell. It was somehow pleasingly retro to place it with a live operator and the voice quality was quite good.
Getting the Sea Smart operator is just a matter of selecting the right local channel (the possibilities are: 24–28 or 84–86) and holding down the transmit button for 5 seconds, listening for an automated confirmation message, and then holding the button for another 5 seconds. DSC is not actually needed to connect with the operator, but Sea Smart requires that you have an MMSI along with a DSC radio attached to a GPS. That means that once the operator gets your MMSI he or she can poll your radio for a position. Sea Smart seems to have two reasons to push DSC. One is that when help is needed the call center can then very easily give good position information to the adjoining Sea Tow dispatch center. Another is that DSC polling lets Sea Smart include Automatic Vessel Location (AVL) as part of the service. The screen shot below, and bigger here, shows you how, say, your family might check on your fishing trip.
I have even more noodling on this subject but I'm really curious what you all are thinking. Might you sign up for Sea Smart when it goes live in your area?