Sea Smart 3, & what about Rescue 21?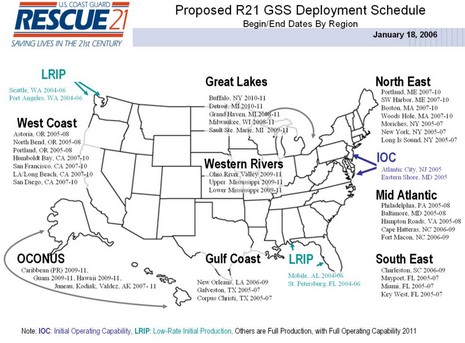 Well, so far a very small sampling of Panbites (?) is not too excited about Sea Smart. But I am. I think it may well become a "no brainer" for offshore fishermen, long distance coastal cruisers, and others, especially once it's fully rolled out. I for one am tickled that at last there's a service that makes good use of DSC. Especially as I've been in touch with the U.S.C.G. again, and the latest on Rescue 21 is discouraging. At least they've finally got a revised implementation schedule—above, and bigger here
—which is better than the situation I wrote about last year. But check it out. Full implementation of R21, once expected by 12/2006, is now set for 2011!
Now Sea Smart is not meant for distress calling, but its call center will be able to hear DSC distress calls and relay them to the Guard if needed. I like that, and think its another reason to wish the service well. But there is a contrarian view, expressed to me by a couple of you via the back channels. There have been issues with Sea Tow and other towing services over salvage claims—in fact I once wrote about such a questionable claim, and then about all the follow up letters. So cynics theorize that Sea Smart's long range coastal VHF network will give Sea Tow franchisees a head start on possible salvage operations. My take:
* Sea Smart might make any towing service better because it will give you a more reliable way to get a call through or get help from an operator, and the operators will know exactly where you are, even if you aren't sure.
* Sea Tow especially gets better because its dispatch center is in the room next to Sea Smart. (And the combined subscription package, $262, is going to appeal to many).
* Every boater should learn exactly what the difference is between towing and salvage.