SeaMoon Passerelle, solid state 360 degree video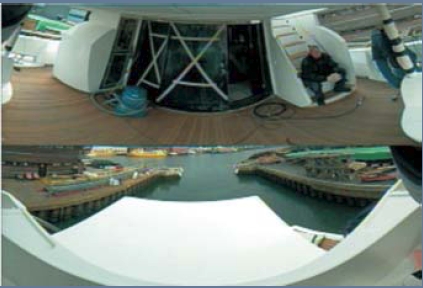 I've been researching boat cameras and finding neat developements. One is the SeaMoon Passerelle, which sees 360 degrees at once. The screen image above shows the hind end of a big yacht in two 180 degree panoramas, no remote control panning needed. (Note that the boat is obviously in a yard; hence the vacuum cleaner and taped up glass doors). Below is a diagram of how it's done without moving parts; two reflective surfaces (yellow) collect the 360 x 60 degree image for the CCD. SeaMoon seems to be a relatively new division of SeeNite, and its site is fairly minimal (lacking, for instance, these illustrations from the product brochure).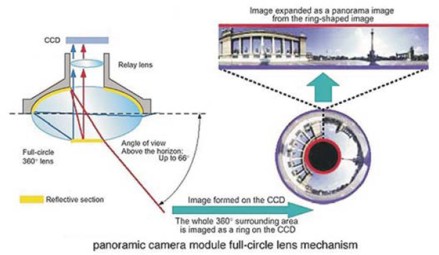 I'd appreciate any comments on unusual cameras and/or unusual ways to use them afloat.