Semi live blogging the Miami shows, backwards
Garmin integrates with Mastervolt CZone digital power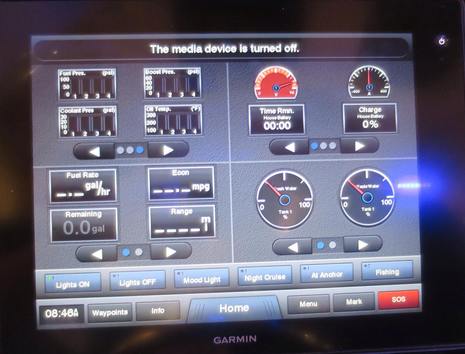 I think they overhyped the innovation but this is great news for distributed power and digital switching in general, and the Garmin 8000 series in particular. It's also a huge win for Mastervolt CZone.
Northstar modular thin plate 8D battery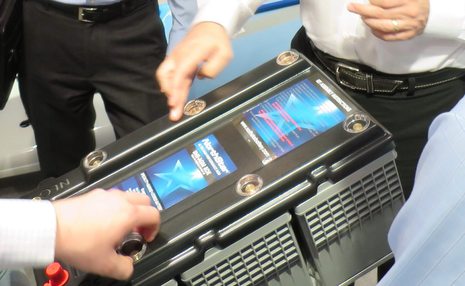 West Marine picked this modular Northstar thin plate 8D battery as one of its products-of-the-year.
Panbo Wins Again
The iPad blogging has some problems but I'm a happy guy. Boating Writers International just awarded Panbo #1 in Online Excellence — third time in four years! — and also gave me #1 in Electronics for the article "True Test" published in PMY.
Simrad announces ForwardScan
Simrad ForwardScan will image a 10 degree slice from directly below your boat up almost to the water surface ahead, it won't be very expensive, and of course it will integrate with NSS and NSO evo2 (at least). Let the wider sonar wars begin!
FLIR Partner's Cruise — all in
It was seriously weathery in south Florida last night but the First FLIR Partner's Cruise was nonetheless an important moment in marine electronics. With the addition of Garmin — comment link to press release appreciated — Flir cameras are now supported by the entire Big Four plus the likes of Nobeltec and GOST.
Let the Shows begin!
Live blogging experiment
Time for an experiment! At some boat shows I've tried using Twitter and even Instagram to post short reports and photos of electronics news because writing full blog entries just doesn't fit with the pace. But there were serious drawbacks, mainly that I couldn't cap them off at the end of the show. So if you looked a few months later, you'd see my irrelevant current Tweets along with your comments about show news.
But now I have a neat Canon S120 camera with built-in WiFi and a powerful iPad blogging app called Blogsy. I think I will be able to update this entry fairly easily. And I plan to do it backwards, adding new stuff to the top. The only drawback I can think of is that the feeds going to PMY, SailFeed, and PassageMaker will probably not update until I have time to do it manually. So if you're reading there, come on over to Panbo.