Shakespeare CruiseNet, supercellularistic?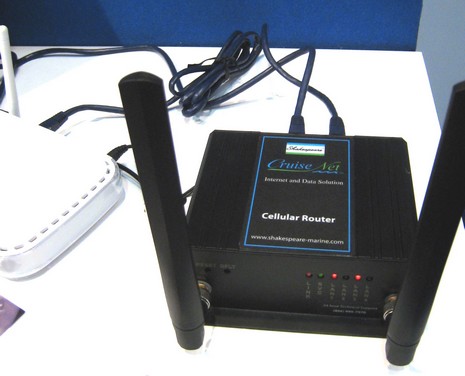 That's a Shakespeare CruiseNet Cellular Router set up at the Miami Boat Show, where it was cruising the Internet at a zingy 3Mb, and serving it up via the WiFi router at left, which is plugged into one of its four Ethernet ports. When installed on a boat those dual stubbies would be replaced by a pair of marine cell antennas, because CruiseNet's high performance design incorporates antenna diversity technology. Another reason for its somewhat jaw dropping cost—models start around $1,600, street, without the antennas!—is the industrial-strength, full-power cell transceiver built into the box. Most of the other cellular routers that boaters are fooling with—like the Junxion Box or the Kyocera KR1, or even KVH's TracNet 100–use a wimpier PC-card-style consumer-grade radio that you supply. CruiseNet also includes a one year subscription to the "Full-Throttle" proxy server compression service Shakespeare has set up (renewable at $50/year), and it somehow establishes a static IP address, which apparently is not easy on a cell network.
The IP address means that CruiseNet and everything attached to it can be queried from other computers, which leads to all sorts of possibilities, as was illustrated by the control and monitoring test board Shakespeare had set up in its booth. This product could the heart of a very connected boat, at least until you get 20–50 miles off the U.S. coast, where Sprint and Verizon broadband always-on data service ends. I'm working on an article about connected cruising, and would love to hear how people are using WiFi, cell, sats, SSB, and/or pigeons to stay in touch, or whatever.