Wave WiFi MBR, a Swiss Army knife of a boat router
Internet afloat isn't always as simple as we would like, but Wave WiFi is working hard to make it simpler with their MBR-500 and MBR-550 multi-source routers.  These devices can select between as many as six different sources of internet connectivity and they can do it all automatically.
Panbo's coverage of Wave WiFi began back in 2010 when Ben E's review of the Rogue Wave WiFi bridge noted the user-friendly interface software that Wave had flashed onto commodity hardware which was also kitted out for Marine use.  More recently I used the Rogue Pro DB as the benchmark for simplicity in comparing user interfaces.  In the almost nine years since Ben's first review, the user interface (UI) has gotten more powerful, prettier and even easier to use.  Wave knows you're going to use their products on a boat and it shows from their user interface to the mounting options and support, unlike the highly capable hardware — but with much more confusing user interfaces — from companies like Ubiquiti and Engenius.
Wave offers the $1,000 MBR-500 and the $1,500 MBR-550, and the only difference between the two routers is the addition of cellular-LTE capabilities in the MBR-550. With the MBR product name standing for marine broadband router, these are multi-source (WiFi, cellular, satellite, etc) routers in a rugged housing with a friendly user interface designed for boat use.  Both models include a 2.4ghz-only WiFi radio for the local (boat) network, five 10/100 megabit Ethernet ports, and the MBR-550 also includes an LTE-A radio.  If you want to use a marina WiFi network as your internet source, you will also need to have a WiFi bridge — and if that bridge is one of Wave's models, like a Wave Rogue, a link appears that makes managing the WiFi connection pretty seamless.
Why these routers?
It's a natural question as these routers start at about $850 street price and work up to around $1,300.   There are mainstream products that do the same thing for a lot less money, so why these routers?  The short answer is features designed for use in changing situations, ease of installation, ease of use and support.  You're paying a premium for a product that is intended to be used on a boat and developed for just that purpose.  When you call Wave  WiFi's technical support they're going to be familiar with the way you're using their product on your boat.  With Wave WiFi's products, you have the benefit of an installer network who knows Wave's products and proper installation procedures onboard your boat.
I'm frequently asked by people with good technology skills why they should spend the extra money on a boat specific product.  My normal answer is if you can identify the solution you want to use, figure out all the components needed to mount it on a boat and then configure it, there's probably no reason for you to buy a marine specific product.  You've just done a lot of what you're paying a company like Wave WiFi to do.  But, if you don't want to roll your own solution, do want a phone number to dial when things don't work, and maybe would like a marine pro to install it, a product like an MBR is right up your alley.
There's also a lot of features baked into these routers aimed at solving problems encountered onboard a boat without a wire connecting the boat to the internet.  The biggest difference between home internet and internet connections aboard a boat is the constantly changing nature of your internet connection.  Even if you use the same cellular connection most of the time, you may find yourself in a new location where that connection isn't performing well.  But perhaps there's good WiFi or another carrier with better coverage, so you will want to switch your internet source.  Most of the general purpose routers capable of multiple WAN connections (Wide Area Network, in this case internet connections) — like the Ubiquiti Edge Router or a PepLink BR1 — can automatically select between a maximum of two internet connections and don't make that selection nearly as straightforward as the MBR.  Plus, the MBRs include a lot of traffic management features to help your potentially limited bandwidth go further.
Installation and configuration
The hardest part of installing an MBR will likely be running cables through your boat.  Both routers have two antennas for the 2.4ghz client WiFi network and the MBR-550 has two more antennas for the LTE radio.   The MBRs come with short rubber antennas for both radio connections but Wave has external LTE antennas with 1″- #14 threads for $130.  Using the external antennas can significantly improve your cellular reception because of the higher gain of the larger antennas and the ability to locate them up high on the boat for best performance.  Using the external antennas requires a run of FR-240 cables from your MBR mounting location to the antenna or antennas.
My review unit came with a 110v power supply, though the unit itself takes a 12v input, so directly powering from your boat's 12v system is easy.  I then connected a Wave Rogue Pro DB dual-band WiFi bridge for connecting to marina and land-based WiFi networks.  Unfortunately, the MBR won't power a connected Rogue or Rogue Pro directly (as a Ubiquiti Edge Router can) so you will need to use a separate POE power injector.
Once the router is installed and cabled up the initial configuration is fairly minimal.  The routers come with interfaces set so that the leftmost port is the guest LAN (Local Area Network — this one is a guest network for visitors to your boat), the next one is set as VSAT, then cellular, WiFi and then the main LAN (AKA your boat network where you connect your devices) connection.  Failover priorities are preset so that WiFi (the cheapest means of connectivity) is first, then Cellular, then VSAT.  You will now need to make a couple of choices about how users connect to the MBR and what bandwidth they will receive — more on that below.
Configuring ports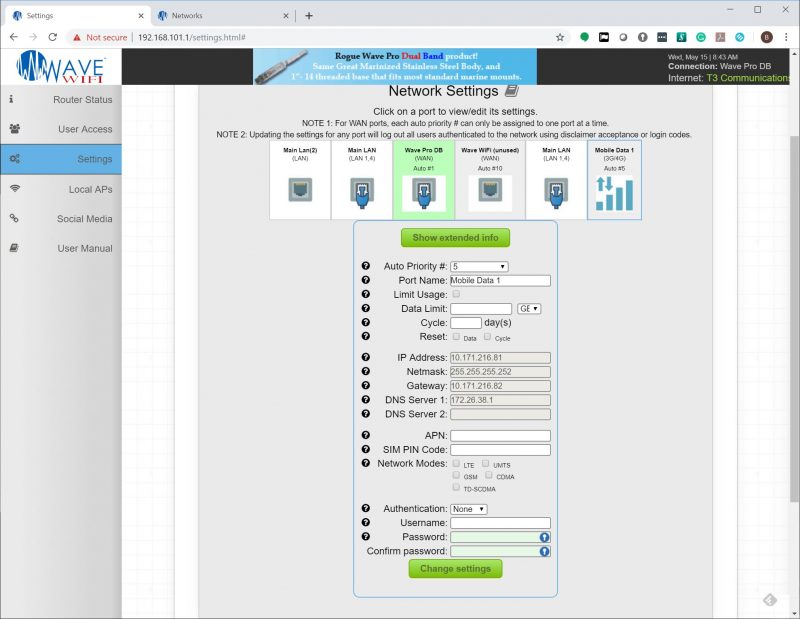 Each port on the device can be configured by clicking on the port icons across the top of the screen above.  This screen shows two of the features that differentiate the MBR from most general purpose routers.  First, the "Auto Priority #" option above sets the order in which the router will use internet connections when it's in automatic mode.  The second feature is the ability to limit the usage of an internet connection by gigabytes transferred.  If you have a connection with limited bandwidth and extra charges for going over your limit this feature can be a real lifesaver.
A neat trick (that I haven't seen documented anywhere) is the ability to use the USB port on the front of the MBR to connect a mobile hotspot to the MBR and control it as another internet source in the MBR.  I have both AT&T and Verizon sim cards on the boat and carrier branded hotspots for both networks.  I've mostly settled on using the AT&T SIM inserted into the MBR-550 while connecting the Verizon 7730L mobile hotspot to the USB port.  This gives me easy access to both cellular networks and marina WiFi, plus it means that if a carrier starts using a band outside of the coverage of the LTE radio built into the MBR-550 I can always use a carrier device attached via USB (though I would lose the goodness of the higher gain antennas and better antenna location).
Connecting users
The MBRs both have extensive capabilities for managing users on the boat's network.  The router can behave like your home router by giving all users access to as much bandwidth and as many gigabytes of throughput as they can consume (and your internet connection can supply) but you can also configure limits for some or all users.  As you can see in the pulldown menu above, you have the choice of allowing users to authenticate by MAC address (the Media Access Control address is an identifier of the Ethernet or WiFi adapter of every device on a network) or via login code.
Access control by MAC address simply allows or disallows access for a device.  But, if you use login codes there's a lot of granularity in the limits you can set.  You can limit the download and upload rate permitted in megabits per second as well as the amount of data transferred in gigabytes.  Codes can be set to be one-time use or with a cycle that resets between every 30 minutes and every 30 days.
Managing Access Points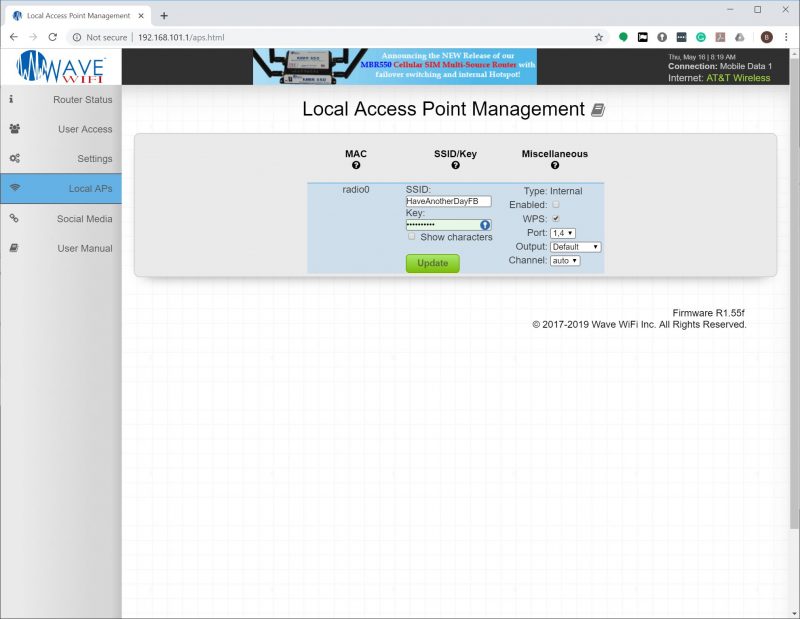 The MBR has a 2.4ghz WiFi radio built-in for client device connections (devices on your boat connecting to the local network) and the ability to manage additional Wave WiFi Yacht APs.  If I had a Yacht AP connected to the MBR it would show up as another radio under the settings for the internal radio.  I really like the ability to manage multiple access points from a single interface, but unfortunately right now both the internal radio on the MBR and the Yacht APs are limited to only the 2.4ghz band.  I've found it very difficult to get reliable connections in the congested 2.4ghz band aboard Have Another Day.
How's it work?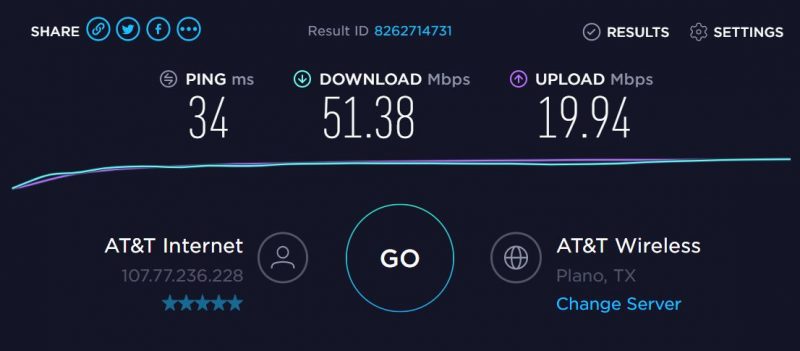 The MBRs deliver on the promise of a simpler user interface and a feature set designed for how you will use the product on your boat.  There was minimal configuration required to get the router up, running and managing my connections.  Of the configuration options I've shown above, the only thing necessary to get traffic flowing is selecting which connection the MBR should be using for internet connectivity.  All the other settings can be adjusted if you have a need for those features but can also be left at the default settings.
I've had my evaluation MBR onboard Have Another Day for our cruise from Chicago to Florida.  Although I initially had some troubles with stability requiring the router be rebooted with some regularity, it has been reliable since a firmware update installed towards the end of March.  Compared to a general purpose product from a company like Linksys or Netgear, these routers are produced in very small numbers and the budgets for development and QA are naturally smaller.  So there is a greater potential for issues like I experienced.  This is part of the tradeoff for some of the marine specific features I've mentioned.
The speed test results shown above are using the MBR-550's internal radio with two of Wave WiFi's funnel style LTE antennas connected.  These results are on par with or better than what I get using an AT&T branded Netgear Nighthawk mobile router.
I've found the automatic failover capabilities to work well as long as there's complete failure of the in-use connection.  The router makes its failover decisions by testing to see if it can ping a server.  As long as those pings come back the router will stay connected.  This proves to be an effective technique if you've connected to marina WiFi and pull out of the marina or if one cellular provider loses service while another still has it.
Final thoughts
If you want a simple solution that just works and is designed for the peculiarities of internet connectivity aboard a boat these routers deliver.  There are cheaper options available in all-in-one dome products like the Shakespeare WebWatch and Glomex's WebBoat (both of which are installed aboard Have Another Day and I'm also testing) and the even cheaper option of constructing your own solution from general purpose hardware.  However, none of these products deliver the flexibility, nor the elegantly simple user interface of the MBRs.
So, with their easy to use software and flexible feature sets these really are the Swiss Army knives of boat routers.