GL.iNet AR750 travel router, a low-cost boat router option
Regardless of how you get internet connectivity onboard your boat, I'm a big advocate for using a dedicated boat router. There's nothing inherently special about a boat router; it could be a cheap router designed for use at home or a sophisticated system designed just for use on megayachts. The options cover a broad price range and I've recently come across an inexpensive, relatively easy-to-use, feature-rich router that seems like a good option.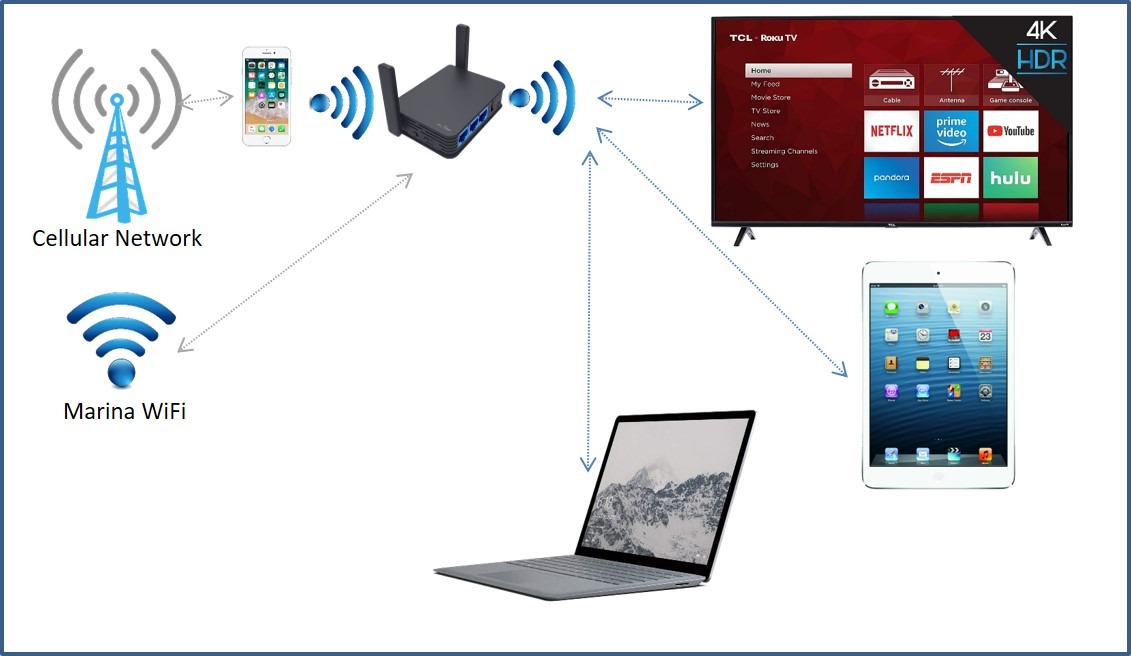 Connecting all devices onboard to a boat router means easier transitions between various internet options. With a boat router, you can change the source of onshore internet by just reconfiguring the router, not each individual device on the boat. For example, say that most of the time you connect to marina WiFi but occasionally head out and anchor for a night or two and want to use your phone's hotspot feature. Without a boat router, you would need to reconfigure each device onboard to connect to your phone instead of marina WiFi. With a router, you would just change the connection the boat router is using and your work is done.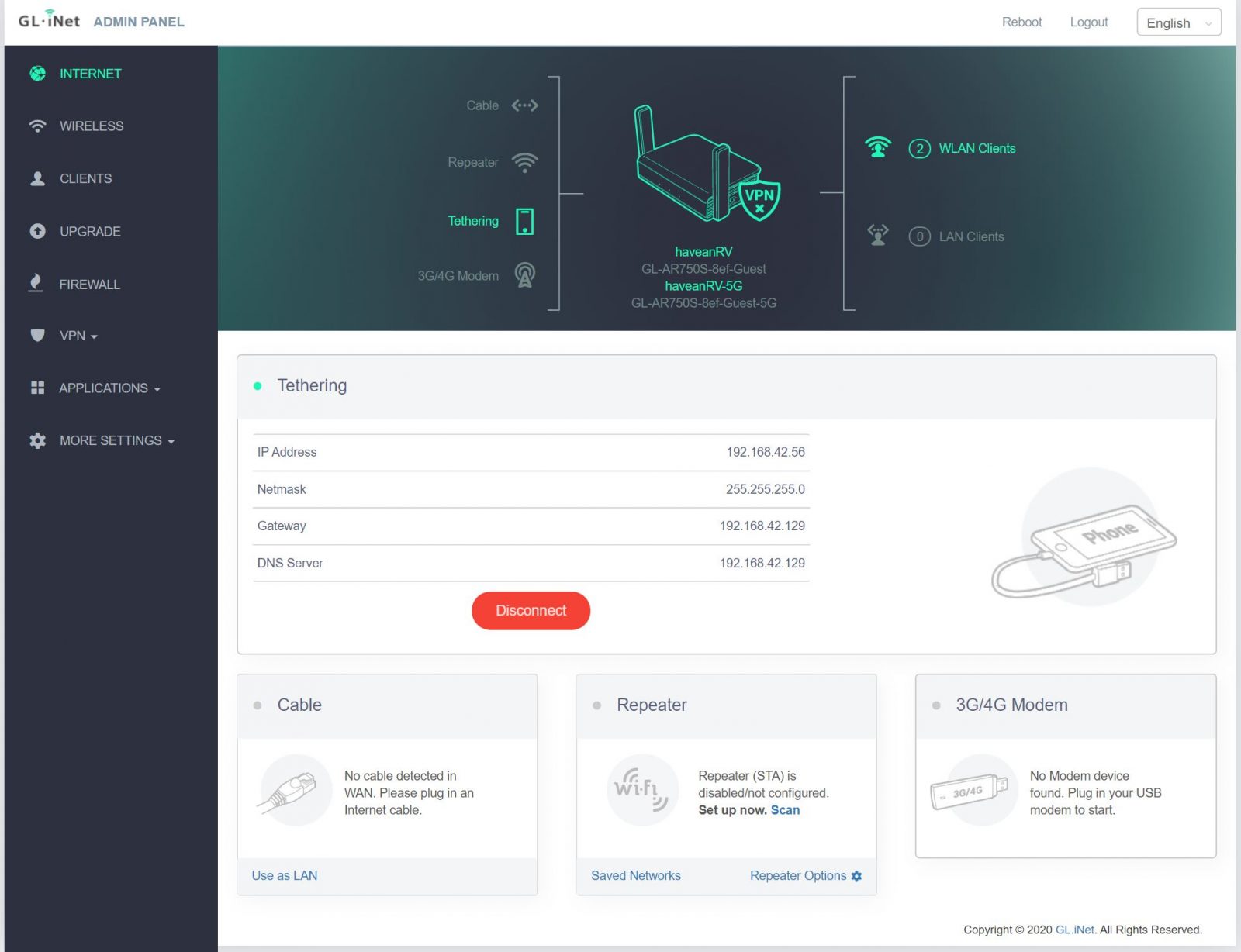 The GL.iNet AR750S ($69 on Amazon) is a very compact but surprisingly capable little router. The AR750S offers four ways of connecting to the internet. You can connect an Ethernet cable to the WAN port on the router, tether a cell phone via a USB cable, connect a 3G/4G modem via USB or connect to and repeat a WiFi network. This model doesn't have a 4G radio built-in, but Steve Mitchell from SeaBits has reviewed a significantly higher-end GL.iNet router with two radios and a lot more horsepower. If you'd like a refresher on some of the internet connectivity options you can find one here.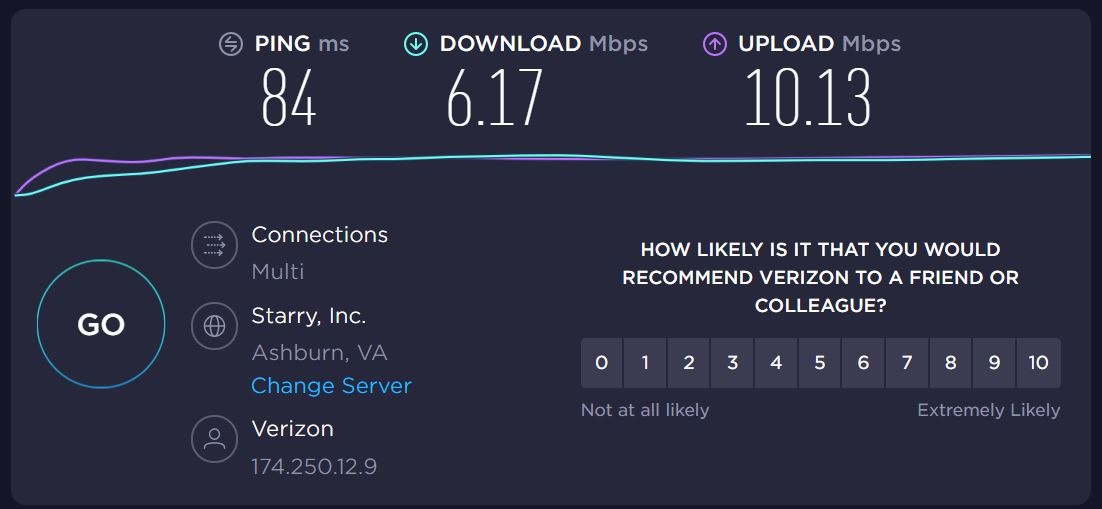 In the screenshot above I'm connected to an inexpensive ZTE phone on Visible's network. With discounts the phone was free and the service is $25 a month. All in, this is a very inexpensive way to get 5 or 6 megabits per second (Mbps) of unlimited internet. I've spent the last two weeks in our new RV using Visible as my primary connection and while it hasn't been perfect it's been entirely acceptable. Visible limits hotspot connectivity to about 5 Mpbs — though I usually see more than 6 megabits in speed testing — which leaves the connection just over the 5 Mbps most streaming services require for HD video streaming. I'm able to stream shows fine but that it frequently takes up to a minute for the show to start (using an Amazon Fire TV Stick).
GL.iNet provides an easy to use mobile app for iOS and Android that allows control over frequently used aspects of the router. More advanced configuration can be done using SSH and a command-line but is unlikely to be necessary for most users.
DD-WRT
Under the covers, the AR-750S is running DD-WRT, an open-source and powerful operating system for routers. GL.iNet has put a nice skin over it that makes configuring and operating the most common functions easy and user-friendly. But, if a user wants to accomplish more complex tasks there's a more advanced set of DD-WRT menus and a command line interface. There's a lot of configurability and power allowing support for many different VPN configurations, file server options, cloud synchronization, and tons of other features.
Although the router has three gigabit Ethernet ports the reality is the maximum throughput of the router is limited to about 600 Mbps, likely due to the capabilities of the CPU. Since most internet connection options for mobile use range between 5 and 40 Mbps, the 600 Mbps limit probably won't be relevant for boaters.
Multiple connections can be maintained at the same time and the app status screenshot above shows both a wireless-WAN (WWAN) connection (the router connected to the WiFi network of the RV resort) and a tethering connection (the USB interface of the Visible ZTE Android phone) in use. By default, the router will prefer the WWAN connection but automatically switch to using the tether connection if WWAN goes away. The two screenshots directly above show the advanced configuration options for both interfaces. Towards the middle of both screens there's a parameter called "Use gateway metric" which controls which interface is used first. The interface with the lowest metric will be used first. So, you can see here that WWAN has a lower metric and hence will be selected before Tethering.
The GL.iNet AR750S slots in somewhere between products like Ubiquiti's EdgeRouters (harder) and Wave WiFi's MBR line of routers (easier) for ease of configuration and management. At $69 it's among the cheapest options and will likely allow most boaters working internet with just a few minutes invested in getting it set up. Plus, because all it requires is a single 2 amp Micro-USB power supply it's easily portable if you wanted to move it between boats or perhaps between a boat and home.