Internet afloat 2020, this should be easier!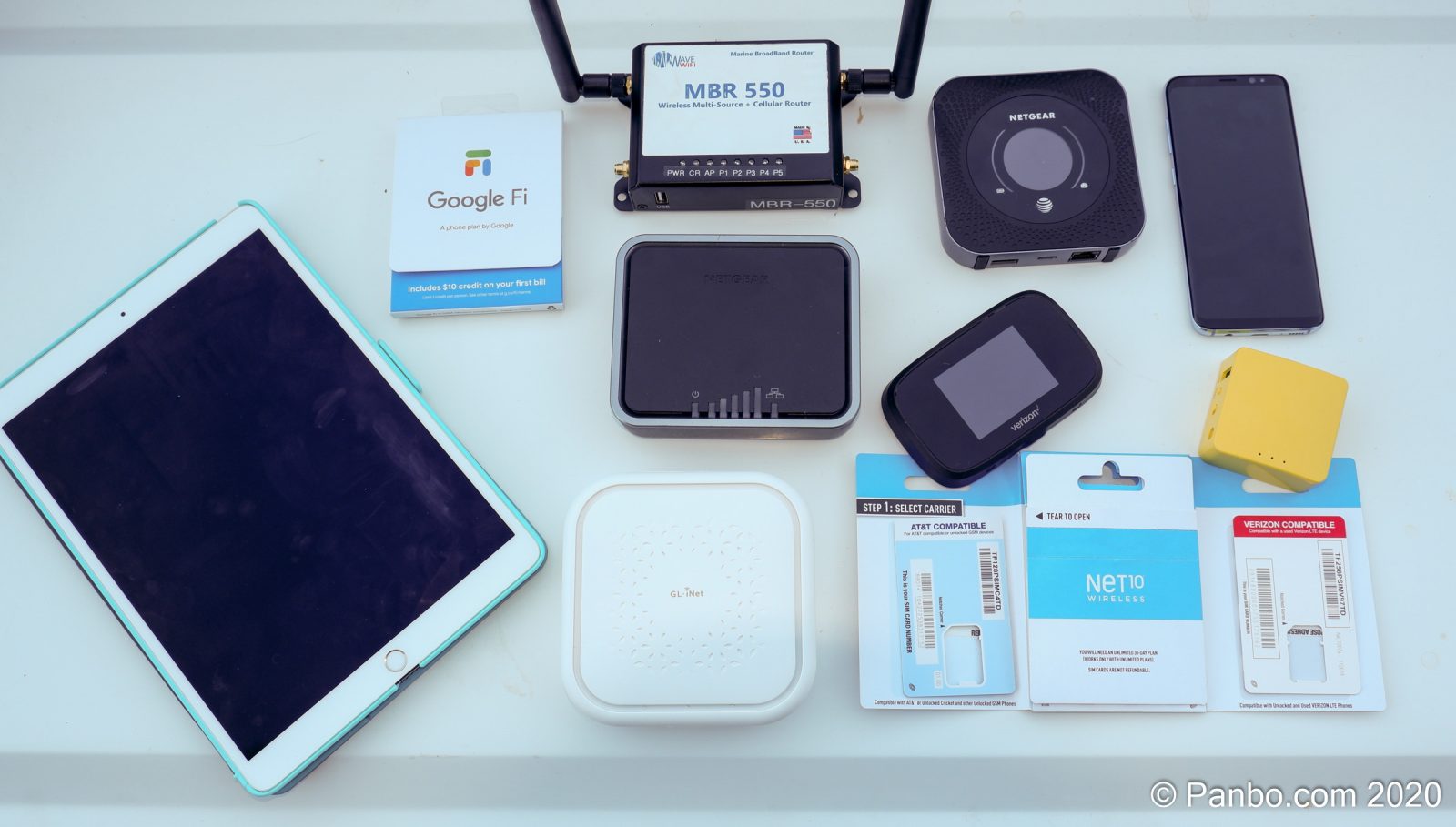 Working from boat, cabin, RV, or wherever you find yourself is so very 2020, but for most of us, that takes internet connectivity. Unfortunately, staying online via a cellular connection has gotten increasingly harder. I'm baffled about why the year of nomadic work is also the year that carriers have made it so very difficult, but what follows is an update on what I've done historically, what's stopped working recently, and how I'm trying to remedy the situation.
Because I work, my kids school, and my wife teaches — all streaming from our boat home — we consume large quantities of bandwidth. An average month is around 250 gigabytes via cellular connections, but we've seen months with nearly 500 gigabytes transferred. It's also safe to say that without working and reliable internet, productivity aboard Have Another Day grinds to a halt. So, we really value reliable and decent performing internet. Recently, that's been harder to come by.
I should also note this struggle is nothing new. Ben E. wrote presciently back in 2013 about his Verizon unlimited solution and how well it was working for him and also his fears it may not last. If you read back to that entry you will recognize several of the issues he was describing as well as some familiar tools for dealing with those challenges.
Headwinds
2020 has brought challenges to many people and many businesses. I think it's safe to conclude that cellular carrier networks are feeling the strain of very different usage patterns than when most of the country's workforce was in an office, relying on corporate networks to supply connectivity. Now, so many of us are working from home or possibly alternate locations like our boats. With that move to alternate work locations comes a need for bandwidth and the obvious source of bandwidth is cellular. And with the increased dependence on cellular bandwidth, it seems the carriers have decided to manage this, in part, by cracking down on how their networks are used.
I wish that low-earth-orbit satellite constellations, like Starlink, were ready for prime time, but it's just too early still. The constellations of satellites aren't complete and there's still lots of fine-tuning ahead. Starlink recently launched what they're calling their "better than nothing" beta. I think the name makes clear what they're promising and it's not much. The early returns I've heard from beta users indicate that it's a lot better than nothing, but it's also limited to those much further north than southwest Florida.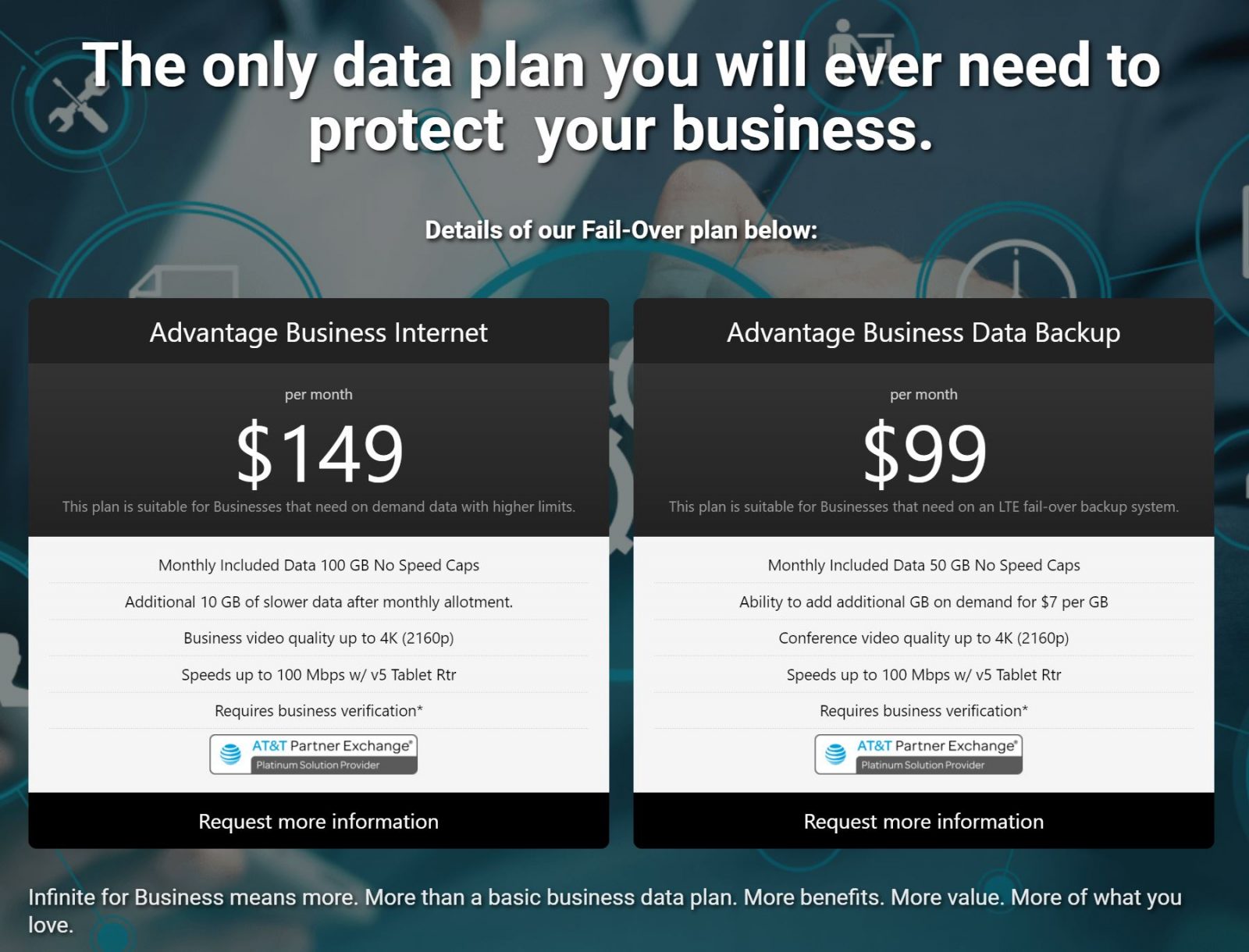 Since early 2016 I've been using a reseller called 4G Antenna Solutions (4GAS) to purchase an unlimited AT&T data SIM. Unfortunately, in August of this year, after four and a half trouble-free years, 4GAS announced that my plan would no longer be offered. Instead of the $80 I was paying them for service they were moving to offering a $100 plan with 50GB of data or a $150 option with 100GB of data. Additionally, this option would only be available to businesses and was now being marketed as a backup connection option. This wasn't a huge shock to me. The $80 plan I was on hadn't been offered for quite some time but 4GAS continued to honor the pricing for existing accounts.
With 4GAS off the table, I went looking for a new solution. I'd had good luck with AT&T so I was interested in sticking with something on their network. I reviewed the options listed at The Mobile Internet Resource Center which lead me to Gypsy Wireless. Gypsy offers a plan that costs $100 for the first month and $75 thereafter. Gypsy Wireless was flawless for the first month and through the first renewal. Then, sometime after that, my Gypsy Wireless line stopped working. Just before this happened I'd heard about trouble with Finally WiFi (the U.S. operation of My Island WiFi). It's long been warned that the resellers of major carriers' networks sometimes operate in gray areas of the carriers' terms of service and as such, trouble could be experienced if the carriers decide to crackdown. At this point, with word of three carriers having troubles it looks as though, as warned, AT&T was cracking down on resellers.
Alternative options
For quite a while my arsenal of internet connection options consisted of the aforementioned AT&T connection via a reseller, a Verizon Prepaid truly unlimited mobile hotspot (which Verizon no longer offers, mine is grandfathered), a phone with Visible's unlimited 5 megabit per second hotspot (also on Verizon's network), and our cell phones which are on T-Mobile but are limited to only 3GB per month of mobile hotspot usage. Now that the AT&T option is defunct, my only unlimited options are on Verizon's network. Unfortunately, Verizon has proved to be the least reliable and slowest option at Have Another Day's home slip. So I really wanted an option on AT&T or T-Mobile. Let's talk about the options I've tried so far. It's a pretty long list and if it's exhausting to read, just think about how exhausting it's been to try them all.
Google Fi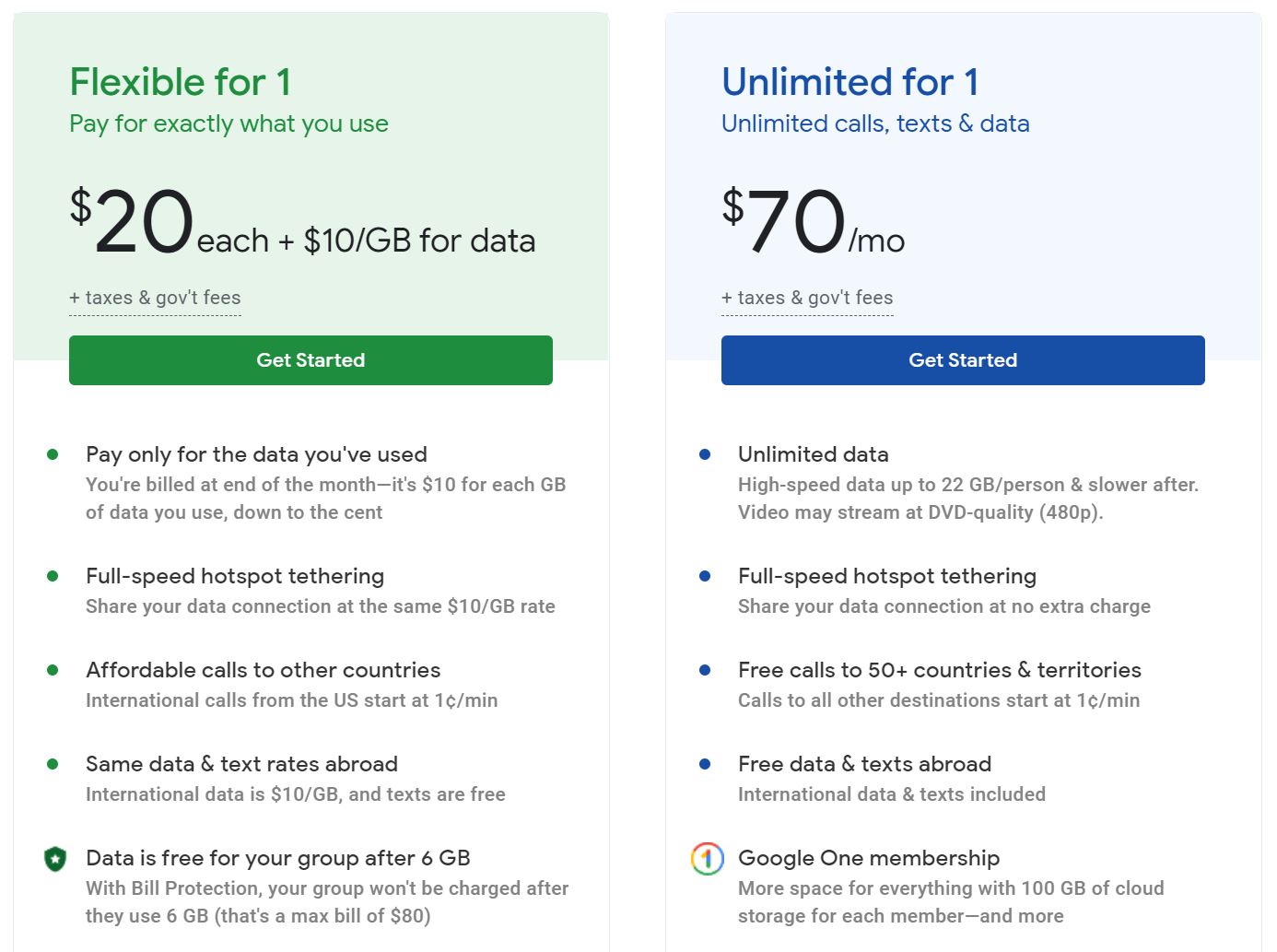 I've heard good things about Google Fi, its carrier switching capabilities between Sprint, T-Mobile, and US Cellular, pay for what you use model, unlimited bandwidth after 6GB of metered usage, and free data-only SIM cards. Unfortunately, it turns out the unlimited bandwidth after 6GB is only at high speed until you reach 22GB of use at which point it slows to a nearly useless 256 kilobits per second. I had some optimism that perhaps the slow down wouldn't actually occur, so I invested in one month of service at $80 and can confirm data is definitely slowed once the cap is reached. Honestly, it's pretty disappointing to see Google use the same deceptive definition of unlimited.
T-Mobile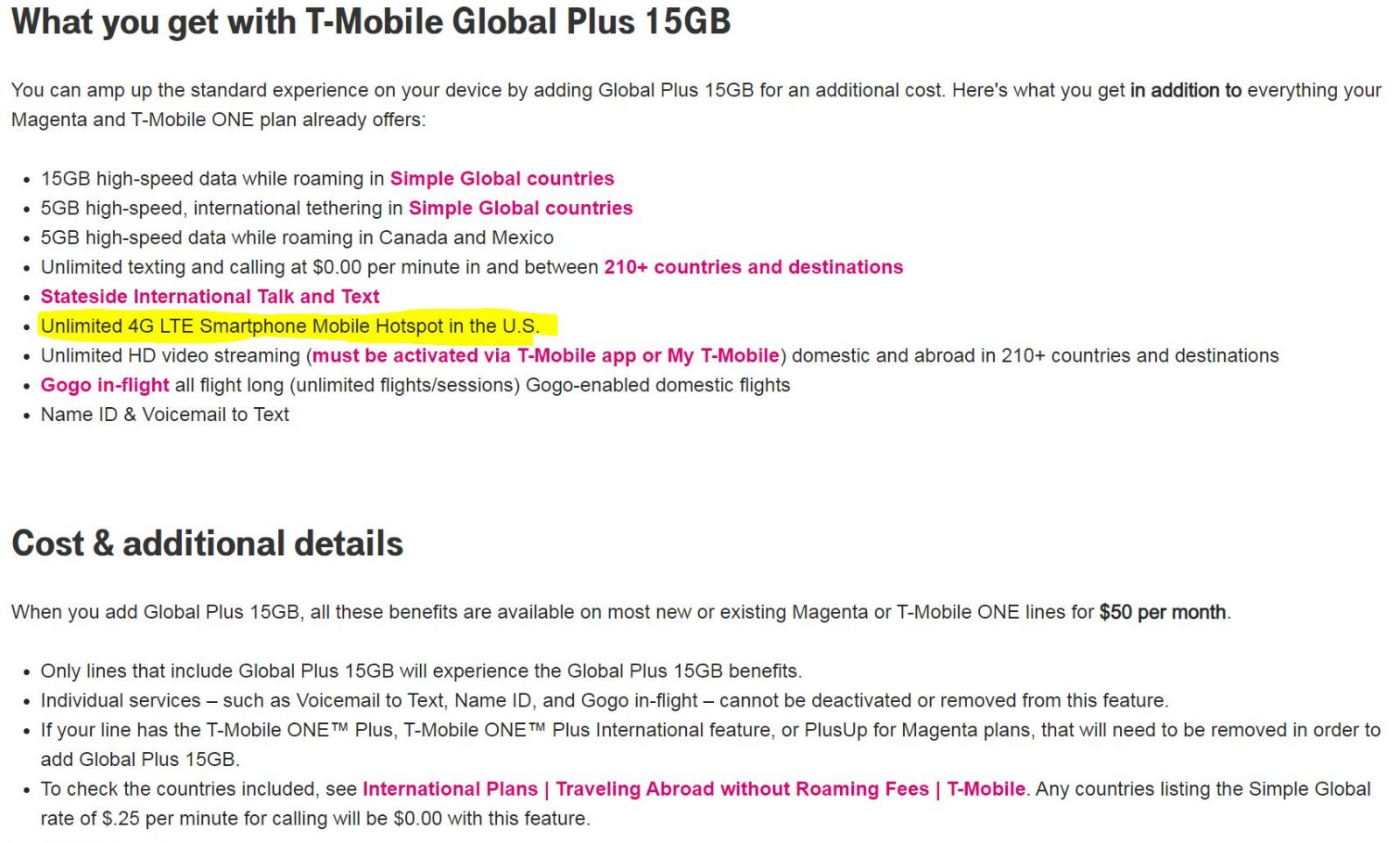 This one hurt. I invested a lot of time in trying to make this work, and failed. T-Mobile offers a $50 add on to some of their plans called T-Mobile Global Plus 15gb. I've highlighted the most important feature above, "Unlimited 4G LTE Smartphone Mobile Hotspot in the U.S.". This is the only spot in all of T-Mobile's rate plans and add-ons that I've found a truly unlimited mobile hotspot offered. While I'd prefer a data SIM that can go directly into an LTE modem, I can make my peace with tethering via WiFi or USB to one of the routers aboard.
So, why did it hurt, you ask? Because despite the fact that they don't say it anywhere in any of the marketing materials, this plan is only available to individual customers on the Magenta plan. I'm a business customer on the Magenta plan and hence can't have it. This was news to me, the rep who sold me a new phone (and thought he'd activated the plan), and most of the ten or so phone reps I spoke with trying to get it activated.
Ultimately, I gave up, returned the phone, canceled the line, and moved onto the next option. Technically, I didn't have to do this, I could have established a new line of service as an individual and added the Global Plus 15GB package. But, each additional line on my business plan costs $20, so the total additional cost would have been $20 for the phone plus $50 for the add-on package for a total of $70. If I'd gone with a standalone line it would have cost $70 for a single line of magenta plus $50 for the add-on package for a total of $120.
As it became clear T-Mobile was going to make this difficult I began to explore other options. I've been using GL.iNet routers (running DD-WRT) and some searching revealed that using an Android app called EasyTether and an EasyTether module on the GL.iNet router would allow using the phone's on-device data off the device. Effectively, this allows you to bypass the carriers' restrictions on mobile hotspot and tethering by disguising the traffic. While it works, I don't love the idea of relying on a tool that could result in a game of cat and mouse with the carriers and that might violate the carriers' terms of service.
AT&T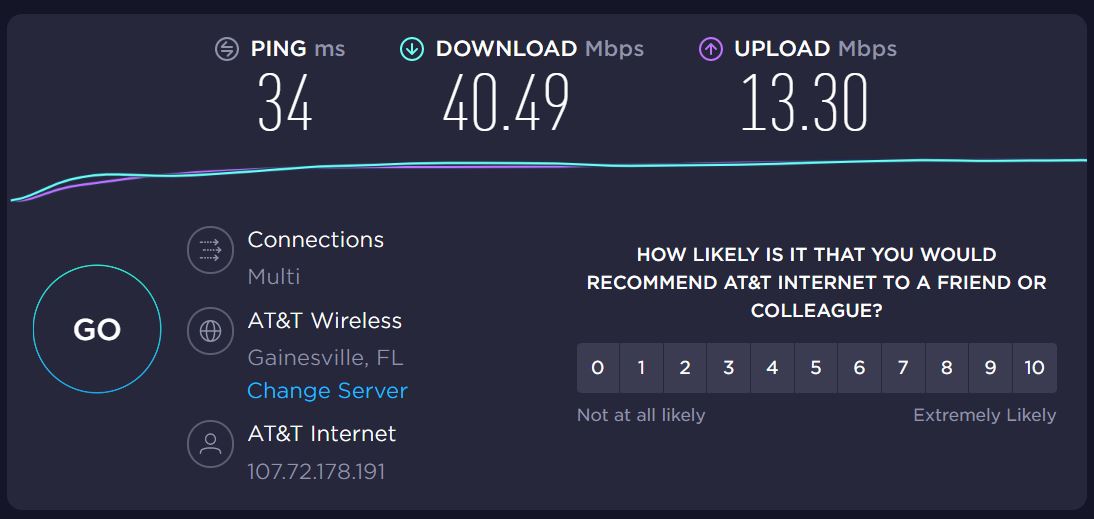 Here's where things get ironic. This search started because AT&T stopped resellers from offering unlimited services for $75-$100 a month but the final solution I found (at least for now) ended up being a $20 a month unlimited iPad data plan. The Mobile Internet Resource center has listed this plan for a while with notes about how to get a rep to sell it to you. I interpreted these notes to mean it was difficult to get. My experience calling in to a call center was quite easy; the rep immediately knew about the "iPad Unlimited / Tablet Unlimited" plan and quickly set me up with the new line of service. With taxes, the line should cost just under $25 a month.
So far it's allowed mobile hotspot usage with no restrictions. I've run about fifteen gigabytes through it so far, so maybe I'll experience issues when I use more data, but so far so good. Again, I'd always prefer a data only SIM card that can be directly inserted into a dedicated modem rather than a mobile hotspot off a phone or tablet. But, at this point this looks like a pretty good solution, even if I have to pick up a cellular iPad dedicated to this purpose.
The future?
What's the future hold? Will AT&T do something to eliminate this option? It often seems like the carriers offer a good option and then, when people take advantage of that option, they take it away (I'm looking at you, Verizon $65 unlimited prepaid option). Maybe they will, but in the meantime, I'm hoping this will get me through until better options come online. I certainly hope that the low-earth-orbit satellite options will become a possibility, or maybe even that medium and high-earth-orbit options like VSAT will become more affordable.
I'd sure like to hear what others are doing and what's working for them. Please, tell us about it in the comments. It's definitely troubling to not have a good answer when readers ask what they should be using to get internet onboard. For now, I think the game of cat and mouse will continue and I fear we boaters are the mice.