Rogue Wave WiFi, the Bullet rules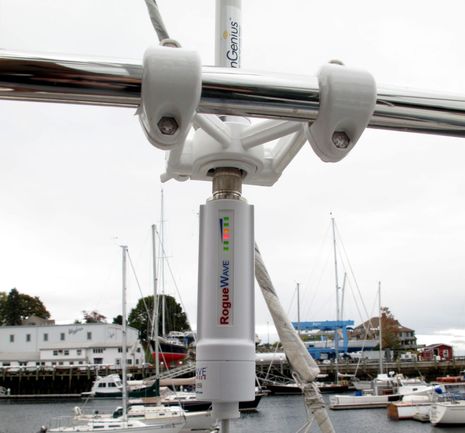 That's a beautiful sight, and I don't mean my float mate's headsail furl. Those six LEDs on the Rogue Wave WiFi transceiver are showing (from the bottom up) that it's getting power (via the Ethernet cable), that it's made a connection with a down-below computer (or router), and finally that its connection with an onshore hotspot is good enough to light up all four signal strength indicators. And I can attest that if the hotspot itself has a good Internet connection, this high power WiFi radio is ready to rock. I've been pretty pleased this season with the performance of the Wave Comet I wrote about last March — it far outperforms the WiFi built into my PCs or phones — but the Rogue leaves the Comet in the dust…

I am not only impressed with how much better the Bullet works with hotspots I've often used with the Comet, but also how many more it can see. And I ran speed tests, did real world browsing and upload/downloads, and even streamed a Netflix movie for about 10 minutes until it stalled (maybe the operator of the access point, which I'd never seen before and probably wasn't meant for sharing, felt the load and shut me down…sorry, just testing). As claimed, the Rogue Wave seems to be an extraordinarily sensitive receiver — which is actually more important, as we mostly receive data — as well as a true 800mW transmitter. But if you're interested in cruising with a WiFi tool as powerful as this, there are several possibly confusing choices available.
That's because in terms of hardware the Rogue Wave is the same Ubiquity Bullet 2HP offered for less money by several marine WiFi shops, and maybe even cheaper as a standalone, if you're willing to also hunt down an antenna, Ethernet cables, and a compatible power injector. The kit I'm testing, lent by Wave's largest online distributor Land and Sea WiFi, totals $479 when you include the EnGenius EAG-2408 8dB antenna and Glomex rail mount. By contrast, the Bullet 2HP systems sold by Island PC, GreatBoatGear, and Wifi for Boats start at around $225 complete. Of course they differ in terms of cable lengths, mounts, power feed options, and antennas (and wouldn't it be nice if all such kit builders specified the exact gear they were including so shoppers could do deeper research).
But probably the biggest difference is the unique and very simple firmware that Wave WiFi flashes into its Rogue Waves, the same solid firmware I saw in the Comet (see a sample screen here). What I can't judge well is how the Wave firmware compares to what's normally shipped in the Bullet. Ubiquity itself calls its AirOS V "exceptionally intuitive" but note how many ways a Bullet can be used beyond cadging Internet connections from a boat, and how many controls are involved. I did talk to Jeffrey Siegle, who's happily cruising with an Island PC Bullet kit right now, and he says it's easy to operate. He also sent me the AirOS Scan, Link, and Main screens below. But all those functions, minus most of the tweaks, are on Wave WiFi's main screen, and Jeff is a programmer, so his 'easy' may not be everyone's easy. If you have hand's on experience with AirOS, how about a report?