Share your boat's AIS info, easy with DataHub by PredictWind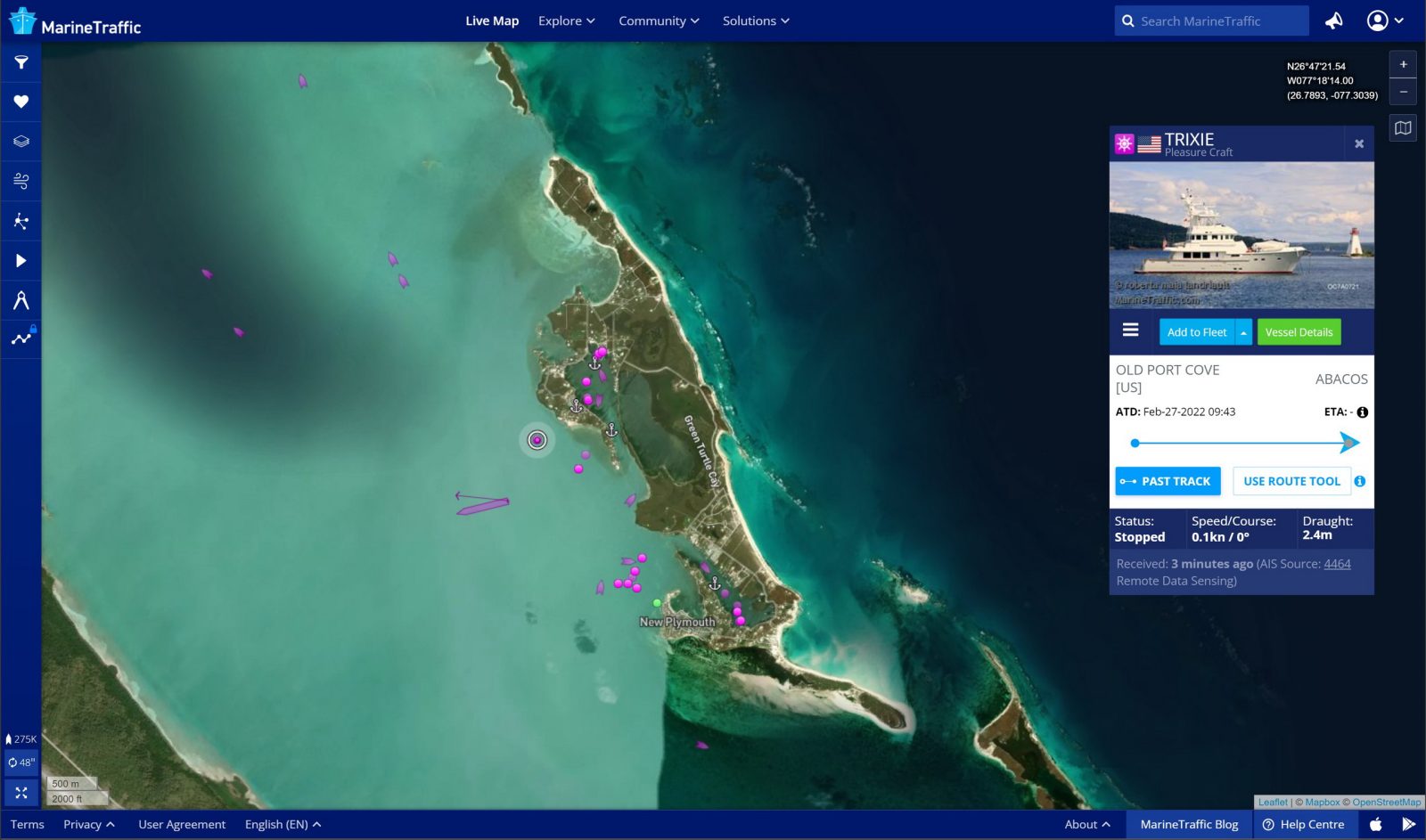 Do you use an AIS tracking website or app to follow cruising friends, check that your own AIS is transmitting, hunt for Russian oligarchs, and/or simply to identify an interesting vessel from your seaside restaurant table? Indeed, some of the services like Marine Traffic and FleetMon are now rich with photos, added vessel info, and features like extended track histories. But perhaps you're also aware that volunteer receiving stations provide most of the data, and a lot more stations are needed to cover even just the planet's coastal areas. So I'm pleased to report on a new, easy, and relatively inexpensive way to share the AIS info that may already be streaming around your boat.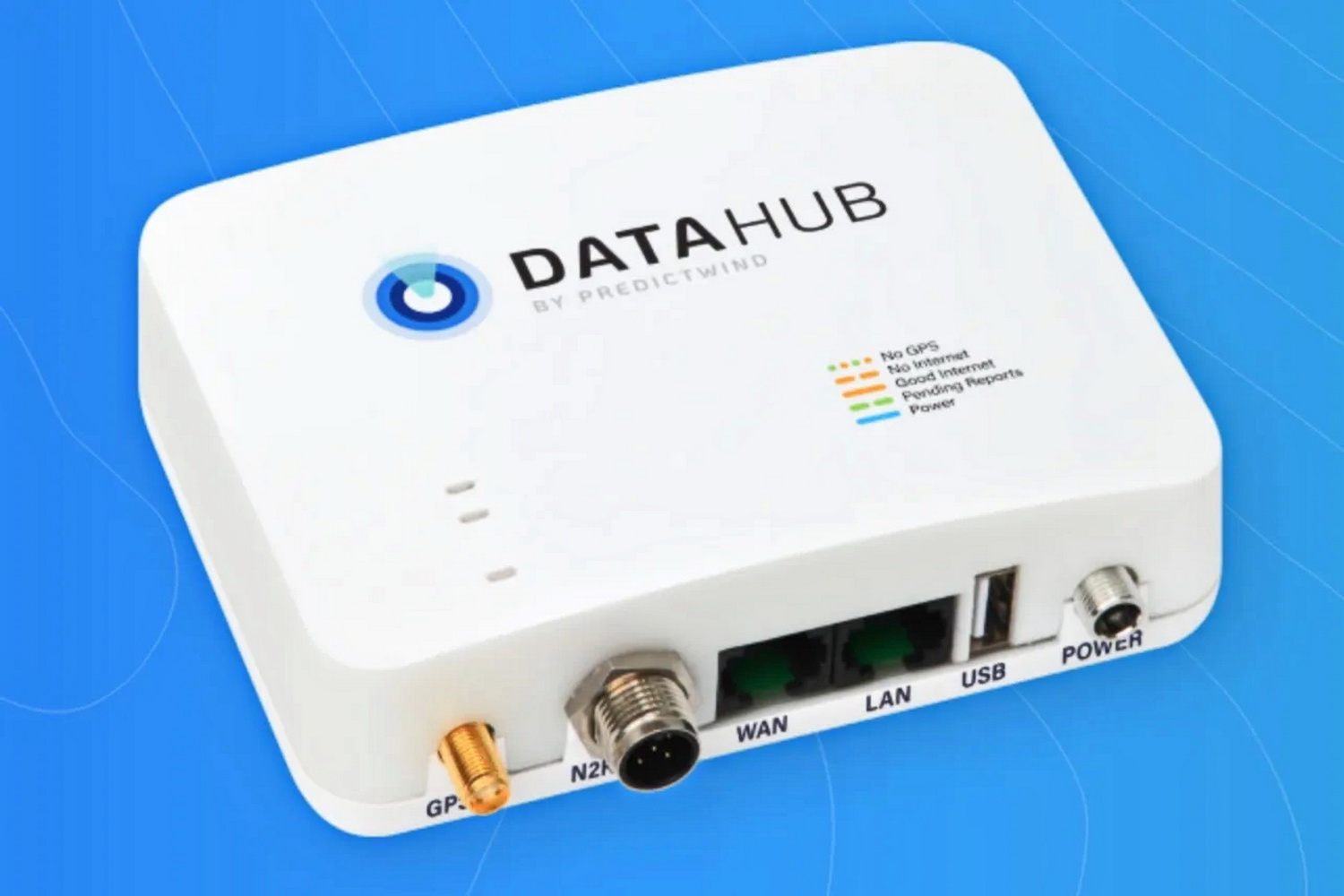 The recently introduced PredictWind DataHub is designed to do much more than share AIS info. In fact, this highly connected router supports all sorts of on- and off-boat features, some related to PredictWind's well-known weather forecasting and vessel tracking/blogging services, some standalone. The possibilities are almost overwhelming at first glance, and I suggest two ways to research whether a $299 DataHub, and a possible PredictWind subscription, make sense for your boating:
Note Panbo's "Team Soltero" profile here and their PredictWind track/blog here. And, yes, while PW is mainly popular with cruising sailors, it can also make sense for a sea-going trawler like Bliss. But note too that no DataHub features require a PredictWind paid subscription except for tracking/blogging and the automated performance polar generation that's still in development.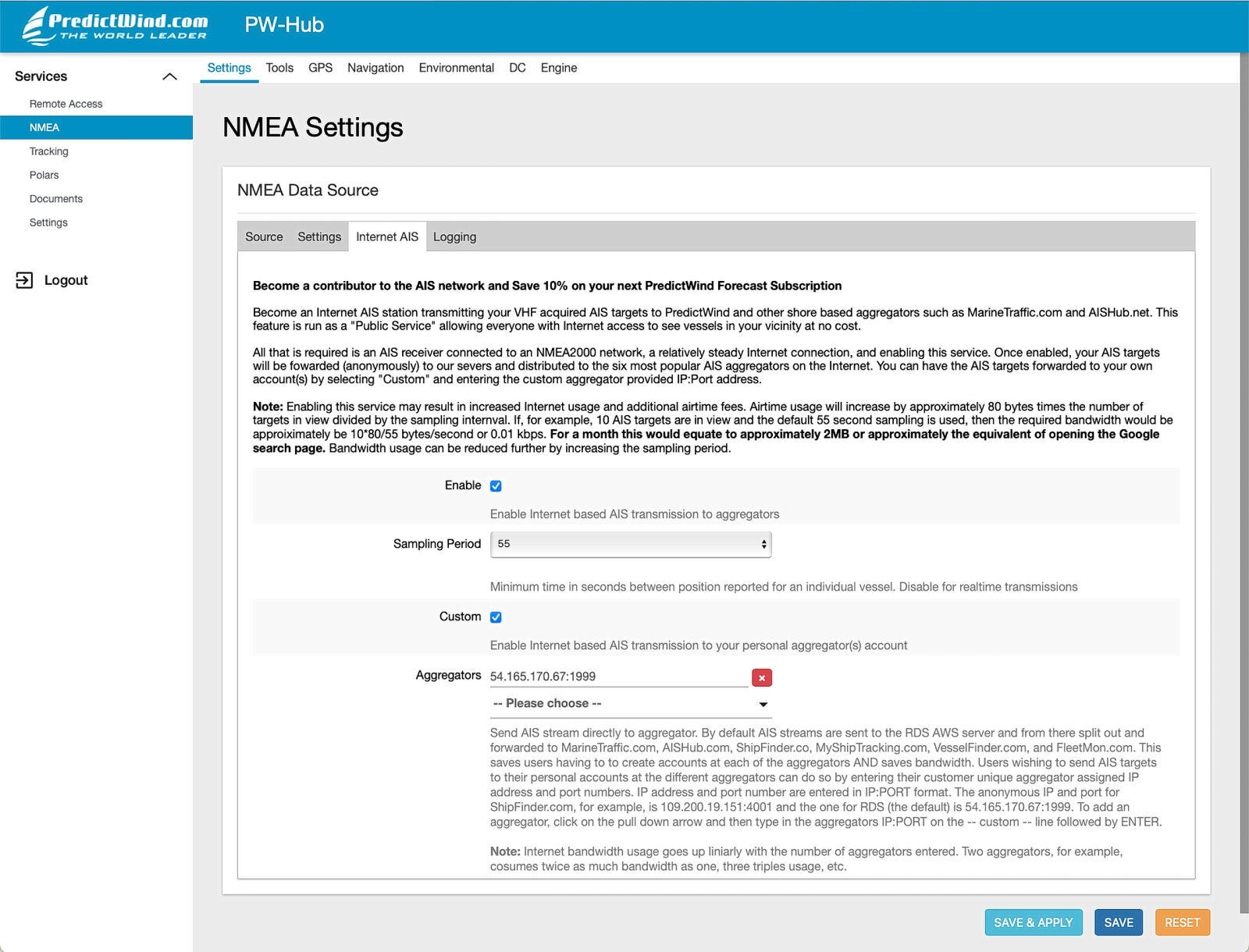 Now let's focus on DataHub's Internet AIS sharing, because it's one of the slickest implementations I've seen. For instance, it takes just one click to Enable the default mode, and that mode efficiently sends downsampled AIS data via your boat's WiFi, cellular, or satellite internet connection — which the DataHub can manage — to PredictWind's own server where it's then forwarded to six online AIS tracking services.
But because those services typically offer useful paid-subscription features to individually-registered volunteer receiving stations, DataHub supports that too, as seen in the Custom section above. You can even mix things up, perhaps registering for the perks with Marine Traffic — which currently seems to have the most complete global coverage — while letting PredictWind share your data with the other services. And note the "10% off your next PW subscription" bonus.
That's all near perfection in my view. As the good folks at AISHub note, "There are many Web sites tracking AIS targets, and it's amazing how much they vary in style, extra features, and even motivation." To see this truth in action, check out the other sites that DataHub currently feeds: VesselFinder, ShipFinder, MyShipTracking, FleetMon, and MarineTraffic.
So I'm for sharing our AIS data with as many services as possible, to help them focus on developing their personalities with lots of data, rather than competing over exclusive sources. Moreover, I sometimes wonder if Marine Traffic has become overly dominant, the results being more ads cluttering free subscriptions, more features moving behind their paywall, and higher costs to get there.
This is also a "rich getting richer" situation, especially because most current shoreside volunteer stations use all-in-one AIS internet receivers that are designed to feed a single internet AIS service (like the Digital Yacht AISNET or the AMEC R150GE devices I've tested). And given how much better Marine Traffic's coverage of my local Maine waters has gotten versus the other services, I too am guilty of abetting their domination (my long-running MT home station here).
But I did get MT to forward my feed to a few other services — though I don't know if that's still possible — and almost a decade ago I wrote about how free AISdispatcher software can feed multiple services at once when used with a regular AIS receiver and a PC, which is still true.
While the state of volunteer land stations is somewhat off-topic — and by the way, they tend to be expensive and somewhat fiddly to set up (unless you're fairly IT literate) — it does highlight PW DataHub's easy, flexible, and relatively inexpensive AIS sharing. Well, at least that's true when your boat has a reasonable internet connection (and here comes StarLink).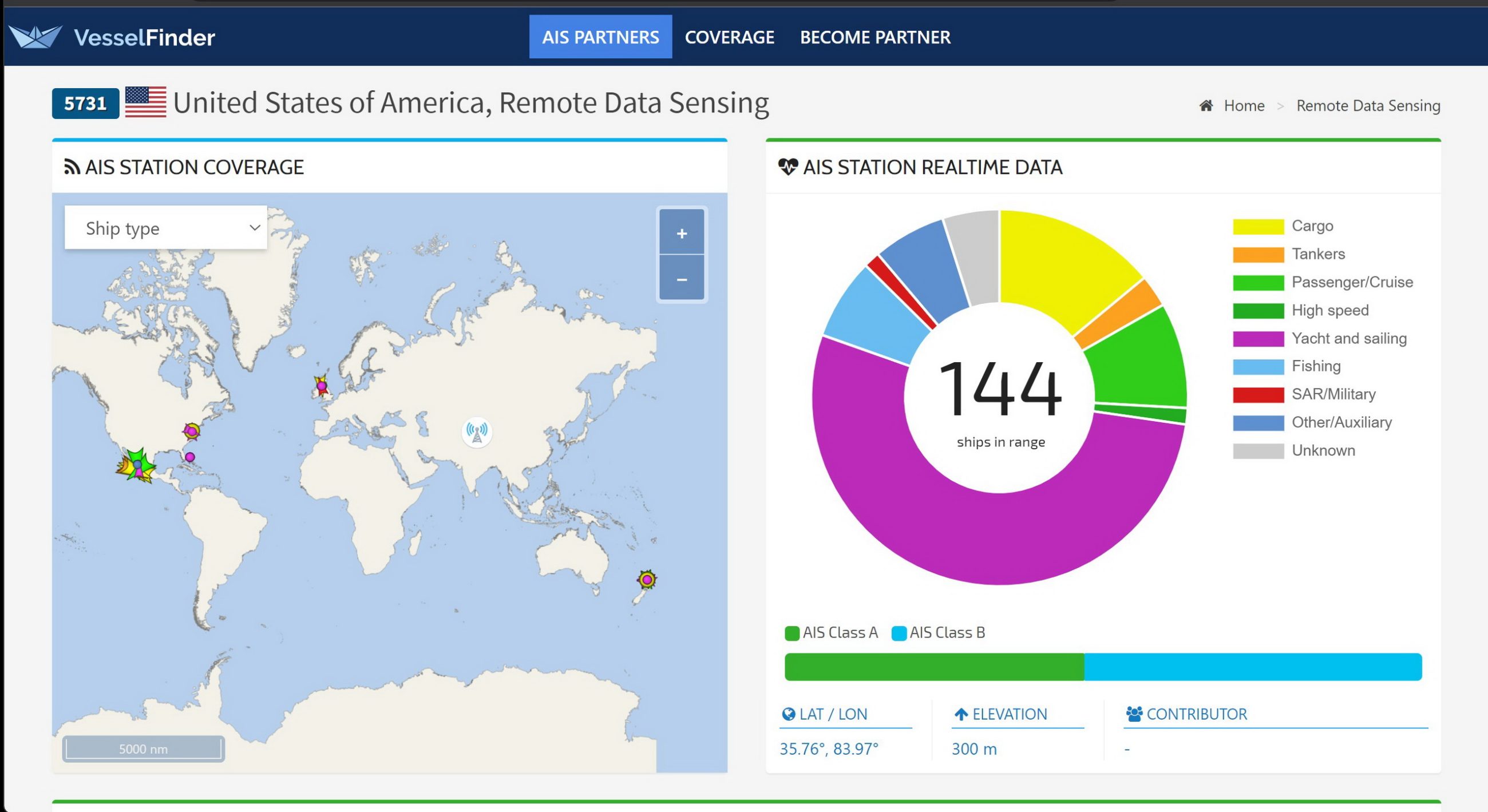 Also, despite only being online for a few weeks, the DataHub's Internet AIS feature is working well. PredictWind's aggregated AIS feed is called Remote Data Sensing, and several of the services share detailed performance statistics — specifically VesselFinder, MarineTraffic, and ShipFinder (again with different data presentation personalities).
So when I captured those screenshots last week, DataHub routers connected to boat NMEA data were delivering AIS info from Mexico, the Bahamas, the Chesapeake, Scotland, and New Zealand. In some cases, like the Green Turtle Cay screenshot at the top of this entry, none of those cruising vessels were being shared by any other volunteer receivers, even for Marine Traffic.
That's one beauty of sharing AIS from boats, instead of from land. Mobile receiving stations get to places where shore stations are scarce or non-existent. And it's definitely worth noting that the mobile tracking always includes your boat for the benefit of friends, family, and armchair cruisers… if you're the volunteer and can stay online.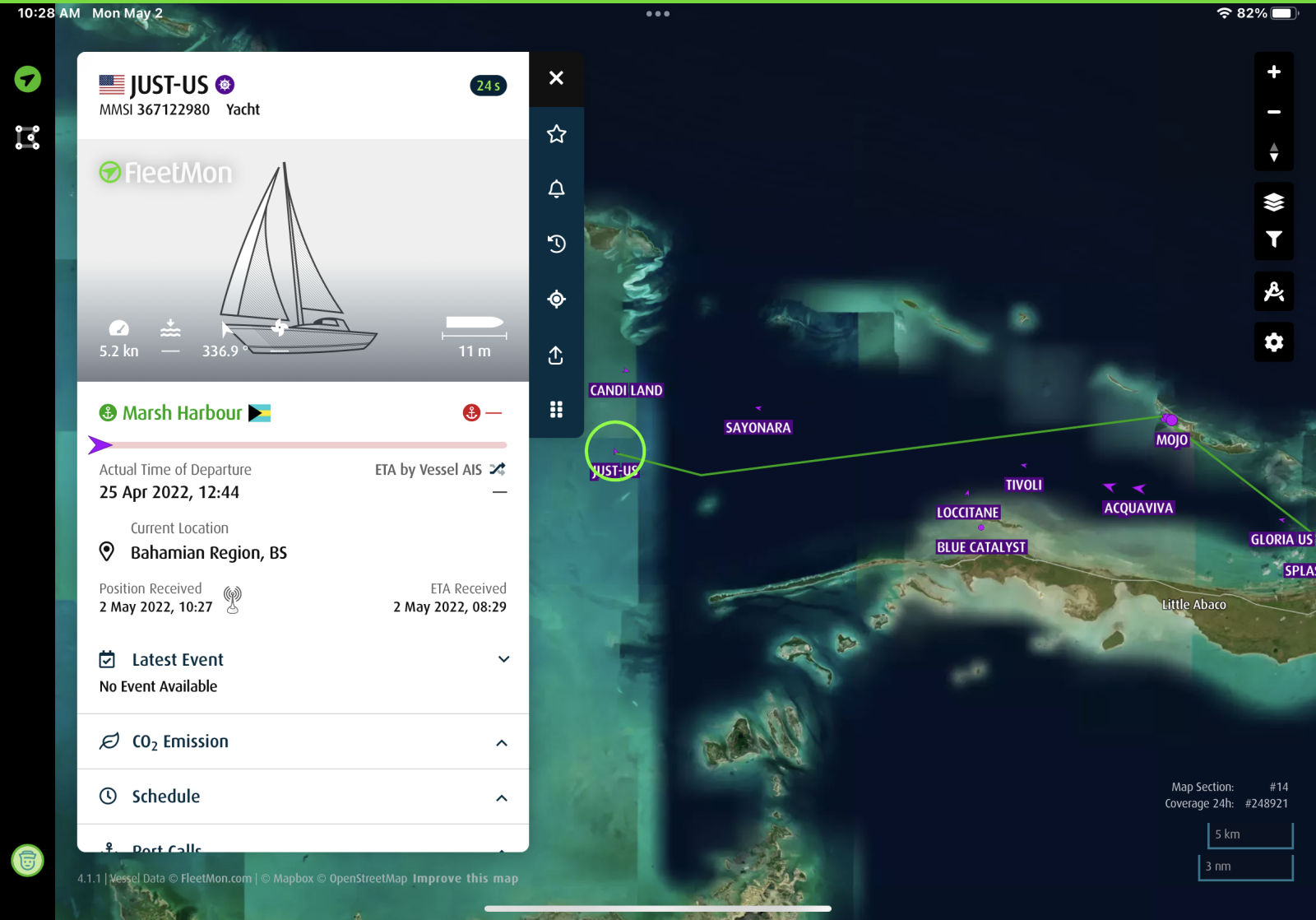 This screenshot from the FleetMon app shows many of the boats that were earlier around Green Turtle Cay passaging westward, including the DataHub-equipped volunteer station (which probably had a Bahamian cell connection). So Green Turtle is no longer well covered on internet AIS, but Cape Canaveral is, and that station will likely be improving coverage of the ICW and/or Southeast coast soon. Such is the nature of mobile stations, and why there should be lots of them.
This is a good point to note that the DataHub AIS sharing feature is quite like what FloatHub trailblazed in 2018, which let me reliably enjoy sharing Gizmo's AIS for the several years (before the long layup). Moreover, FloatHub now has N2K hardware versions which will be easier to integrate with AIS transcievers in many cases, and will also improve their already stellar automatic trip logging and data widget features. (And Gizmo's N2K test unit should be afloat and online soon, I'm happy to add.)
So FloatHub is a valid boat AIS sharing alternative, especially if monitoring is more the goal and you're comfortable with their open source style. But FloatHub is a tiny company compared to PredictWind, which has many thousands of active subscribers around the world. And whereas the DataHub can make PW's GPS tracking/blogging feature easier to use when, say, a related Iridium GO! is deactivated, it seems quite possible that their AIS internet sharing will increase rapidly.
Moreover, I learned during this research that PredictWind has AIS ambitions well beyond data sharing.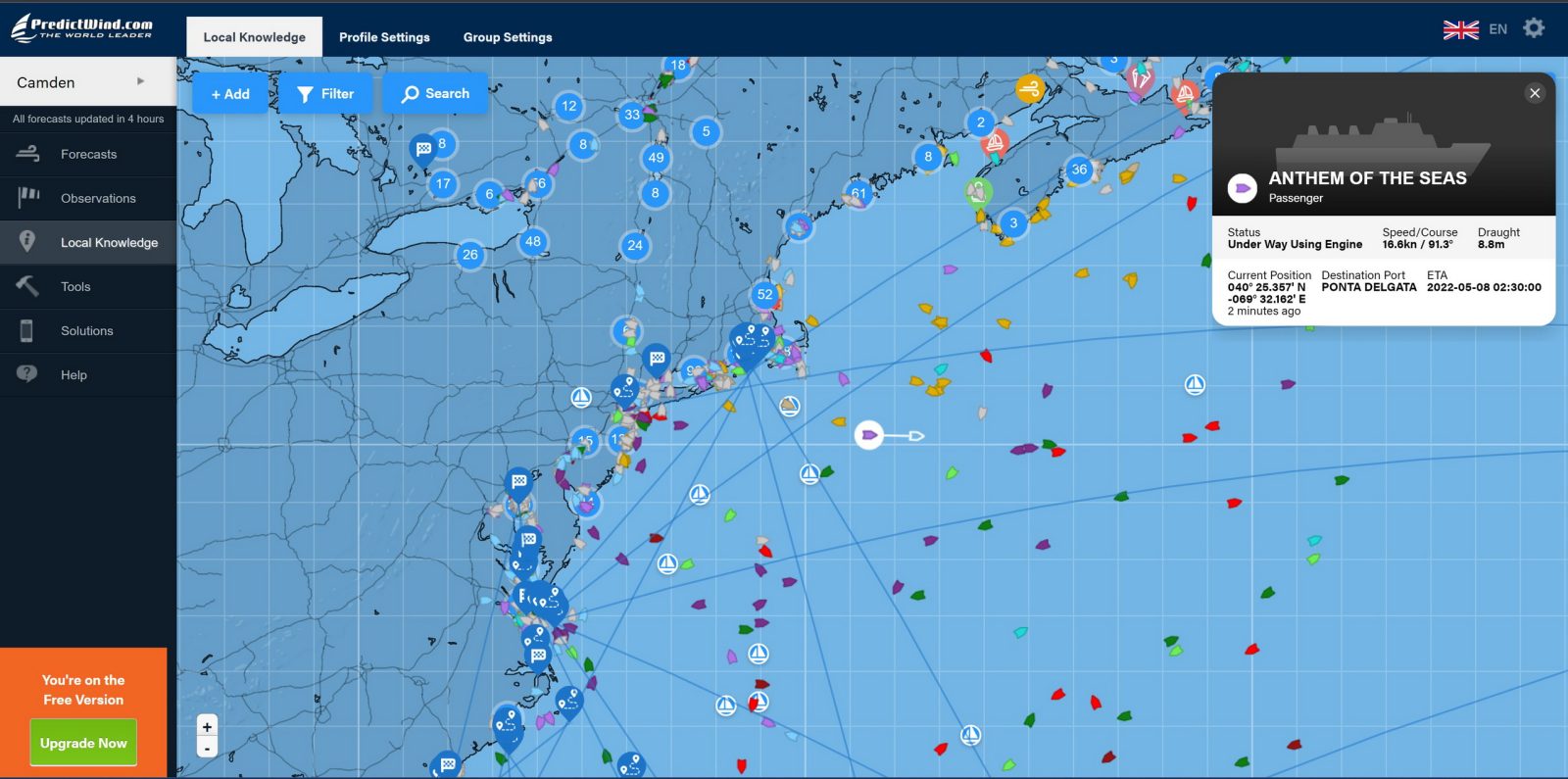 Last year PredictWind introduced Local Knowledge as a new section to their website and apps, and it's already nicely loaded with user-submitted ocean routes, marina details, and much more. But at the end of that SSCA DataHub webinar, a PW representative discussed how they planned to add an AIS overlay and had even partnered with the satellite AIS data provider Spire to show ships at sea in near real time. And, by golly, a so-far-unannounced version of that service is now live at forecast.predictwind.com/local-knowledge, even to Free Version subscribers.
This pre-release of Local Knowledge with AIS is understandably a bit sluggish, but, heck, I've rarely seen undelayed satellite-sourced AIS detail at all, because typical internet AIS services require an enterprise level subscription. I gather that PW hopes to keep this data free or inexpensive, and also plans a subscription feature whereby boats with limited bandwidth can download the AIS targets within a 300 mile radius of their position. Wouldn't a look at ships well beyond the normal AIS radiowave horizon improve situational awareness?
Satellites don't receive low-power Class B AIS very well, but PW Local Knowledge will likely soon include AIS info from DataHub users (and maybe in trade with the other services receiving DataHub info). Note too that each of those white sailboat icons is the near realtime position of a PW subscriber, and a click will take you to their track possibly annotated with log notes and photos.
I'm impressed with what PredictWind is doing, and I haven't even seriously tried the deep weather forecasting all this is built around. But I plan to, and also to keep an eye on the DataHub and Local Knowledge AIS iniatives. And hopefully some readers are now considering sharing their AIS?