Sharing N2KBuilder files, for the common good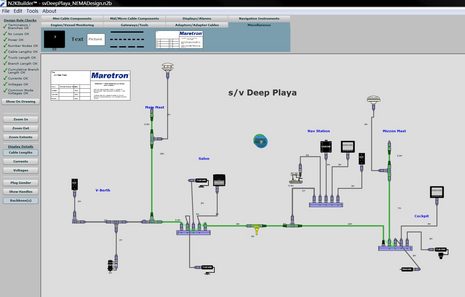 Patrick Walters had two good ideas. First, he used Maretron's N2KBuilder to prototype a network for his Pearson 424 ketch Deep Playa (which he blogs about here). Then he sent the .n2b file (downloadable here) with the thought that he and other Panbo readers might benefit from our comments on it. I have a few…

This is a pretty straight forward network (and all Maretron), but Patrick is using connector components in unusual ways. Note how the backbone runs through Multiport Boxes in both the salon and cockpit. There's nothing wrong with this — the Multiport is, after all, just like three tees screwed together, and N2KBuilder sees the backbone as legitimate. But a Multiport seems to cost more than three Micro Tees do; a Multiport becomes economical when it's used to reduce drop cable lengths, as at Deep Palya's nav station (plus it can improve connector access).
Note at far left how Patrick is using a tee to connect two devices to the backbone. I believe that's fine, as long as no cable run from device to backbone exceeds the 6 meter drop length maximum. That tee in the v-berth area is being used as a multiport, and what's going on there is not daisy chaining (where data from one device passes through another device). Daisy chaining is supported by two major manufacturers — Simrad and Furuno — but is frowned on by NMEA.
Patrick could easily save some parts expense by simply using inline terminators near each end of his backbone, instead of the tee, stub cable, and terminator shown. Also, when I opened the file in N2KBuilder, I saw a could of unnecessary same gender cable sections, one of which is highlighted below. Also shown in this screen shot is N2KBuilder's powerful (though still sometimes fluky) "Network Functions" command. I used it to experimentally change the entire Mid size backbone to Micro size cables. I'd already set the input voltage to a very low 10.5 volts, which still supplied the furthest device with more than the N2K 9v minimum. But alarms went off with the change to Micro. N2KBuilder is a lot more than a Visio-like design program.