Si-Tex 15, & a naive idea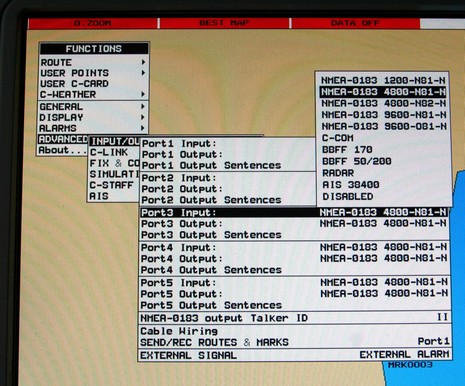 I may abstain from off-the-cuff product comparisons for a while! But whereas I'm already in trouble today, I will express my very mixed feelings about the ColorMax 15, which I actually tested. On the one hand, it's a notable value—a big bright marine multifunction display with a fast processor and a lot of connectivity going for a street price of about $2,100. This unit may not have a standard Ethernet port, but it does have five NMEA 0183 I/O ports, some of which can be set up (see above) to interface with optional sonar and radar sensors (which may in fact talk Ethernet).
It also has two USB ports, seen below, though no stated use for them at this time. That photo is also meant to show that the ColorMax may not dim down far enough for night use in some wheelhouses (without a funky fix I'll cover one day). But what the unit really lacks is a user interface that takes good advantage of the generous screen space and I/O possibilities. For instance, as noted already in PMY, the only way you can get that four way split shown in the promo photo is to have both radar and sonar attached; you can't even have two chart windows, let alone the sort of page, window, data box, etc. flexibility seen on most multifunction displays these days. Which brings me to this possibly naive idea: if Si-Tex were to open source a stripped down version of this machine's code, maybe some amateur developers, and/or small resellers, would make it sing?